From
Published on

24.10.22

Impact Area
Funders

United States of America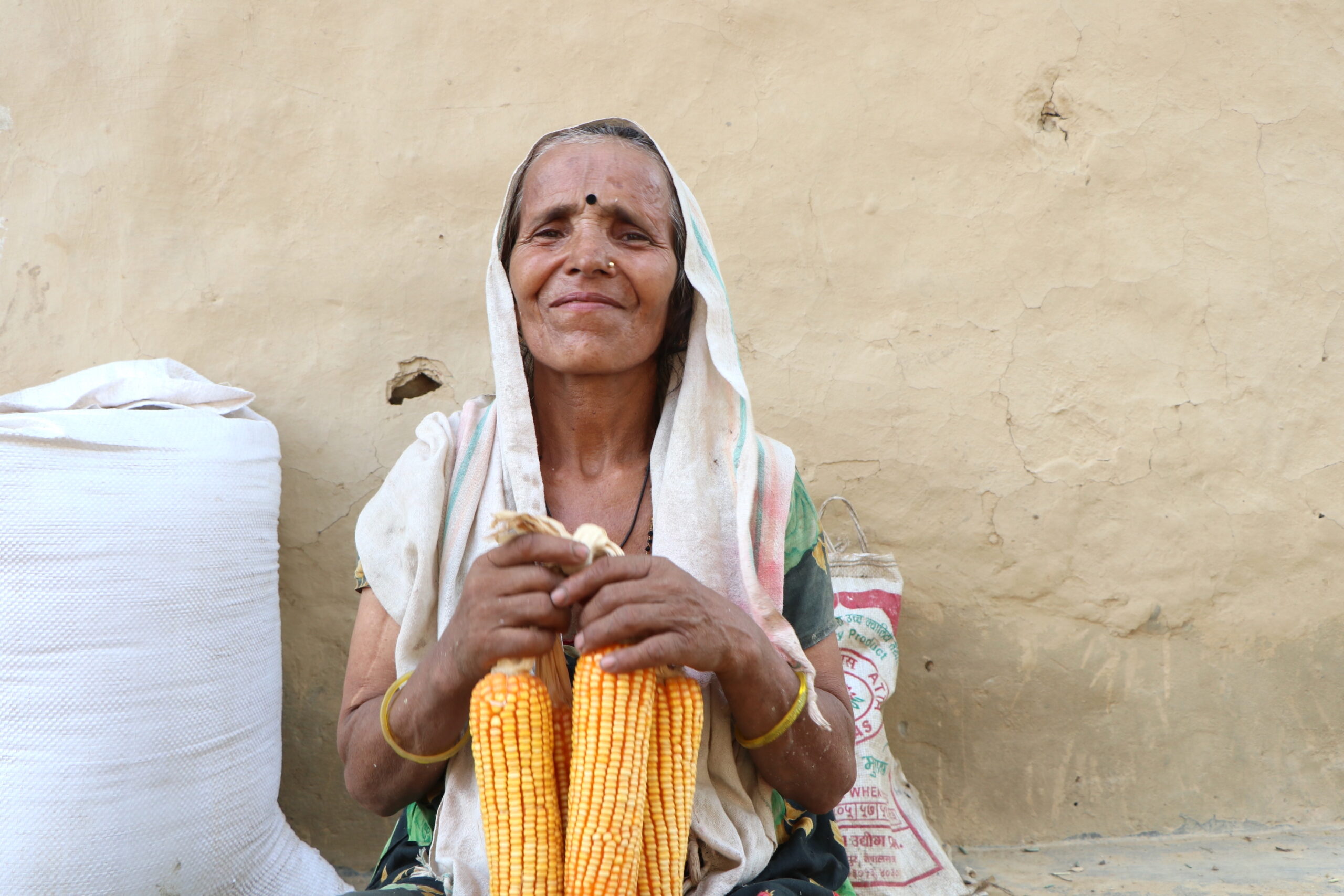 Experts at the International Maize and Wheat Improvement Center (CIMMYT) are working with partners to drive self-sufficiency in poultry feed and achieve more sustainable maize systems in Nepal thanks to the Nepal Seed and Fertilizer (NSAF) project.
About 3,000 metric tons (t) of poultry feed is used in Nepal every day, with maize making up about half of feed ingredients. The Feed Association of Nepal estimates that more than 80% of maize for animal feed requirements are met through imports, which costs around $100 million a year. Maize imports are estimated to exceed $130 million in 2022.
Through the NSAF project — a project which facilitates sustainable increases in Nepal's national crop productivity, income and household-level food and nutrition security across 20 districts — CIMMYT scientists have been supporting public private partnerships to increase commercial maize production and strengthen the "seed to feed" chain in the country.
In the Terai region, huge swaths of land lie fallow in the spring season. Experts estimate that enough maize grain could be produced on this land to substitute about 40% of maize imports to the country. Increasing spring maize production in these fallow lands has been one of the goals of the NSAF team, as well as improving coordination between public and private sectors. To do this, the team have designed a multi-stakeholder engagement initiative to strengthen the seed to feed chain.
In December 2020, CIMMYT experts began the initiative to scale up the use of new maize hybrid varieties and improved agronomic practices. In the spring of 2022, CIMMYT researchers partnered with public and private organizations in Banke, Bardiya and Kailali to help commercialize hybrid maize production and strengthen maize value chain coordination in the region. Partners included integrated agriculture and livestock development offices in Bardiya, agriculture knowledge centers in Banke and Kailali, local governments, farmer cooperatives, seed companies, agro-dealers and feed mills.
Working with these partners, CIMMYT scientists also advanced efforts to improve the capacity of actors to increase efficiency in supply chains, production and marketing, provide local employment and strengthen the market for domestically produced maize for poultry feed.
As of September 2022, the following milestones have been achieved:
Provincial governments have established multi-stakeholder maize commercial networks at sites where maize actors and stakeholders participate to coordinate commercial maize production, access to support services and to link farmers and grain buyers.
In 2022, more than 2,000 households from 19 local government units produced maize on 547 ha in Banke, Bardiya and Kailali. The total maize production increased from 1390t in 2021 to 3,232t in 2022. This was an increase of 61% in the number of farmers and 52% in area. The value of maize sold also tripled from USD 306,900 in 2021 to USD 915,700 in 2022.
The farm gate price of maize by 22% and the Government of Nepal invested $2.37 million to support access to quality seed, agriculture machinery and irrigation facilities.
Farmers sold 500t maize grains to feed mills in 2022, a huge jump from only 30t in 2021.
In partnership with the Government of Nepal, CIMMYT researchers organized training programs for farmers in maize commercial network sites on production, post-harvest, exposure visits and marketing to prepare them to produce maize as per buyers' requirements. They also guided farmers on how to access credit, crop insurance, and digital advisory services to further improve their production and marketing.

Next steps
CIMMYT scientists plan to double the number of districts under the maize commercialization model from three to six in 2023. The Department of Agriculture under the Ministry of Agriculture and Livestock Development, and the local and provincial governments are keen to scale out the model to several maize production regions of Nepal.
In a joint assessment with the Government of Nepal and private sector partners, CIMMYT scientists identified a number of key areas for further development. These include supporting farmers to access high yielding, short duration and stress tolerant maize varieties, as well as best management practices for improving maize production. Other priorities include developing models for contractual arrangements between farmers groups and feed mills, encouraging public and private sector investment in village-level warehouses with drying facilities. Finally, CIMMYT and partners are eager to introduce incentives such as subsidies on grain produced and sold by farmers through cooperatives, develop national maize quality standards and update the 1976 Feed Act.
Going forward, CIMMYT's research on public private partnership for commercial maize production will focus on drivers of uptake of technology and institutional innovations, the role of aggregation models and contractual arrangements in maize market system coordination and impact assessment on farmers benefits.
Cover photo: In 2022, more than 2,000 households participated in CIMMYT's Maize Commercial Model program, doubling the number of farmers and area of maize produced compared to data from 2021. (Photo: Aayush Niroula/CIMMYT)