FAO publication supports achieving 2030 Agenda in Small-Scale Fisheries
From
Published on

15.06.20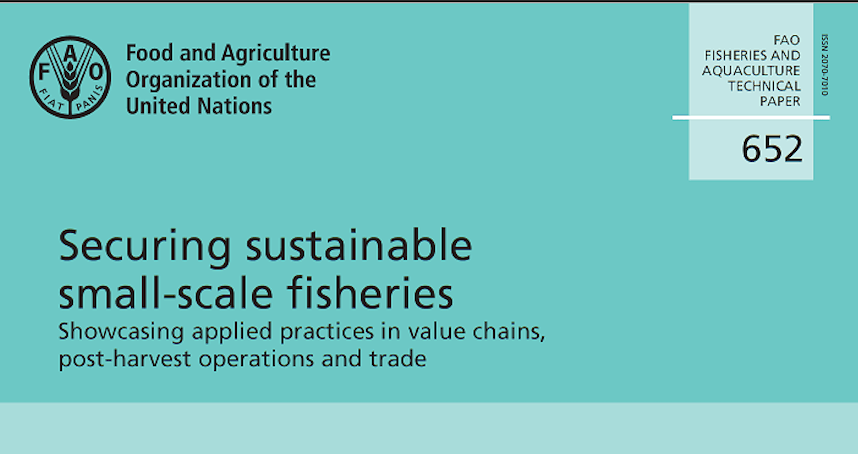 The new study, Securing sustainable small-scale fisheries: Showcasing applied practices in value chains, post-harvest operations and trade, supports the 2030 Agenda for Sustainable Development – specifically SDG 14.b: "provide access for small-scale artisanal fishers to marine resources and markets".
 The highly anticipated paper is the second in the series 'Securing sustainable small-scale fisheries', and includes nine case studies that constitute a rich and diverse selection of experiences, not only with regard to their geographical setting but also in the topics covered and approaches employed.  The case studies were developed to inform and encourage policies and programs that support the development of small-scale fisheries, and chosen on the basis that they can be emulated elsewhere by small-scale fishery proponents including, but not limited to, national administrations, non-governmental organizations, civil society organizations, private enterprises, development agencies and intergovernmental bodies.
The study showcases applied practices and successful initiatives in support of enhancing small-scale fisheries value chains, post-harvest operations and trade, based on the recommendations contained in the Voluntary Guidelines for Securing Sustainable Small-Scale Fisheries in the Context of Food Security and Poverty Eradication (SSF Guidelines).  The SSF Guidelines recognize the right of fishers and fish workers, acting both individually and collectively, to improve their livelihoods through value chains, post-harvest operations and trade, and recommend building capacity of individuals, strengthening organizations and empowering women; reducing post-harvest losses and adding value to small-scale fisheries production; and facilitating sustainable trade and equitable market access.