CGIAR Global Director for Innovative Finance and Resource Mobilization tours IITA business and production facilities
From
Published on

18.08.22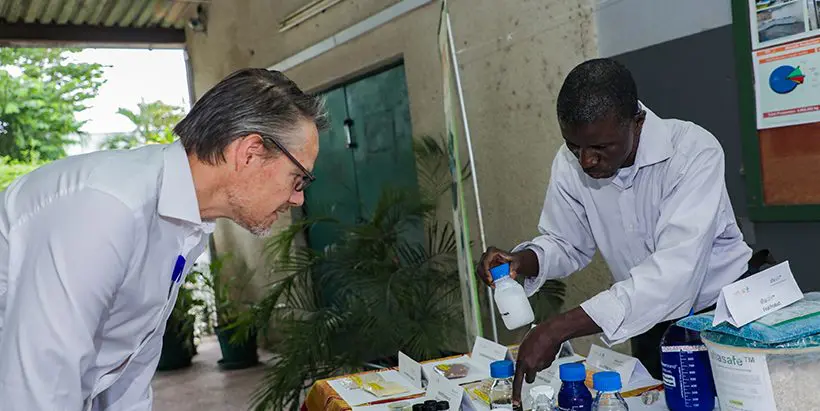 The CGIAR Global Director for Innovative Finance and Resource Mobilization, Andre Zandstra, in his week-long visit to IITA, 26–30 July, witnessed first-hand the business, research solutions, technology innovations, and impact deliverables of IITA.
At the Business Incubation Platform (BIP), the technology delivery arm of IITA, responsible for producing agricultural solutions and upscaling them for commercial benefit, Zandstra had a run-down of the efficacy, use, and production capacity of the Aflasafe™ and NoduMax products. Zandstra and Frederick Schreurs, BIP's Chief Executive Officer (CEO), proposed strategies to support seed companies in meeting the fallout posed by the fertilizer shortage due to the ongoing Russian-Ukraine war, among others.
Zandstra went further to interact with IITA Youth in Agribusiness (IYA). Representatives from the Start Them Early Program (STEP) and IYA took him through the projects, impacts, and influence they have had over the years among youth and primary and secondary school students in the African countries they operate in. Zandstra applauded the youth for harnessing available resources to meet varied demands in the agricultural sector, including fisheries, aquaculture, farming, training, value addition, and capacity development.