Advancing Climate Security in the Mediterranean: Toward a Shared Agenda for Action
From

CGIAR Initiative on Climate Resilience

Published on

20.07.23

Impact Area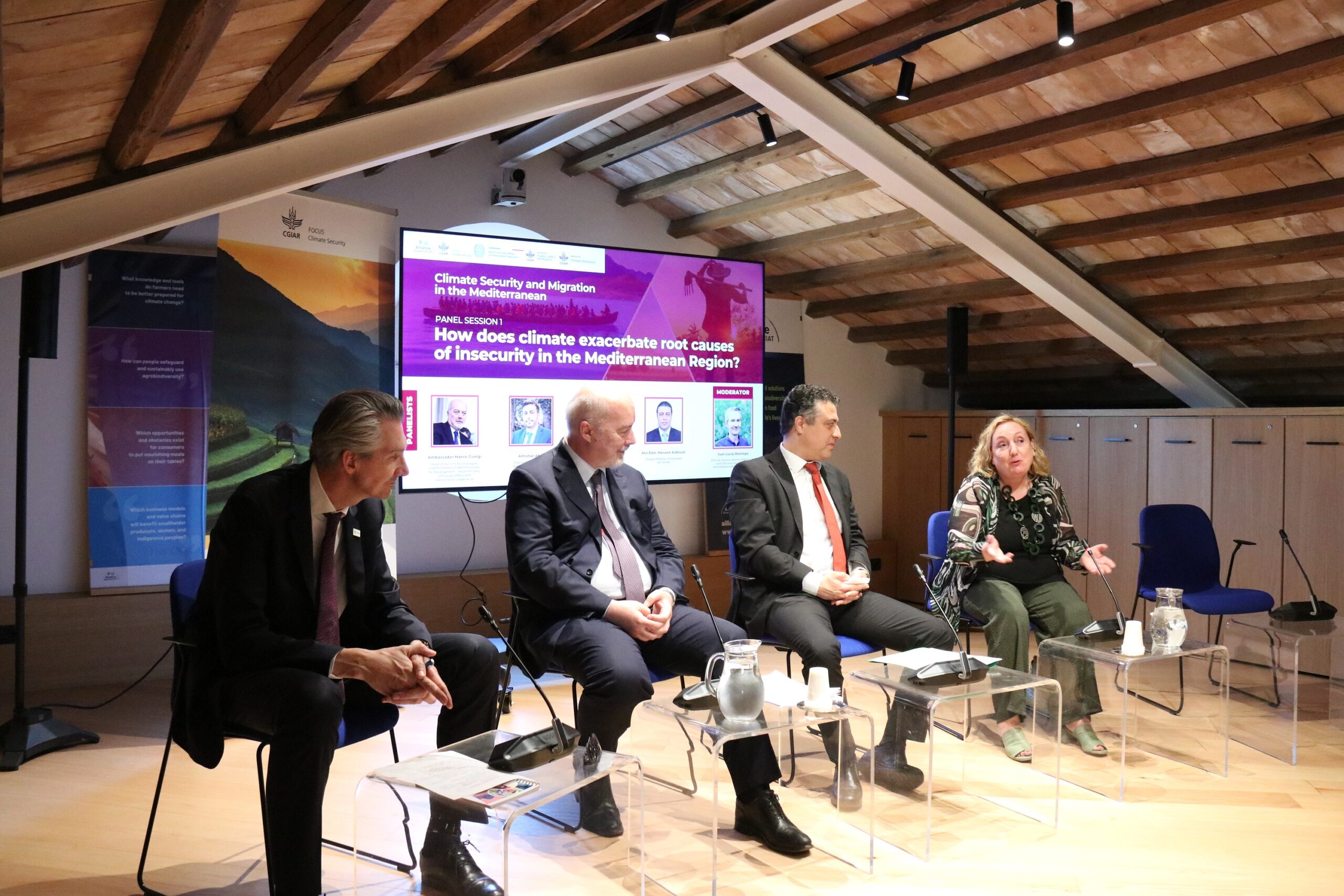 by Grazia Pacillo, Marina Mastrorillo , and Ibukun Taiwo (Climate Security FOCUS)
On June 26, 2023, CGIAR Focus Climate Security, supported by the CGIAR Initiatives on Climate Resilience; Fragility, Conflict, and Migration; and the Alliance of Bioversity International and CIAT; under the patronage of the Italian Ministry of Foreign Affairs and International Cooperation, convened a high-level event to discuss a common vision of the climate, migration, and security nexus in the Mediterranean region.
The Mediterranean region is currently on the frontlines of a climate crisis. Already burdened with fragility and instability, the region is disproportionately affected by climate change with erratic weather patterns leading to heatwaves, prolonged water scarcity, and more recently, floods, while compromising agriculture and food security. 

In her keynote, Professor Emanuela Claudia Del Re, the European Union Special Representative for the Sahel, recognized the interconnectedness of climate and security, appreciating the advancement in the understanding of climate security as a concept.
She also drew on her extensive field experience to highlight real-world situations where climate exacerbates the root causes of insecurity and migration. For example, in the Lake Chad region where shrinking lake surface and environmental hazards have aggravated the vulnerabilities of local communities and favored the expansion of terrorist groups like Boko Haram, who take advantage of the community's plight to gain control over territories. Similarly in Burkina Faso, about two million people have been displaced due to terrorism and violence, which have made these groups, especially women, more vulnerable to climate shocks. Climate is also significantly affecting transhumance routes, causing conflict between nomadic herding groups, and settled farmers, especially in the Sahel.
The keynote speech was followed by two very insightful panel discussions addressing the following two questions:
How does climate exacerbate root causes of insecurity in the Mediterranean Region?

What can we do to mitigate the climate and insecurity nexus?

In the first panel addressing the question "How does climate exacerbate root causes of insecurity in the Mediterranean Region?", Ambassador Marco Giungi, who participated in the first panel which addressed the question of "How does climate exacerbate root causes of insecurity in the Mediterranean Region," explained that the world is currently facing unprecedented challenges, such as a decrease in wheat and grain production for the first time in 50 years. While climate change undoubtedly plays a role in this food crisis, it is unlikely to be the only cause. The crises we currently face are due to a combination of deeply interconnected factors and should be studied through a holistic and multidimensional lens to avoid underestimating or overestimating the role of a single factor. The ambassador asked for more clarity and accuracy in science, reinforcing that accuracy is required for the consideration of such solutions at the policy level. More importantly, he also noted that only those approaches that embrace the complexity of the climate security crisis can fulfill the UN's 2030 Agenda for Sustainable Development.

Referencing Professor Del Re's story about water scarcity in Burkina Faso, Mr Almotaz Abadi, who represented the Union for the Mediterranean, highlighted alarming figures about water scarcity in Mediterranean countries; Italy included, showing that between 40% – 50% of the water is lost in the distribution system. This is alarming, considering that the Mediterranean already suffers from water shortages partially, as the result of climate change. Water is essential for human livelihoods, agriculture, health, and the overall stability of the region. Between 1970 and 2000, it is estimated that about 10% of the total migration out of the region was due to water scarcity. To break the cycle, Mr. Almotaz Abadi called for public-private partnerships and investments in non-revenue water distribution systems, especially in North Africa and the Eastern Mediterranean, to ensure fair water distribution and support agricultural activities.
Min.Plen. Marwen Kablouti highlighted the climate challenges faced by Tunisia, including floods, droughts, and heatwaves which affect agricultural production and rural populations. He proceeded to shed light on the interconnectedness of socio-political, economic, and security challenges, underscoring the need for a comprehensive approach to migration management that integrates both combatting irregular migration and fostering inclusive development. This holistic approach is crucial for effectively tackling the interconnected challenges faced by communities worldwide.

In the second panel, answering the question "What can we do to mitigate the climate and insecurity nexus?" Mr. Julius Jackson, Team Leader, Conflict and Peace Unit at FAO of the United Nations argued that food security is a critical component of the complex relationship between climate change and insecurity and thus, featured considerably in this conversation. 60 percent of climate-induced displacement occurs in regions facing food crises. Recognizing the resilience and adaptability of pastoralist livelihoods, Mr. Jackson emphasized the importance of investing in rural development to mitigate forced migration resulting from climate change impacts.

Subsequently, Mr. Mauro Martini, Senior Technical Specialist, Financing Facility for Remittances Sustainable Production, Markets and Institutions Division, IFAD, highlighted an under-reported, emerging issue – how migrants already contribute to climate adaptation and resilience in those communities through the remittances they send home and the investments they make. He shared examples of collaborations with ministries, such as the Ministry of Agriculture in Senegal, which have led to the development of programs that leverage remittances as collateral for investments in climate-smart agriculture. However, migrants themselves may not be aware that their investments are contributing to climate finance. Their focus is often on supporting their families by investing in activities like irrigation systems to enhance agricultural productivity.

Revisiting the challenge of water scarcity, Ms. Inmaculada del Pino Alvarez, Programme Lead, Food Security, IDLO, highlighted the alarming fact that 50% of people globally affected by water scarcity are in the Mediterranean region, and it is projected to increase in the future. Ms. Inmaculada emphasized the significance of empowering communities to assert their rights to effectively manage natural resources.  This entails providing legal education and opportunities for meaningful participation in decision-making processes that ultimately affect them. Special attention should be given to the needs of women and youth, who often bear a disproportionate burden from climate change and resource scarcity. Laws should be clear and concise and ensure that discriminatory provisions are removed and include complaint and redress mechanisms. Customary and informal justice systems should be considered in natural resource management as an effective mechanism to prevent and mitigate conflict and enhance food security.  

The successful implementation of these proposed ideas hinges on political factors. Improving the relationship between the state and society is a key factor in addressing the climate-security nexus according to Mr. Fabien Tondel of the European Centre for Development Policy Management (ECDPM) who noted that although there are local-level practices and initiatives, the implementation of many strategies and policies is lacking, indicating a lack of political will. It is important to consider the interests and incentives of political and economic actors who may resist necessary changes.
Closing remarks were delivered by Dr. Ana Maria Loboguerrero, Research Director, Alliance of Bioversity and CIAT, and Lead, CGIAR Initiative on Climate Resilience (ClimBeR). Dr. Loboguerrero emphasized the importance of knowledge generation, regional collaboration, combining adaptation and mitigation efforts, particularly in the Mediterranean region, by leveraging renewable energy solutions to address water scarcity; scaling up existing solutions beyond the pilot phase, with academia and research organizations providing the necessary support; and reaching vulnerable smallholder farmers.

Ultimately, the discussions at the event, "Towards a Common Vision of the Climate, Migration, and Security Nexus in the Mediterranean Region", underscored the imperative for immediate and coordinated measures to address climate security in the Mediterranean, emphasizing the active engagement of not only the research and development community but also policymakers and local communities as vital contributors to fostering development and stability. Below are the major actions needed to mitigate the climate, security, and migration nexus in the Mediterranean:
More science is needed to better understand the climate security nexus in the Mediterranean. To provide accurate information to policymakers, there is a need to increase research and gather more evidence on the connections between climate, security, and mobility, particularly in the context of multiple crises. This requires comprehensive and integrated approaches that recognize the complexity of the poly-crises contexts, shed light on the indirect pathways underlying the climate-migration-conflict nexus and build on local and indigenous knowledge.
Local communities, most vulnerable groups, and migrants should be empowered as effective actors to foster climate security in the region. Local communities must be at the center of the decision-making process. Local communities should also be provided with legal education and a space to enable their representatives to participate in the decision-making process. It is also fundamental to promote women and youth inclusion and empowerment, recognizing their crucial role in addressing climate and security challenges and fostering positive change. Finally, we must explore solutions to utilize remittances as instruments for climate adaptation, maximizing their potential for resilience-building, especially for migrant communities.
Increase investments in governance and effective natural resource management to enhance sustainability and security. Governance and legislation play a big role in reducing or enhancing the pressure on natural resources. Efforts should be made to ensure that a country's legal framework is in line with international standards, is not discriminatory, respects human rights, and provides accountability and participation. This is very relevant for the management of natural resources. The effective implementation of land rights is crucial to guarantee local stability. Empowering customary justice systems is also important to ensure fair and inclusive mechanisms to resolve conflicts and promote access to justice.
Investments are needed to reduce the pressure of water stress on the local population and governments. Investments are needed in the non-revenue water distribution systems, to make water affordable to both urban populations and rural areas, where water is essential for agriculture and rural resilience. Investments are also needed in non-conventional water resources, primarily wastewater retreatments, and desalinization, which also imply investments in renewable energy to reduce costs and make the process sustainable.
Strengthen international cooperation for climate security in the Mediterranean region. Countries in Africa and the EU are now aware of climate security issues and are willing to cooperate to address the root causes of climate instability. International and national organizations and governments should align short-term policy priorities with long-term development objectives to foster sustainable and resilient outcomes.
These and other insights from the event in Rome will be presented in a joint White Paper that CGIAR FOCUS Climate Security and partners will co-produce and use to influence discussions and decision processes related to the climate security and migration nexus for the Mediterranean in the coming months.
Stay tuned for more updates on this and follow the conservation on #climatesecurity here.
Top photo (L-R): Juan Lucas Restrepo, Director General, Alliance of Bioversity and CIAT and Global Director, Partnerships and Advocacy, CGIAR; Ambassador Marco Giungi, Head of the Unit for Strategies and Multilateral Global Processes for Development – Italian Ministry of Foreign Affairs and International Cooperation; Min.Plen. Marwen Kablouti, Chargé d'Affaire, l'Ambassade de Tunisie; Professor Emanuela Claudia Del Re, European Union Special Representative for the Sahel.