2.4 million Filipino Farmers, Made Vulnerable by the Climate Crisis, Stand to Benefit from Innovative Yield-Based Insurance Product 
From

CGIAR Initiative on Climate Resilience

Published on

26.10.23

Impact Area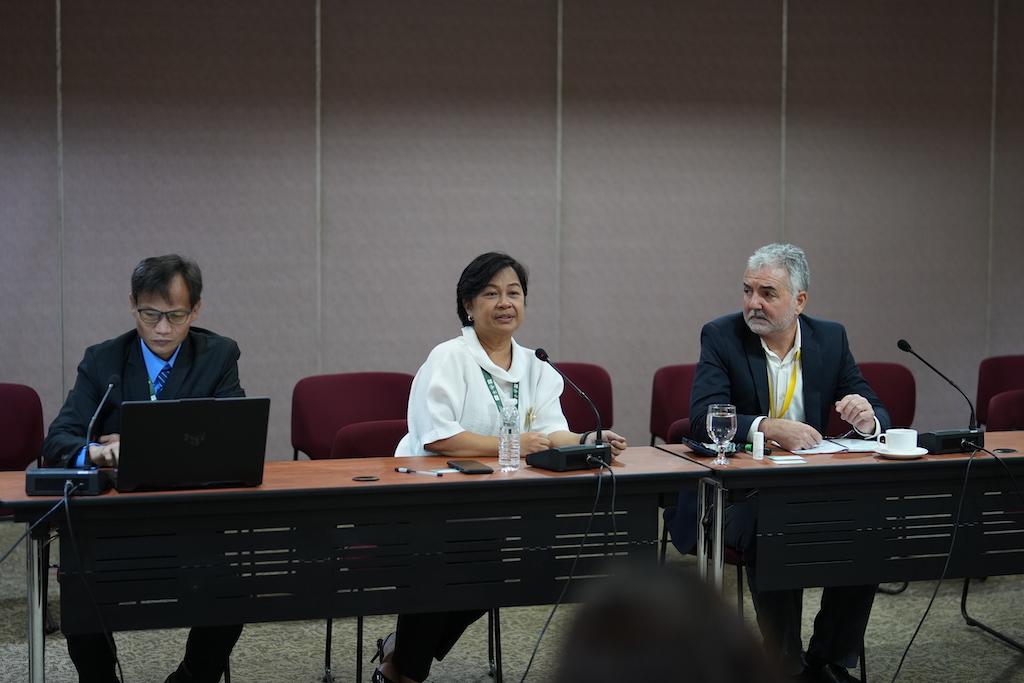 The Philippines is the seventh top rice-producing country in the world, but disasters threaten that status and the country's dream of rice sufficiency. On average, the archipelago experiences approximately 20 tropical cyclones annually, with close to 10 making landfall. Apart from cyclones, the Philippines is also vulnerable to other natural hazards such as droughts, landslides, and floods.  
With the changing climate, the frequency and severity of these disasters are expected to increase. Smallholder farmers, the backbone of the agricultural sector, are hit the worst when natural calamities arrive, with crop failures leading to significant loss of income.  
Crop insurance is one of the strategies that can help smallholder farmers to manage risks associated with rice cultivation. For more than four decades, crop insurance has been accessible to Filipino farmers through the Philippine Crop Insurance Corporation (PCIC). However, despite its availability, its adoption among farmers remains limited.  
In the face of the worsening climate crisis, it's becoming more important to increase adoption as well as develop innovative insurance products for farmers.  
To address the problems Filipino rice farmers face, the International Rice Research Institute (IRRI), the Philippine Rice Research Institute (PhilRice), and PCIC have partnered to develop and test an innovative crop insurance product for rice based on satellite data. On October 19, 2023, during the 6th International Rice Congress, the three organizations signed a memorandum of agreement to begin their work toward greater smallholder farmer support.  
The collaboration is supported by the CGIAR Initiative on Climate Resilience (ClimBeR), which aims to transform the climate adaptation capacity and increase the resilience of smallholder production systems to withstand severe climate change effects in six countries, including the Philippines. It also builds on over a decade of collaboration between IRRI and PhilRice. The two organizations developed and operationalized a satellite-based rice mapping and monitoring system called the PRISM (Philippine Rice Information System).  
PRISM makes use of satellite images to map rice areas and planting dates. Using crop growth simulation modeling, yield forecasts and end-of-season yields are estimated. PRISM has been operational since 2018 and currently provides rice area and yield data at the municipal level every two weeks and estimates of damages in the event of a flood or drought. Researchers and the Philippine Government are using PRISM data to shape policies and strategies as well as enhance disaster response efforts. 
Using PRISM data, the new partnership will facilitate designing and testing an Area-Based Yield (ARBY) index insurance for rice. ARBY is a type of crop insurance that provides coverage based on the historical average yield of a specific geographic area rather than individual farmers' yields to determine payouts in the event of crop losses. 
"The fusion of satellite technology and advanced modeling is revolutionizing how we insure rice crops. With timely insights into yield forecasts and end-of-season yields, satellite-based ARBY index insurance for rice can help simplify the much-needed coverage for smallholder farmers, paving the way for a more resilient and sustainable future for agriculture," said Dr. Ajay Kohli, Interim Director-General of IRRI. 
The agreement seeks to help make crop insurance products available to some 2.4 million rice farmers in the Philippines. "This partnership is a step toward making insurance protection available to Filipino farmers at a crucial time when we are facing severe weather challenges such as droughts and floods, intensified by climate change. We welcome this collaboration as it aligns with our mission to improve the well-being of rice-farming communities in the country," said Dr. John de Leon, Executive Director of PhilRice.  
Meanwhile, Atty. Jovy Bernabe, President of PCIC, expressed: "At PCIC, we appreciate these innovative solutions that can bring about greater efficiencies in our operations compared to the traditional indemnity-based crop insurance model, which involves manual visits and verifications for each claim. By leveraging modern technologies, we can provide farmers better insurance products and services." 
Glenn Estrada, Director of the Department of Agriculture's Rice Value Chain Development and Digitalization Program, welcomed the signing of the agreement as a declaration of the shared commitment to innovation, progress, and resilience in the face of the ever-evolving challenges posed by climate change.  
He said: "Our smallholder rice farmers, the backbone of our nation's food security, have long been at the forefront of agricultural challenges. This collaboration is a testament to our dedication to equipping them with the tools, knowledge, and support they need to not only adapt to these challenges but to thrive in the face of adversity."

About the International Rice Research Institute (IRRI) 
IRRI is dedicated to abolishing poverty and hunger among people and populations that depend on rice-based agri-food systems. Through our work and partnerships, we aim to improve rice farmers' and consumers' health and welfare, promote environmental sustainability in a world challenged by climate change, and support women and youth empowerment in the rice industry. 
IRRI is a member of CGIAR, the world's largest agricultural research partnership dedicated to a food-secure future. 
About the Philippine Crop Insurance Corporation (PCIC) 
The Philippine Crop Insurance Corporation (PCIC) is the implementing agency of the government's agricultural insurance program.  It currently operates under the supervision of,  and as an attached agency to, the Department of Finance,  by virtue of Executive Order 148 (September 14, 2021). PCIC's principal mandate is to provide insurance protection to farmers against losses arising from natural calamities, plant diseases and pest infestations of their palay and corn crops as well as other crops. PCIC is committed to developing and implementing insurance programs highly responsive to the needs of smallholder farmers, fisherfolks and other agricultural stakeholders. 
About the Philippine Rice Research Institute (PhilRice) 
PhilRice is a government corporate entity under the Department of Agriculture created through Executive Order 1061 on 5 November 1985 (as amended) to help develop high-yielding and cost-reducing technologies so farmers can produce enough rice for all Filipinos. PhilRice's mission is to improve the productivity, profitability, and well-being of rice-farming communities toward a resilient and sustainable rice industry and nutrition-secure Filipinos through climate-smart, socially inclusive, demand-driven, and partnership-based rice research for development and extension.  
Photo credits: IRRI