Wellness ERG discusses how to become a mental health ally
From
Published on

27.01.22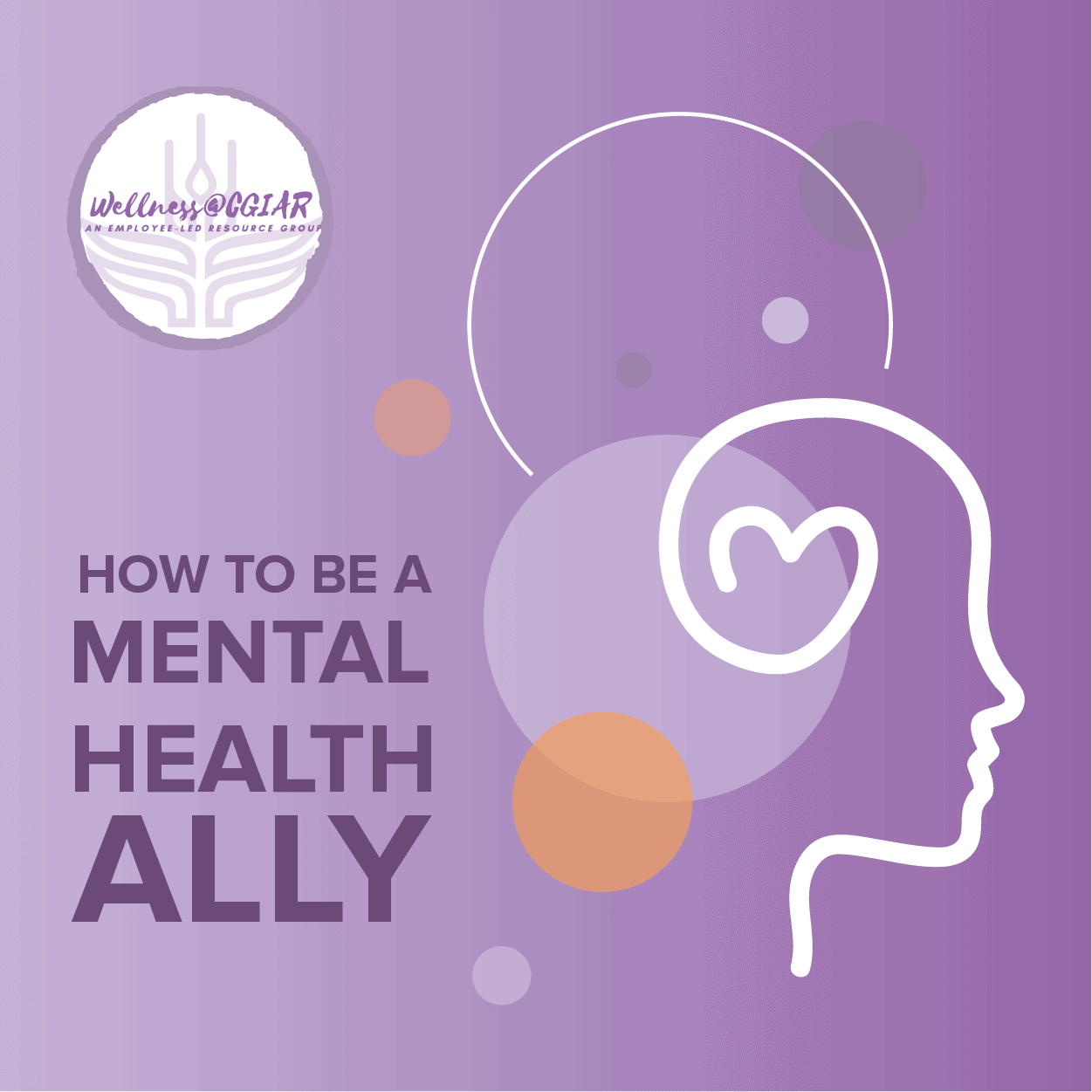 What is mental health? What kind of stigma do people face when discussing mental health issues? And how can we all become better mental health allies in the workplace? 
These were some of the key questions addressed in How to be a Mental Health Ally, a series of two one-hour workshops hosted by the Wellness@CGIAR Employee Resource Group on January 26th, 2022. 
Kundhavi Kadiresan, CGIAR's Managing Director, Global Engagement and Innovation, said mental health is critical to our health and wellbeing but is often overlooked in public health discourse and in the workplace.
"The problem is when we deliberately avoid addressing mental health at work, stigma grows," she said. 
"In order to break the cycle we need to address the issue proactively, strategically, and thoughtfully. We can hopefully achieve this by creating psychologically safe spaces where we openly discuss our mental health," she added. 
Over 550 people took part in the online workshops, which were designed to equip CGIAR staff around the world with the mental health tools needed to support coworkers in public and private settings. 
OVERCOMING STIGMA
Research by the Institute of Psychiatry at King's College London shows that stigma is one of the top reasons why people avoid seeking help or asking for professional support for mental health issues. 
"We have a long way to go to create workplaces where people can bring their full selves to work," said Edwin Seah, the Singapore-based diversity and inclusion expert who led the webinar. 
"One tool that can help us get there is allyship," he added. 
Noting that "allyship" was named Dictionary.com's word of the year in 2021, Edwin defined the term as "an active, lifelong, and consistent practice of unlearning and reevaluating beliefs and actions, working in solidarity with a marginalized individual or group of people." 
"When one individual practises allyship, it helps others feel supported and included. And when they see this behaviour, other people are motivated to step up," Edwin said. 
"When other people step up, it shifts the culture to one that is more inclusive and safe…eventually this leads to even bigger benefits and higher performance."
TYPES OF EFFECTIVE ALLYSHIP
The workshop continued to outline individual and interpersonal actions that can help us all practice mental health allyship in the workplace. 
Four simple individual actions include: 
Be open to share your current state of mental health and struggles with others

Model healthy behavior: prioritize self care and set boundaries

Educate yourself on Mental Health topics by visiting the

GDI Knowledge Hub

Choose your words wisely 
Once we are more aware of mental health issues, Edwin advised, interpersonal actions can follow the ALGE approach to discussing mental health:  Approach, Listen, Give, and Encourage. He offered more advice on effective interpersonal actions with a helpful list of do's and don'ts for discussing mental health: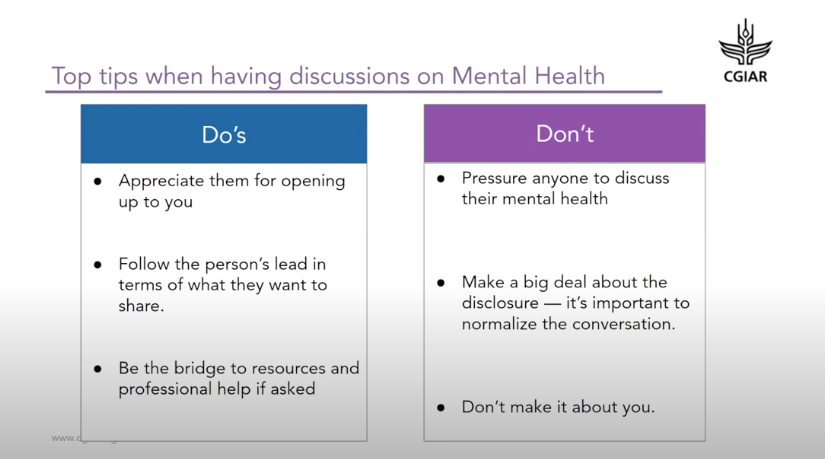 Wellness@CGIAR Chair Alonso Ballon concluded the webinar with a list of useful resources for CGIAR staff including confidential counselling through The Rome Institute, medical insurance programs, and links to HR colleagues around the world.   
How to Be a Mental Health Ally builds on previous Wellness@CGIAR virtual events, including Wellness Day, a series of wellness-focused activities designed to help everyone at CGIAR better manage stress and anxiety. 
Launched in November 2020, the Wellness@CGIAR ERG connects volunteers across the organization to support colleagues with their mental and physical health.
Interested CGIAR staff are encouraged to join Wellness@CGIAR which can be contacted by reaching out to ERG Chair, Alonso Ballon at a.ballon@cgiar.org.