Silage from sweetpotato vines – proven benefits for livestock farmers and feed suppliers
From
Published on

18.11.20

Impact Area
Funders

United Kingdom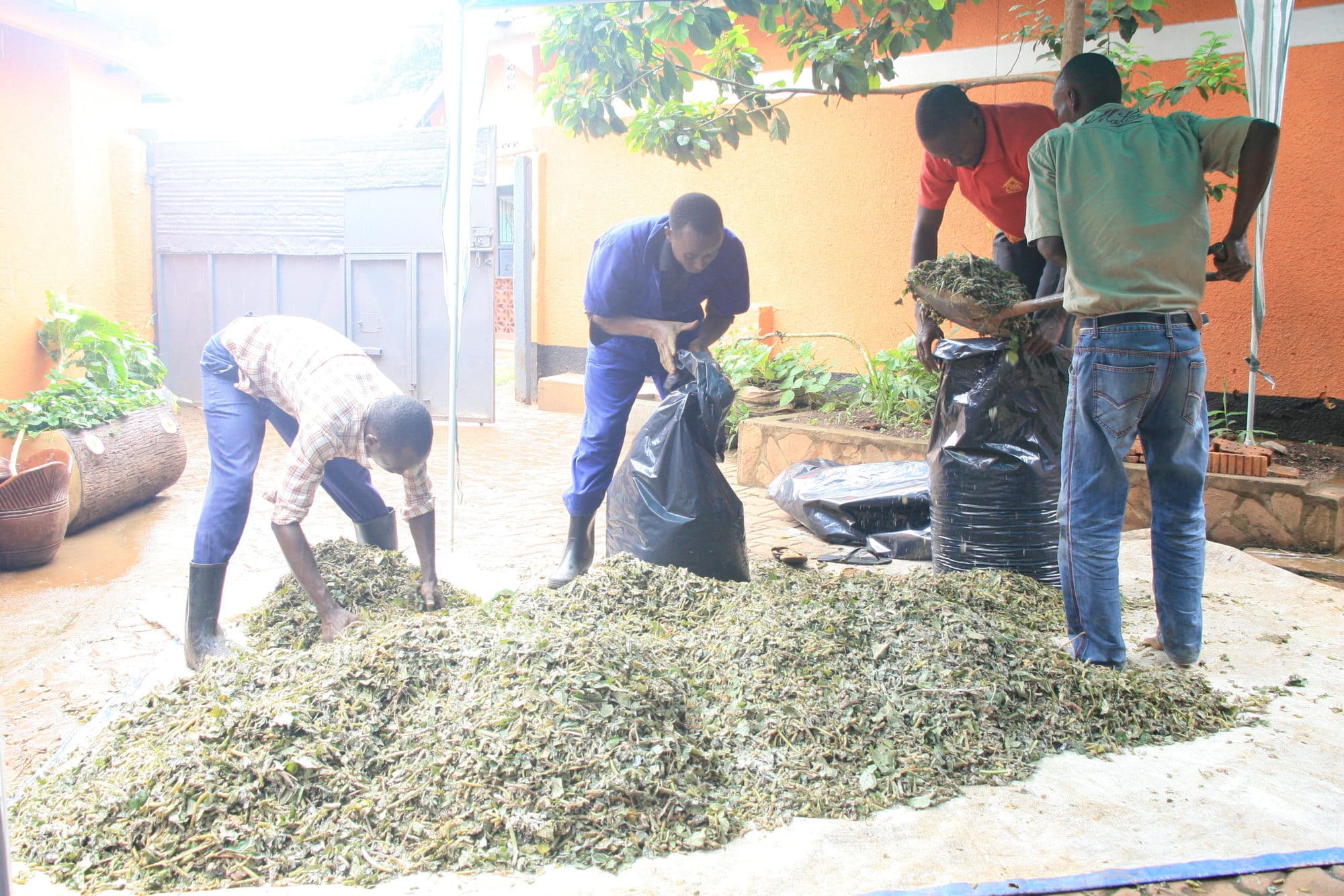 Making silage from sweetpotato vines can be a valuable source of feed for improved animal performance, as well as an opportunity for small-scale agribusinesses to earn revenue. The potential for this practice, which involves preserving green foliage crops through a process of fermentation, is particularly strong in some sub-Saharan African countries, where rising household incomes and urbanization are driving increased demand for meat and dairy products. Smallholder farmers, who are the backbone of the African livestock sector, face difficulties in sourcing a regular and affordable supply of nutritious fodder. "Sweetpotato vines is high-quality feed rich in proteins, carbohydrates and vitamins and highly digestible by the animals. It can be mixed with other feeds and used in compounded rations to improve feed quality. Silage is itself a valuable commodity for sale to other livestock owners" says Ben Lukuyu, Animal Nutritionist at the International Livestock Research Institute (ILRI).
Two studies – both from Uganda – conducted on the scope for using sweetpotato vine silage (SPVS) in the diets of dairy cattle and pigs revealed that the technique could yield higher profits for smallholder dairy producers, and for small-scale pig feed suppliers, respectively. However, in each case, ensuring the optimal balance of this supplement in animal diets will be critical to profitability, and hence farmer uptake. This type of fodder is still relatively little used in the smallholder sub-Saharan African context.
Crop residues from sweetpotatoes left in the field after harvesting are an important source of animal forage in Uganda, but also an unreliable one, due to the crop's perishability and seasonality. As a result, many livestock farmers face difficulties in accessing good quality feed for their animals year-round.
"Making sweetpotato vine silage can be an effective solution to the challenge of dry-season feed shortages, coupled with seasonal price fluctuations and inconsistent quality of commercial feeds, which are serious impediments to high-performing smallholder production systems," said Sarah Mayanja of the International Potato Center (CIP) in Kampala, Uganda and a co-author of the study on dairy cattle, funded by the CGIAR Research Program on Roots, Tubers and Bananas (RTB) and the Foreign, Commonwealth & Development Office. "If it can be made affordable for small-scale livestock farmers, sweetpotato vine silage can help overcome the massive losses seen each year in this very important, but highly perishable source of animal feed. However, it will be essential initially to increase the capacity to produce sweetpotato silage as economically as possible."
In this study, four lactating crossbred dairy cattle were fed a basal diet of Rhodes grass supplemented with dairy pellets and four levels of SPVS supplementation (ranging from 0 to 300 grams/kilogram). Alongside other performance indicators, milk yields increased substantially with SPVS supplementation – by between 1.5 and 1.7 kg per cow per day. However, the results did not vary significantly between the different SPVS inclusion rates. In terms of returns on investment, the most cost-effective model proved to be a supplement of 100 g/kg of the daily ration, the findings showed. Anything more and the profit margin was eroded to the point of becoming negative, due to the high cost of producing the silage.
The economic feasibility of producing SPVS-based diets, this time as a feed for pigs, was the focus of the second study, which took a wider value chain perspective that included small-scale animal feed suppliers. Investigating the largely unknown extent to which smallholder pig farmers, the majority of whom are women, might be willing to pay for SPVS-based diets, the study found strong income-generating potential for small and medium enterprises (SMEs) able to supply this product.
Specifically, the study revealed that pig farmers in two Ugandan districts engaged in the flourishing pork production sector are willing to pay (WTP) an average price of USD 0.20/kg for SPVS-based diet consisting of 60% silage and whose production cost is estimated at USD 0.17. Previous research by CIP and partners had shown that the 60% inclusion rate is the most cost-effective level for pig farmers who can barely afford commercial feeds. The adoption of SPVS would reduce the need for costly commercial feed and mitigate both the wastage caused by spoilage of fresh sweetpotato vines at harvest and recurrent feed scarcity during the dry season. The study found that this would also translate into a lucrative business opportunity for agri-SMEs, which could exploit an estimated annual demand of almost 18 thousand tons of SPVS-based diet and generate a total annual revenue of over three million US dollars in just the two districts of Kamuli and Masaka.
"A number of agricultural research institutions have been testing diets made of affordable and locally available feed ingredients in an effort to address the problem of high feed prices, which can account for as much as 80 percent of pig production costs," said Diego Naziri, CIP researcher and co-author of the study, which was an output of ENDURE, a project implemented by RTB with the aim of reducing postharvest losses of roots, tubers and bananas. "In the early stage of the project, we had provided evidence that sweetpotato silage is a palatable and nutritious feed for pigs and improves the performance of pig farming.  However, taking silage to scale for wider impact requires ensuring that silage making is taken up as a commercial venture. This study, which was conducted in collaboration with ILRI and the CGIAR Research Program on Livestock, has provided evidence that room exists for a profitable silage making business."
What is needed now is to support and mentor SMEs willing to engage in this activity, say researchers. Also required is more robust evidence of the technical and economic viability of the silage technology for other livestock, which could eventually help to expand demand and market potential, with spillover benefits along the whole livestock value chain.