Short and mid-early pigeonpea varieties steal the show
From
Published on

30.12.19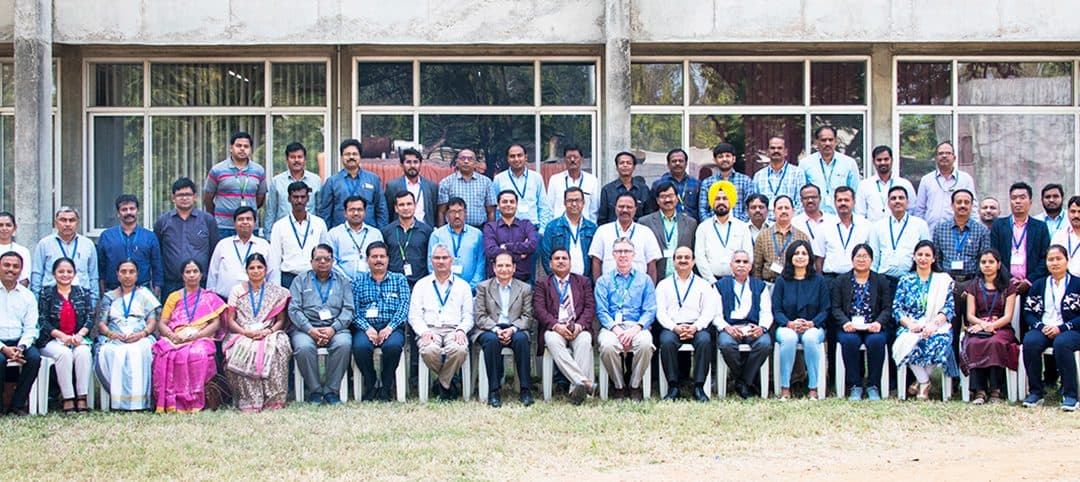 Pigeonpea Network Group (Asia) Workshop-cum-Field Day 2019
Pigeonpea researchers from across Asia hailed a short and mid-early variety of pigeonpea that is also high-yielding and disease-resistant, at a recent brainstorming session to benchmark region-specific prioritized breeding for pigeonpea in the region. They added market-demand traits such as dhal (split cotyledons) recovery, cooking time, protein, Zn and Fe contents, along with yield, disease resistance and pest tolerance, as long-term achievable goals. They designed breeding niches driven towards scaleable crop improvement in pigeonpea.
The current upscaling of pigeonpea, a naturally climate-resilient crop, is the outcome of the efforts of pigeonpea researchers combining multidisciplinary research with effective seed system programs. With the discovery of cytoplasmic male-sterile lines, pigeonpea breeding reaped a major breakthrough. After the release of first-ever grain legume hybrid ICPH 2671 in 2010, the follow-up release and wider acceptance of ICPH 2740 and ICPH 3762 were milestones in hybrid breeding.
Dr Anupama Hingane, Scientist, Pigeonpea Breeding, ICRISAT, highlighted the need-based diversification into varietal breeding. She explained that there was an urgent need for short and mid-early varieties to help farmers tackle terminal drought with a shifting climate. She also discussed the ongoing research on developing high-yielding, disease-resistant and pest-tolerant mid-early groups, long-podded short and mid-early types, diversification of cytoplasmic base with a partnership-based evaluation of CMS and restorers line from A2 Source.

Dr NP Singh, Director, Indian Institute of Pulses Research, Kanpur, emphasized ICRISAT's leadership in pigeonpea R&D by giving the best of hybrid technology to the world with a parallel emphasis on pureline breeding as the 'Bread and Butter' of breeding. "A near step of success lies in the modernization of breeding technologies, a multi-disciplinary approach-based product profile designing and team-based approach of structuring the breeding program," said Dr Jan Debaene, Global Head, Breeding, ICRISAT. Dr Harish Gandhi, Regional Breeding Lead, Asia, ICRISAT, advocated exploration of germplasm stocks and the plant-based protein market as the best fit for pigeonpea. Dr NPVR Ganga Rao, Principal Scientist, Eastern and Southern Africa Program, ICRISAT; Dr Mar Mar Vin, Representative, Department of Agricultural Research, Myanmar; and Dr IP Singh discussed opportunities for location-specific breeding stocks in alignment with their Indian counterparts.
Field day
The high-yielding, disease-resistant varieties of short and mid-early material stole the limelight at the pigeonpea field day. The enthusiastic response for these selections by the stakeholders depicted their great potential. A parallel emphasis was laid on developing photo-insensitive, mechanization pro-hybrids and varieties and seed production systems.
The Genebank team, led by Dr Vania Azevedo, Head, Genebank, ICRISAT, displayed the 13,783-strong pigeonpea germplasm collection, while Dr Mamta Sharma, Theme Leader – Integrated Crop Management, ICRISAT, and her team exhibited on-site and Open Top Chamber (OTC) facilities for climate change influenced disease and pest outbreak dynamics. Dr Pooja Bhatnagar-Mathur, Theme leader – Cell, Molecular Biology & Genetic Engineering, showcased speed breeding as one of the modern technologies standardized for efficient crop improvement in pigeonpea.
In conclusion, it was decided that ICRISAT would play the role of baseline product concept designer and NARS partners would work on the location-specific traits according to ICAR norms.
The Pigeonpea Network Group (Asia) Workshop-cum-Field Day, a two-day program for over 40 participants, including pigeonpea researchers from ICAR, State Agricultural Universities, private seed companies and NARS partners in Asia, was successfully organized by Pigeonpea Breeding Team ICRISAT during 17–18 December 2019.
Pigeonpea Network Group (Asia) Workshop-cum-Field Day
CGIAR Research Program: Grain Legumes and Dryland Cereals