Setting the stage for hybrid pearl millet research consortium in West Africa
From
Published on

23.12.19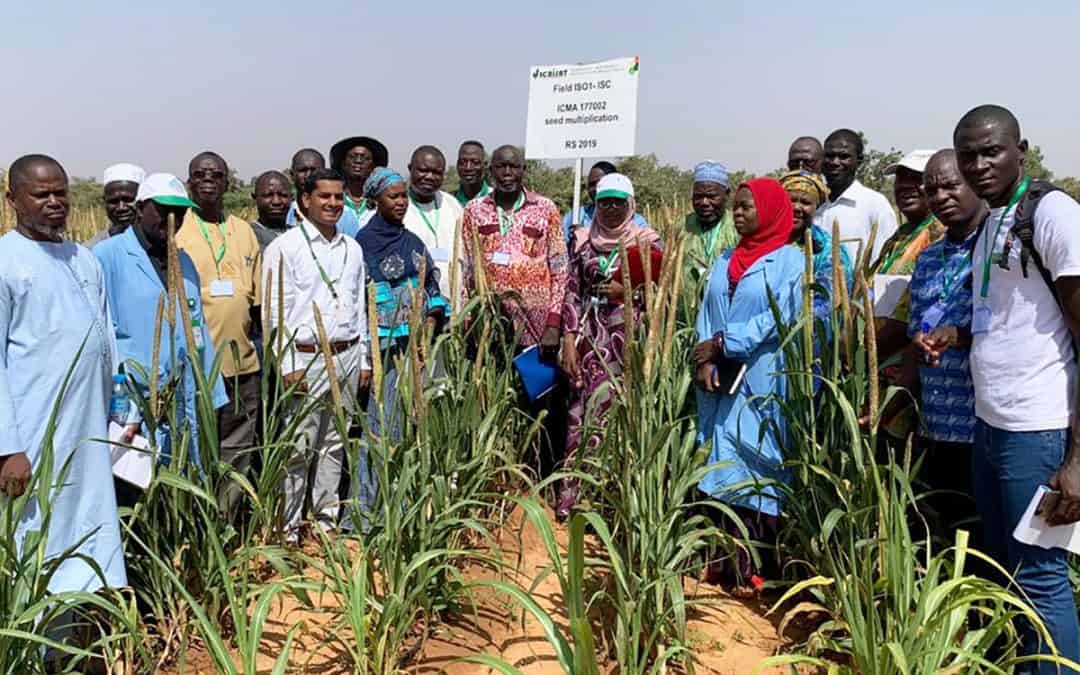 Exciting times ahead as public and private institutions come together to promote millets
Seed research stakeholders and representatives of private seed companies from Burkina Faso, Mali, Niger and Nigeria, met with scientists, millet breeders and seed systems coordinators recently at Niamey, Niger, to discuss creation of a consortium to promote hybrid pearl millet varieties in their regions on the lines of Hybrid Parents Research Consortium (HPRC) in India.
They attended hands-on training sessions on hybrid seed production, listened to experts' presentations about new varietal releases and technologies, including millet hybrids and open pollinated varieties (OPV) bred by the ICRISAT pearl millet improvement program.
Participants viewed more than 40 diverse millet hybrids and OPVs at demonstration plots, and learned about productivity, maturity time, plant height, disease resistance, etc. all of which allowed them to choose germplasm for testing in their operating environments in 2020. Dr Prakash Gangashetty, Lead Scientist, Pearl Millet Breeding, ICRISAT-WCA, assured them of availability of adequate quantities of seeds.
The group also visited hybrid seed multiplication plots of several parent lines. The visit to these experimental plots led to many discussions on the best layouts and practices to ensure an optimal harvest of hybrid seeds on the heads of female parents.
Dr Gangashetty updated them on the latest advances in the millet improvement program in West and Central Africa, and Dr Issoufou Kapran, Senior Scientist, Seed Systems, ICRISAT, explained the constraints and opportunities of millets in the region. Mr Issoufou Maizama, President, Seed Trade Association of Niger, said, "This gathering is a golden opportunity for the private sector to access varietal technologies from researchers and help transfer them to farmers, while protecting their reputation because fraudulent suppliers cannot produce hybrids."
The meeting concluded on the usefulness of a partnership on millet seeds systems, on the lines of the HPRC that facilitated the spread of ICRISAT's millet hybrids in India.
The idea of a platform or consortium was positively welcomed by all participants and their wish to participate in the consortium was highly appreciated. Drs Gangashetty and Kapran will further engage with them to finalize the consortium agreements and start work on it from the year 2020.
This training event was held during 22–23 October 2019 at L'Institut National de la Recherche Agronomique du Niger (INRAN), Niamey, Niger.
For more on ICRISAT's work in pearl millet, click here.
Funders: CGIAR Research Program Grain Legumes and Dryland Cereals (CRP-GLDC); AVISA Project; and HarvestPlus
Partners: Burkina Faso (EPAM Seed Company, FAGRI seeds, NAFASO Seed Company), Mali (COMPTOIR2000, DOUN KA FA, FASO KABA seeds), Niger (AINOMA Seeds company, ALHERI Seeds, FESA Seeds, HALAL Seeds), Nigeria (MASLAHA, VALUE SEEDS)