Modernizing NARS crop breeding programs for improved genetic gains in 14 countries
From
Published on

01.11.19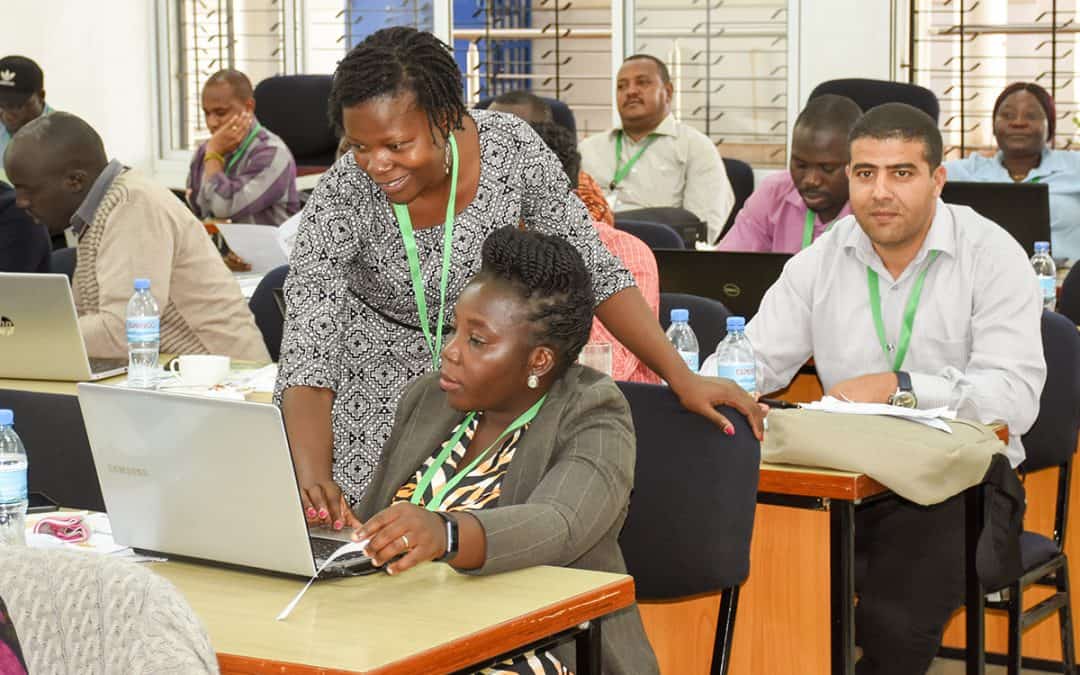 A course designed to modernize National Agricultural Research System (NARS) breeding programs for improving genetic gains of 9 dryland cereals and grain legumes and to strengthen seed systems in 14 African and Asian countries was held recently in Arusha, Tanzania. The training had 46% women participating and was facilitated by resource persons from 7 CGIAR centers; the Integrated Breeding Platform; a public institution and two private seed companies.
"The course is designed to meet the knowledge needs/gaps of 'Practicing Plant Breeders' and is crafted to enhance operational efficiencies and rate of genetic gain for a unit cost. We expect NARS partners to adopt modern tools and techniques to be self-reliant in generating and testing improved germplasm," said Dr Janila Pasupuleti, Leader of the Flagship Program on Variety and Hybrid Development program (FP4), CGIAR Research Program on Grain Legumes and Dryland Cereals (CRP-GLDC). The training focused on nine crops – chickpea, cowpea, pigeonpea, groundnut, lentil, soybean, sorghum, pearl millet and finger millet.
Plans are afoot to rope in national partners to host similar annual trainings in each of the regions – South Asia, Eastern and Southern Africa, and West and Central Africa.
Beyond breeding: Gaps identified in workshop discussions
Create greater access to genomic breeding tools: The need to bridge the huge gap between information on genomic resources published in high impact journals and its conversion into a tool for use in crop breeding was raised by Dr Joseph Ndunguru, Director, Tanzania Agricultural Research Institute, Selian.
Develop high-yielding, stress-tolerant, climate-smart varieties: Prioritize on developing products that address the issues of increasing population, climate change and emerging stresses, said Dr Eric Manyasa, Regional Director for East and Southern Africa (acting), ICRISAT.
Engage policy makers, establish businesses: Dr Godfree Chigeza, Soybean Breeder, IITA, pointed out that the role of breeders shouldn't be limited to dishing out new varieties and that it is essential to engage policy makers and serve farmers by identifying avenues for entrepreneurship to transform African agriculture.
Speed up seed variety registrations in sub-Saharan Africa:
Slow registration contributes to restricting smallholder farmers' access to improved seeds, and therefore further limits their ability to increase yields, said Dr Chris Ojiewo, Theme Leader – Seed Systems, ICRISAT.  Regional integration would facilitate (i) common variety release procedures; (ii) free movement/exchange of varieties; (iii) economies of scale through common efforts in the seed business; (iv) expansion of investment in the seed business, thus increasing accessibility; (v) expanded efficiency in quality assurance through shared protocols; (vi) easy access to statistics and information on the value of seed markets (market information); (vii) availability of quality seed; and (viii) capacity enhancement.
Dr Ojiewo emphasized that effective genetic gains in the farmers' fields requires a lot more than breeding. Improved genetics must be made available and accessible to the farmers in the form of high quality seeds in the most cost-effective way. Besides, the seed should be bundled with appropriate integrated crop management practices and necessary inputs such as seed treatment, fertilizers, fungicides and insecticides.
The training program was held during 10-18 October and was planned by the FP4 team of GLDC. The trainees were from 14 countries – Ethiopia, Myanmar, Tanzania, India, Tunisia, Burkina Faso, Malawi, Uganda, Ghana, Mali, Nigeria, Sudan, Zimbabwe, and Egypt (12 women and 14 men). The resource persons were from seven CGIAR centers: CIMMYT, ICARDA, ICRISAT, IITA, CIAT, ICRAF, Excellence in Breeding (EiB); and Integrated Breeding Platform (IBP); Nelson Mandela-African Institute of Science and Technology (NM-AIST); ADVANTA Seed Company and Neilsen Seeds.
The training was hosted at NM-AIST, organized by GLDC, IITA, ICARDA, ICRISAT and NM-AIST. The inaugural dinner was sponsored by ADVANTA.
"I learned about product profile development for delivering profitable products to farmers and how speed breeding techniques reduce the breeding cycle."

Dr Dramane Sako,
Head, Groundnut Breeding Program, Institut d'Economie Rurale, Mali

"This training has provided a platform for collaboration, networking and sharing best practices on crop breeding."

Prof Anthony Mshandete,
Deputy Vice Chancellor for Academics, Research and Innovation, Nelson Mandela African Institution of Agriculture and Technology

"The training timing is right for Africa as it is looking at increasing the contribution of the agricultural sector to national GDPs, which currently is very low."

Dr Joseph Ndunguru,
Director, Tanzania Agricultural Research Institute, Selian

"For breeders' work to be relevant, there is a need to align products in the pipeline to country needs. This requires well-trained staff. This training is timely and very much welcome."

Dr Victor Manyong,
Director R4D, International Institute of Tropical Agriculture – Eastern Africa Hub
The post Modernizing NARS crop breeding programs for improved genetic gains in 14 countries appeared first on Grain Legumes and Dryland Cereals.