Inclusion, a key ingredient to Gender-Responsive Participatory Varietal Selection
From
Published on

04.08.21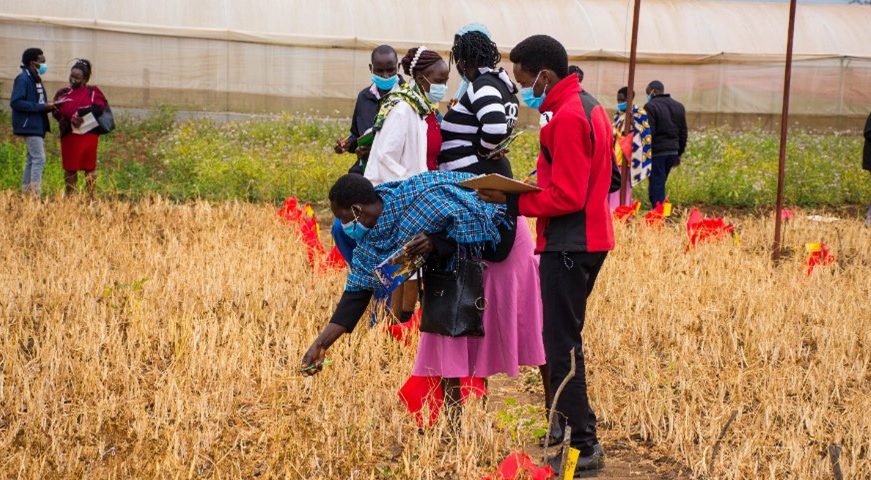 Getting the right traits and the suitable variety for different clients is never easy.
Did you know that farmer's approval for a variety to be released is very critical?
To breed common bean varieties preferred by men, women, and youth, farmers, consumers, traders and processors, breeders must involve all partners in the process. Often bean varieties are evaluated based on a bundle of traits among them yield, time to maturity, pod filling, pod shattering, size, color, pest, disease, and drought tolerance market demand and price, nutrition, and health.
Variety selection begins with a variety kit that contains various desired traits. The lines are planted over several seasons, each time selecting and narrowing the lines with desired traits. A Participatory Variety Selection (PVS) exercise involving key stakeholders is carried out to get opinions on the most preferred lines for further advancement.
The Bean Program in Kenya aims to develop an improved small red bean market class to replace the aging Wairimu (GLP 585) variety that is also low-yielding. As part of the PABRA approach of variety exchange and development, the Kenya Agricultural & Livestock Research Organization (KALRO) Bean Program received 253 (two hundred fifty-three) small red bean lines sourced from genebank at the Alliance of Bioversity International & CIAT (the Alliance) offices in Colombia and shared through the Alliance office in Kawanda, Uganda Bean Breeding Program. The variety trials were set up at four KALRO stations in Katumani, Kiboko, Thika, and Njoro starting in 2019.
The screening process has narrowed down to 40 promising lines now going for evaluation by stakeholders.
This story is originally published on PABRA Africa Blogs.