Improving Ethiopian Malt Barley in Ethiopia for Better Livelihoods and Economy
From
Published on

26.05.21

Impact Area
Funders

United States of America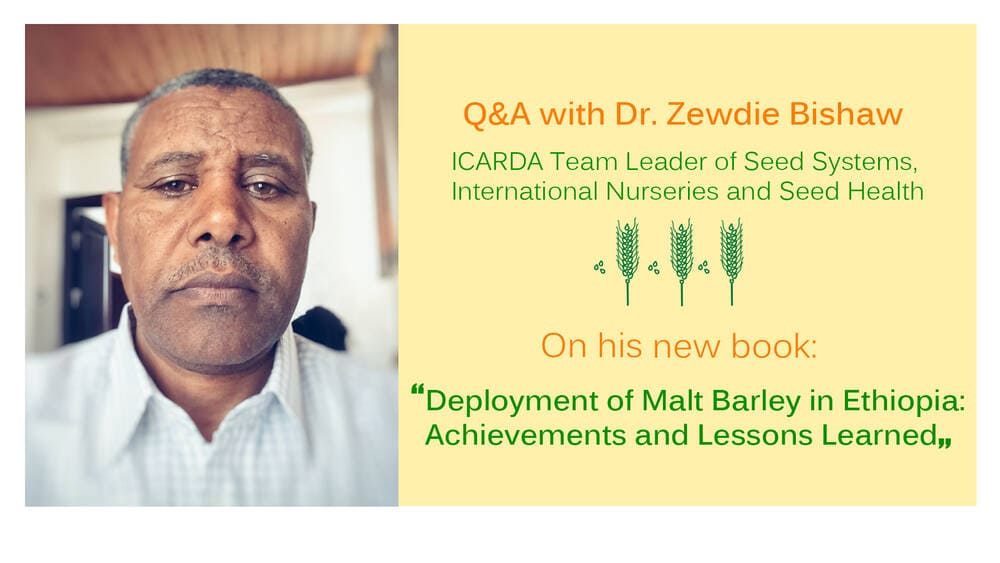 A new malt barley handbook published by ICARDA aims at solving challenges surrounding malt barley production in Ethiopia. It compiles key findings from 28 scientific papers authored by partners and stakeholders.
Given barley's resilience to weather extremes, and its ability to grow in poor, degraded soils, barley is cultivated across Ethiopia for its nutritious grain and straw. From the wet highlands to the marginal lowlands, barley thrives, and is referred to as the 'last crop before the desert.'
Malt barley, however, is a more recent addition to Ethiopia's agricultural landscape, as it was introduced in the late 1960s to service a booming malting and brewing industry.
Improved malt barley varieties developed and scaled-out by ICARDA and its national partners help farmers cost-effectively grow malt barley to improve their livelihoods in the face of climate change challenges.
To address and resolve bottlenecks in the Ethiopian malt barley value chain, and improve out-scaling, ICARDA has published a comprehensive malt barley handbook: 'Deployment of Malt Barley Technologies in Ethiopia: Achievements and Lessons Learned.'
Edited by Dr. Zewdie Bishaw, a Seed System Specialist and ICARDA Team Leader of Seed Systems, International Nurseries and Seed Health, and Dr. Adamu Molla, an ex-ICARDA agronomist from the Amhara Regional Agricultural Research Institute (ARARI), the book compiles key findings from 28 scientific papers from partners and stakeholders to help solve challenges in malt barley production to improve farmers' livelihoods and boost the country's GDP.
ICARDA would like to thank USAID for financially supporting our malt barley research, as well as our local implementing partners, the Ethiopian Institute of Agricultural Research, Amhara Agricultural Research Institute, Oromia Agricultural Research Institute, and the Southern Agricultural Research Institute, for making this work possible.