Facilitating training programs for improving crop-livestock systems in Niger
From
Published on

03.02.20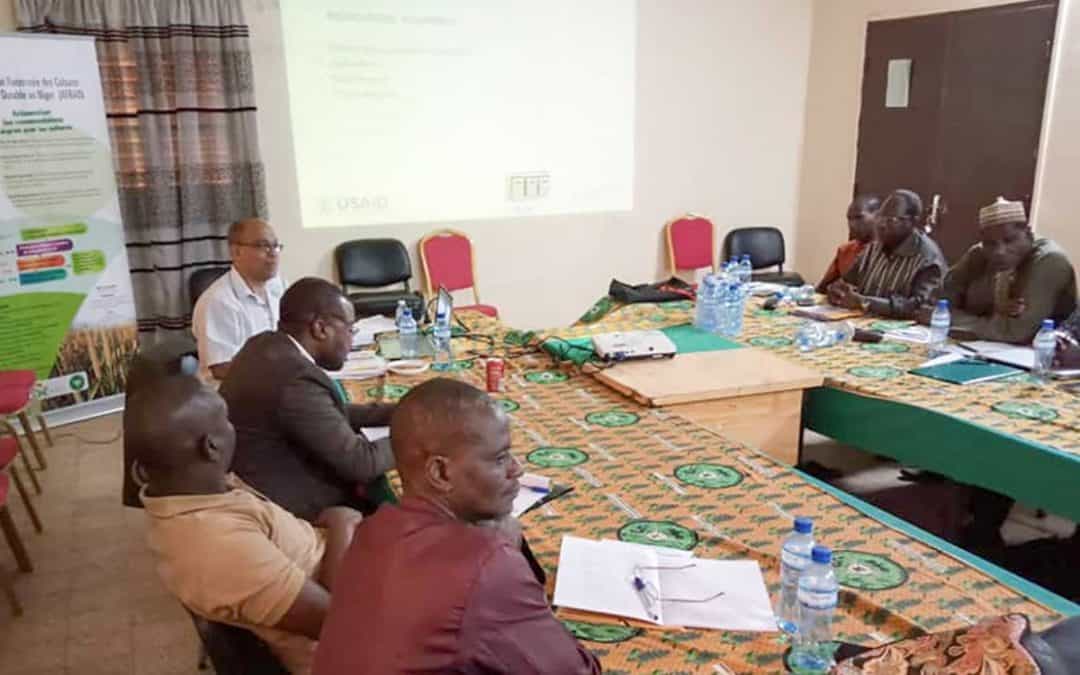 Training programs on silage making, animal health and laboratory management were held in Niger for researchers, extension service workers and farmers to improve crop-livestock systems in the region.
Silage making to improve utilization of stover
A study conducted in Maradi and Torodi villages indicated that more than 90% of the farmers conserve crop residues for animal feeding and that the traditional techniques of storing in a hayloft or open shed affected feed quality. At both Torodi and Maradi, farmers stored millet stover and cowpea hay, while Maradi farmers also stored sorghum stover and groundnut haulm.
Based on the above study, the training program on silage making held at Sadoré and Maradi shared techniques to improve utilization of cereal residues (millet, sorghum, etc.) to overcome feed constraints.
The training at Sadoré involved producers, extension service workers, research assistants, research technicians and researchers, while the training at Maradi involved extension service workers and producers. There were 93 participants (36 women and 57 men) and it was held from 28-30 October.
Facilitating the formation of animal health platforms
A study conducted on the animal health information system in Niger showed that very few villages have a communication network with veterinary services. Moreover, there is an unequal distribution of animal health services and farmers have to travel at least 5 to 20 km to avail veterinary services.
To address the issue, a training program was conducted to equip animal health professionals with the necessary knowledge on transboundary animal diseases and improve the surveillance system for livestock disease at a grassroots level.
The training had 11, 15 and 18 participants at Torodi, Madaroumfa and Dakoro, respectively. Over the course of two days in each site, participants learned about the reporting system and awareness/recognition of transboundary animal diseases. They practiced adult learning techniques and discussed effective methods for disseminating information. The trainings were held during 9 October-26 November.
ICRISAT staff trained in laboratory management
Four staff from ICRISAT, a post-doctoral fellow, research assistant, PhD student and laboratory technician participated in a laboratory management training workshop organized by the Human and Institutional Capacity Development team of the Feed the Future Innovation Lab for Livestock Systems. The training aimed at strengthening the administration and management of laboratories, including animal nutrition laboratories, covering the following topics — sample collection and processing, inventory of supplies and reagents, maintenance of equipment and manuals, analytical procedures, laboratory safety, etc. The training was held from 25-29 November.
A short course on system analysis, household and value chain modelling is scheduled to be held during 23-27 March 2020.
Read more about ICRISAT work in Niger on http://exploreit.icrisat.org/profile/Niger/334
Project: Enabling value chains to create sustainable income for vulnerable people in crop-livestock systems in Burkina Faso and Niger
Funder: USAID through the Feed the Future Innovation Lab for Livestock Systems
Partners: University of Florida, Institute for Food and Agriculture (UF/IFAS), International Livestock Research Institute (ILRI), the Institut de l'Environnement de Recherches Agricoles (INERA), The Conseil National de Recherche Agronomique (CNRA) and ICRISAT. Silage making training was conducted as a part of the EQUIP Feed study funded by the Bill & Melinda Gates Foundation and also implemented by the Feed the Future Innovation Lab for Livestock Systems.
CGIAR Research Program: Grain Legumes and Dryland Cereals (GLDC)
This work contributes to UN Sustainable Development Goal