Discussions on propelling India towards biofuel sees calls for more R&D
From
Published on

25.08.20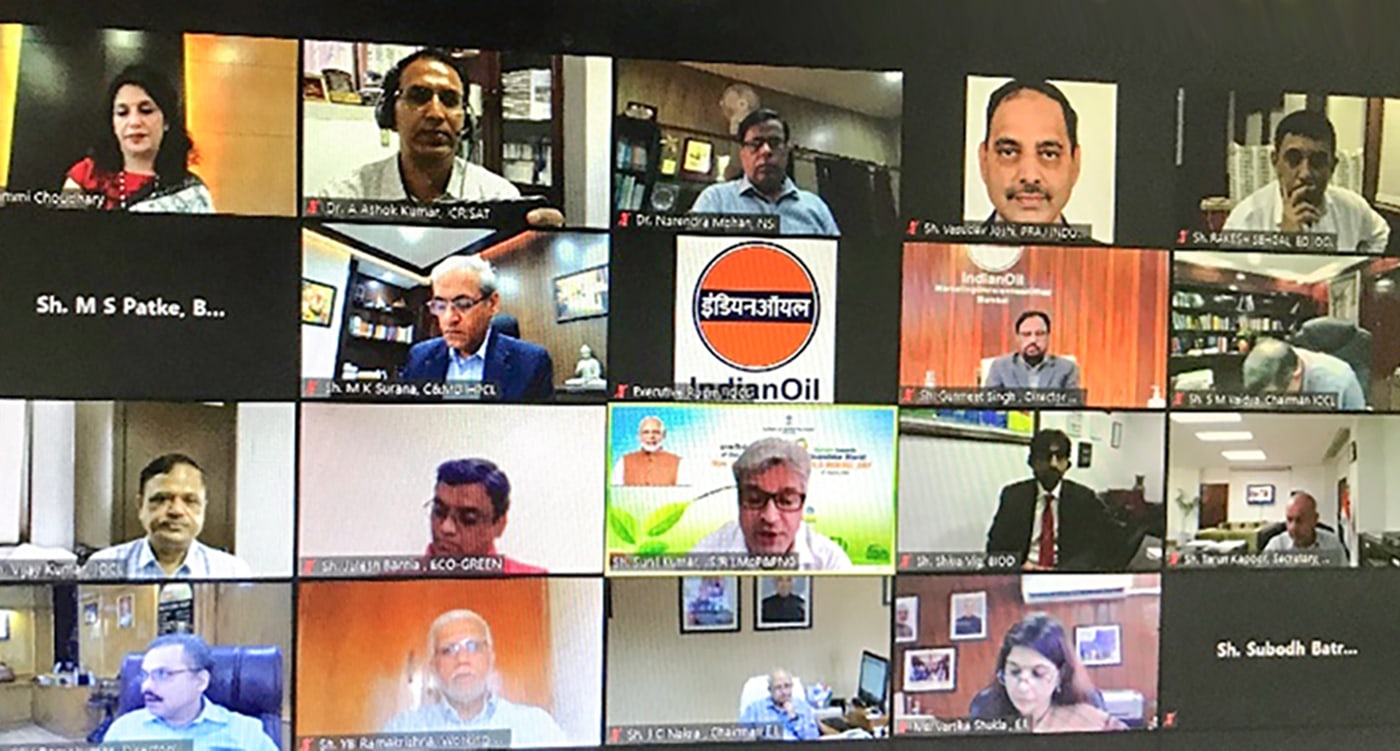 Photo: Screenshot of the webinar.
India has made good progress in blending bioethanol with gasoline (petrol) and biodiesel with diesel, said Dr Ashok Kumar Are, Principal Scientist, ICRISAT, while pointing out the need for faster establishment of 2G biofuel plants and stepping up R&D to improve biofuel feedstocks for India to be able to meet its future targets.
Dr Kumar was speaking during a webinar themed "Biofuels towards Atmanirbhar Bharat" (biofuels towards a self-reliant India) on the occasion of World Biofuel Day on August 10. The webinar was organized by India's Ministry of Petroleum and Natural Gas (MoPNG) to raise awareness of the importance of non-fossil fuels as alternatives to conventional fuels.
"India's progress made in blending of bioethanol in gasoline (5.12%) and biodiesel in diesel (0.1%) has been good. There is still a long way to go in meeting the targets of 20% blending of ethanol in gasoline and 5% blending of biodiesel in diesel by 2030 as envisaged by the National Policy on Biofuels 2018," said Dr Kumar, who is also ICRISAT's Product Placement Lead–Asia.
Dr Kumar discussed feedstock for biofuels and highlighted ICRISAT's 'BioPower' strategy to improve sorghum cultivars amenable for sugar based or first generation (1G) biofuels. ICRISAT worked with partners to develop management practices for maximizing feedstocks production and commercializing them for ethanol production by partnering with ethanol industries and sugar mills. It pioneered the sweet sorghum ethanol value chain development and established the commercial feasibility and environmental sustainability by using this feedstock for biofuel production.
Read more: http://gldc.cgiar.org/discussions-on-propelling-india-towards-biofuel-sees-calls-for-more-rd/