Decadal experiences in harnessing chickpea value chain in Ethiopia
From
Published on

21.06.19

Impact Area
Funders

Bill and Melinda Gates Foundation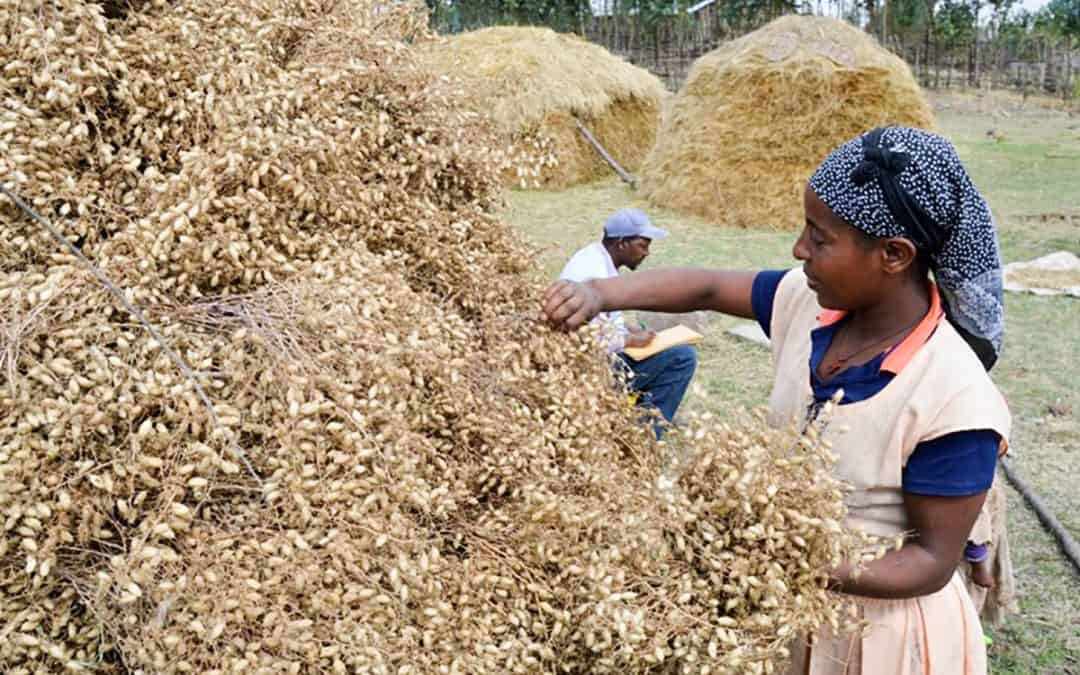 Over 6 million households benefit through the years of the Tropical Legumes Project
In early 1970s, a journey to improve Ethiopia's chickpea production started in a bid to mitigate low productivity of landraces, poor farming practices, biotic and abiotic stresses, among others. Moreover, lack of improved varieties that met the quality requirements of the international market was a serious bottleneck for the enhancement of the chickpea sector. Hence, improvement of the crop focused on increasing productivity, quality enhancement and development of varieties resistant/ tolerant to major diseases, and insects and pests.
In 2007, the chickpea program of the Ethiopian Institute of Agricultural Research (EIAR) was one of the programs in the Tropical Legumes projects led by ICRISAT. Funded by the Bill & Melinda Gates Foundation (BMGF), Tropical Legumes I (TL I), focused on developing molecular breeding tools to improve stress tolerance in grain legumes, including chickpea (2006-2014); Tropical Legumes II (TL II), targeted deployment of these tools in marker-assisted breeding to develop improved cultivars and to deliver them to end users (2007-2014); Tropical Legumes III integrated the genomic resources developed in TL I with the applied breeding and seed delivery initiatives of TL II at scale (2015-2019), with additional emphasis on closing gender yield gaps. Additionally, the project had a target of strengthening the capacity of the breeding program and seed systems of chickpea. Under the coordination of Debre Zeit Agricultural Research Center (DZARC) of EIAR, the project focused on four major chickpea producing regions namely Oromia, Amhara, Tigray and SNNP (Southern Nations, Nationalities and People) in collaboration with seven regional and one federal research centers.
According to Dr Chris Ojiewo, TL III project coordinator, TL started with the introduction of over 10,000 chickpea lines and segregating populations from ICRISAT, from which 10 superior varieties were released. Through these projects, there has been a significant increase in seed size, quality, disease resistance levels and other attributes in the present varieties of the crop. "Chickpea is now the third most important food legume both in area and production in Ethiopia," he noted.
TL supported the production and distribution of more than 167,422 tons of Quality Declared Seeds (QDS) or certified seed of chickpea to small-holder farmers in Ethiopia. Data suggests that between 2007 and 2017, project varieties have been grown on at least 1.3 million ha and US$927million from project and partners' investment have benefitted more than 6 million households.
Dr Ojiewo was speaking during a closing workshop for the TL projects organized by DZARC, to review and document the achievements made by the projects in harnessing the chickpea value chain in Ethiopia and discuss its outlook to continue the momentum gained. The partners appreciated the impact made by the project throughout the 12-year-period, which contributed significantly to the Ethiopian chickpea transformation. The project also contributed to chickpea commercialization through enhanced access to high quality seed of improved varieties and enhanced income generation through better access to markets through the Ethiopian Commodity Exchange Services (ECX). This promoted on-the-shelf varieties with pedigree originating from ICRISAT, ICARDA and locally.
Chickpea improvement has seen the establishment of more than 20 farmers seed growers' associations (SGAs) that have enabled farmers to become major chickpea seed suppliers in the country. Dr Pooran Gaur, Research Program Director-Asia, ICRISAT and the Chickpea Objective Leader, noted that the projects' farmer participatory variety selection trials and enhancing seed availability and awareness of farmers played a key role in the success of the project.
Describing the experiences of scaling chickpea technologies in Ethiopia, Mr Zewdie Bishaw, the head of Seed Section and International Nurseries at ICARDA, said that TL projects were important as they sought to address the limited awareness of farmers and development practitioners; the persistent constraints on availability and access to new technologies; and the inadequate policy support for input/output markets.
TL projects had their fair share of challenges, especially tough policies for releasing improved varieties and seed certification, which made the processes very expensive. This made farmers feel the pinch because the seed companies passed on the cost to them.
Dr Ojiewo noted that chickpea is now the third most important food legume in Ethiopia, both in area and production and moving forward, there is certainly need for review of the policies to allow flexible seed release and certification processes without compromising on quality. this has been done in some places with higher levels of success such as USA, India and South Africa, where certification is done voluntarily.
TL projects are international research and development initiatives that aim to develop improved cultivars of common bean, cowpea, chickpea, and groundnut and deliver their seed at scale to millions of smallholders. The projects have also fundamentally strengthened the National Agricultural Research System (NARS) and CGIAR breeding programs and seed platforms to enhance their ability to deliver high and sustained output to small – holders.
About the author:

Grace Waithira
Comunication
Assistant, ICRISAT
Project: Tropical Legumes
Partners: ICRISAT; CIAT; IITA; NARS and institutions in Burkina Faso, Ghana, Mali, Nigeria, Ethiopia, Tanzania, Uganda and India (Uttar Pradesh).
Funder: Bill & Melinda Gates Foundation
CRP: Grain Legumes and Drylands Cereals (GLDC)
The post Decadal experiences in harnessing chickpea value chain in Ethiopia appeared first on Grain Legumes and Dryland Cereals.