CGIAR's first Inclusive Workplace Awards ceremony to be held on September 15th
From
Published on

31.08.22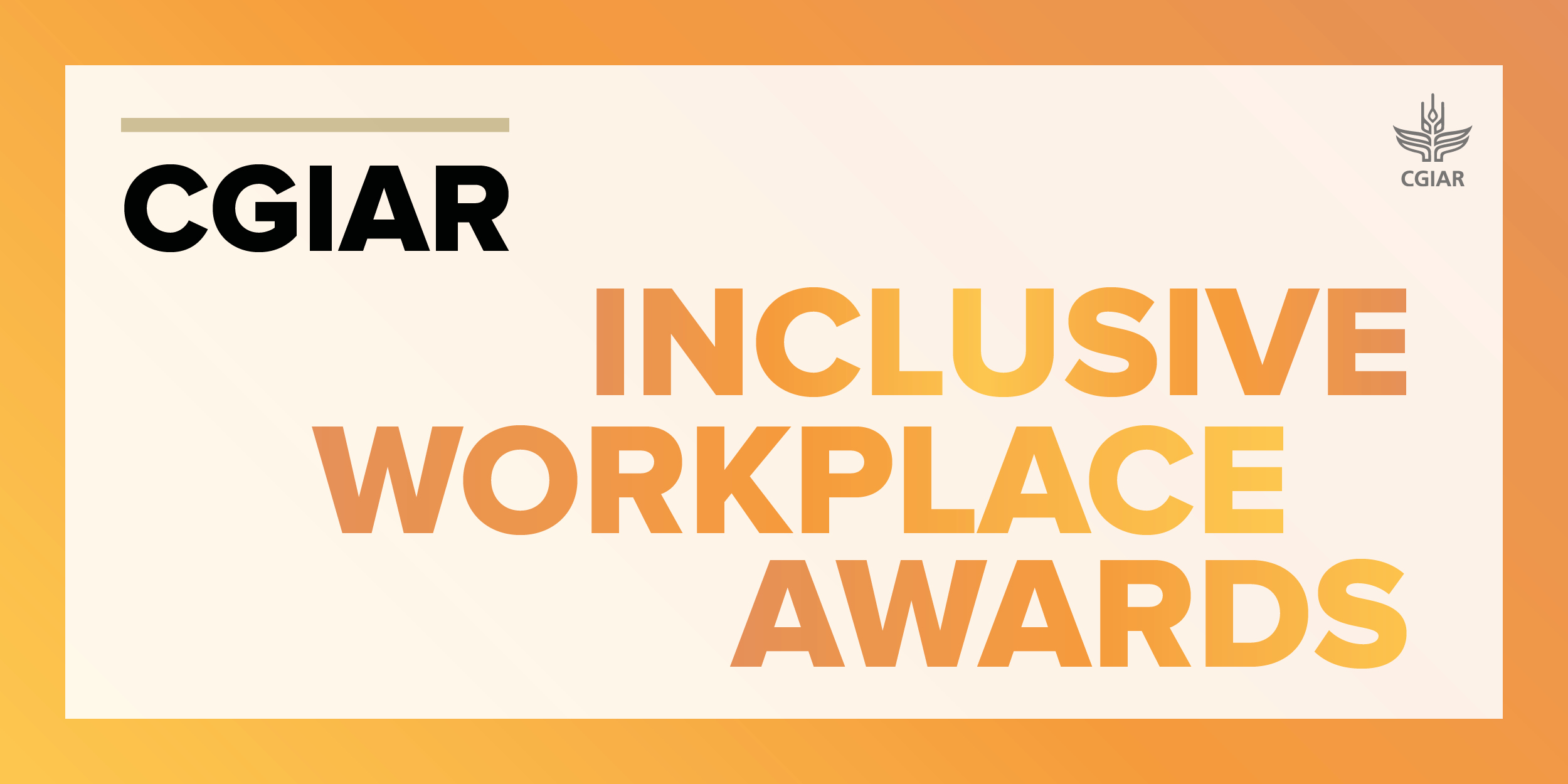 The winners of CGIAR's inaugural Inclusive Workplace Awards will be announced in a special online ceremony on September 15th from 13:00 – 14:00 CET, co-hosted by Joaquin Lozano CGIAR's Regional Director, Latin America and the Caribbean and Fiona Bourdin-Farrell, CGIAR's Global Director of People and Culture, and featuring a keynote address by Claudia Sadoff, CGIAR's Executive Managing Director.
All staff are invited to attend the ceremony and are encouraged to register in advance at https://cgiar.zoom.us/webinar/register/WN_XT1RgJTwT-SFiWMCsWhBfA
The Inclusive Workplace Awards recognize individuals and teams who actively demonstrate inclusive behaviors in their everyday work lives, and make significant contributions to the enhancement of Gender, Diversity and Inclusion (GDI) in CGIAR's workplaces. 
Winners have been chosen from an impressive pool of 150 nominees across three award categories: 
Inclusive Role Model Award:

recognizes staff who have proactively role modeled inclusive and respectful behaviors in their workplace 

Inclusive Team Award:

recognizes formal or informal teams who have proactively adopted better ways of working to create an inclusive and respectful team culture

Inclusive Leader Award:

recognizes the impact and influence of a senior leader who proactively advocates and role-models GDI behaviors in their center or system-wide. 
Following the July 6th nomination deadline, the GDI Function reviewed all award applications, narrowing down the field to a handful of potential award winners in line with published criteria. From there, top nominations for each award were reviewed and evaluated by a diverse panel of internal and external experts. Visit here to learn more about the award criteria. 
All CGIAR staff were eligible to nominate themselves and/or their coworkers, teams, and leaders for the awards. Multiple nominations were also accepted. 
"The Inclusive Workplace Awards are an important event for all of us at CGIAR," said Fiona Bourdin-Farrell. "Diversity is our strength and it's critical to take the time  to celebrate the people and teams that contribute everyday to making our workplaces more inclusive, innovative and better places to work." 
"Please join us on September 15th to cheer on and recognize the incredible contributions your colleagues are making to CGIAR's global workplaces," she concluded. 
Register here to secure your spot!