Catalyzing Coherence: CGIAR Initiatives in India
From

CGIAR Initiative on National Policies and Strategies

Published on

31.05.23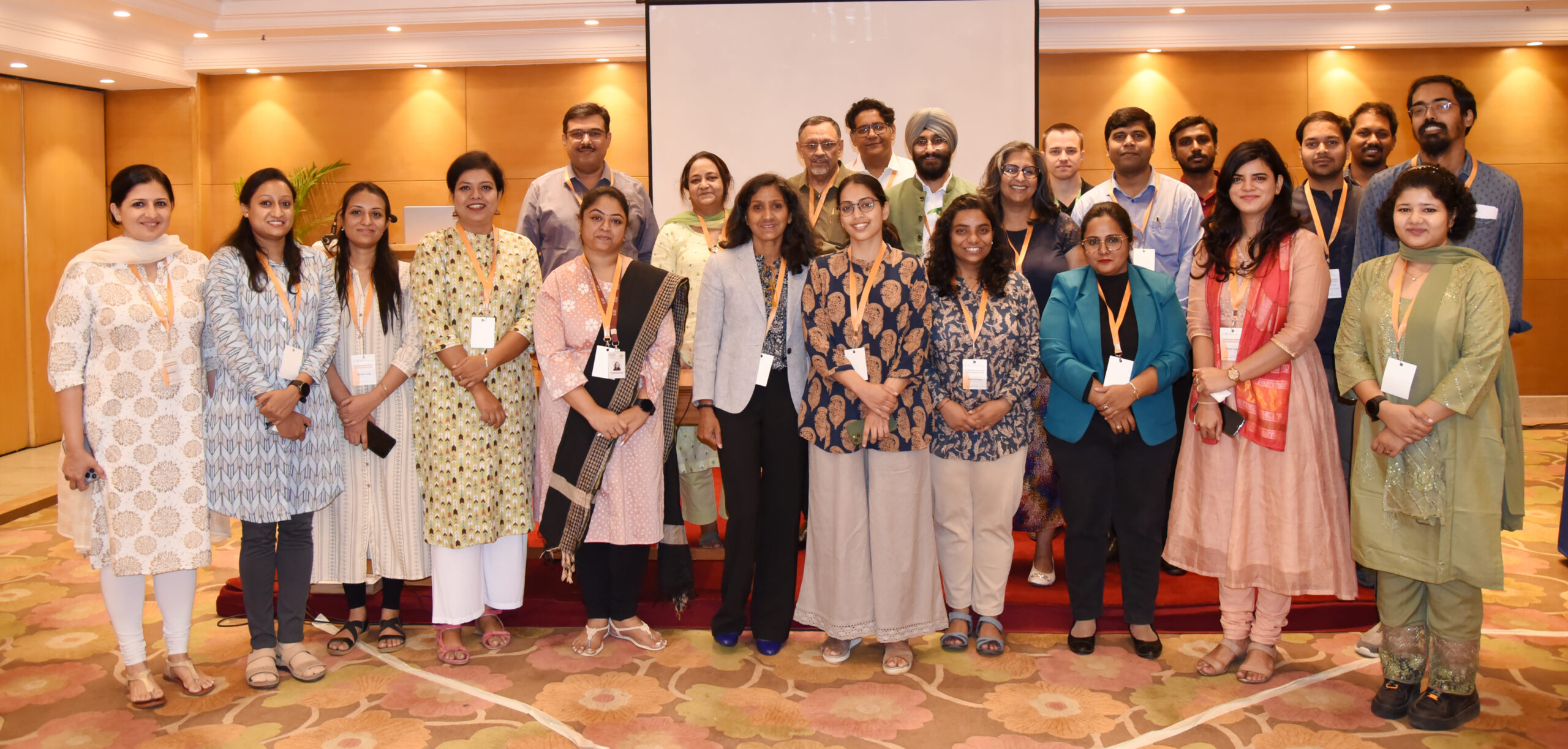 By Suchiradipta Bhattacharjee, Garima Taneja, Archisman Mitra, and Shilp Verma
Increasing food and nutrition insecurity threats, income poverty, inequality, and economic marginalisation pose severe threats to achieving the SDGs. CGIAR has identified five impact areas to address these and launched 32 initiatives across them. Of these, 16 initiatives are working in India and are being implemented by CGIAR centres, as listed below.
One of the objectives of the CGIAR initiative on National Policies and Strategies (NPS), led by IWMI in India, is to bring together all the initiatives to build a unified interface with partners and stakeholders; this will also help explore better coupling of initiative activities to forge a more substantial policy impact in India. The first step towards this is understanding the country's initiative activities, building a ready reference source for that information, and identifying synergies. The CGIAR Systems Office and IWMI India organised a half-day consultation with this intent. At the event, initiative representatives provided a brief snapshot of their focus and activities to help identify opportunities for synergistic collaborations.
Key Learnings from the Initiatives
In preparation for this event, the NPS team gathered and compiled data for each initiative working in India and presented the results. This data shows that the Indian Council for Agricultural Research (ICAR) is the most sought-after national partner, working with six initiatives, followed by the Government of Odisha, the Ministry of Agriculture and Farmers' Welfare, Ministry of Jal Shakti and Niti Aayog. This indicates the significant emphasis on 'policy impact' placed by the initiatives, both at the national and the state level. The initiatives agreed to explore opportunities for working collaboratively to invest in policy engagement at various levels. In terms of targeting specific government programs and policies, MGNREGA (Mahatma Gandhi National Rural Guarantee Act), PMKSY (Pradhan Mantri Krishi Sinchayee Yojana), PKVY (Paramparagat Krishi Vikas Yojana), PMMSY (Pradhan Mantri Matsya Sampada Yojana) and RKVY (Rashtriya Krishi Vikas Yojana) ranked among the top five. In terms of geographical scope, Odisha is the chosen focus area for five of the initiatives, followed by Bihar and Andhra Pradesh (three initiatives each).
Catalysing Coherence
After the data compiled by NPS was presented and each initiative made a small intervention to share unique aspects of the initiative's work in India, participants were invited to join one of three break-out discussions to recommend action points for aligning CGIAR initiatives in India with national and regional priorities, responding to crises and specific urgent demands, and on external communications and dissemination.
Aligning CGIAR initiatives with National and Regional Priorities
The group offered several valuable suggestions for the initiatives to navigate the complexities of working closely with the government at various levels. The need for initiatives to elevate awareness about and understanding of OneCGIAR among government officials was highlighted. It was suggested that doing this would require specific 'public relations' and rapport-building exercises with senior government experts. Odisha – where several initiatives are working – can be a starting point for such an exercise. A first step can be appointing a state coordinator / CGIAR representative to lead this engagement.
The group also suggested investing in developing a formal 'Memorandum of Understanding' with government entities; this can also be an important 'risk-proofing' strategy to avoid abrupt misalignments resulting from political disruptions. For initiatives working on novel ideas and innovations, the group recommended engagement with government stakeholders at the conception stage and co-development of innovations, such that government can take ownership of the ideas, innovations and technologies for scaling.

Responding to Crises and Specific Urgent Demands
The need to better respond to crises and urgent demands is critical, especially in the context of climate change and climate-induced uncertainties. The group deliberated on the importance of defining 'crisis' and CGIAR's role in including the views of communities grappling with the crises while developing appropriate responses. The group highlighted the need for building-in resource sharing and joint crises response mechanisms – such as rapid impact surveys into initiative work plans; where projects offer limited flexibility, 'future positive planning' must be incorporated in the design to equip initiatives to address crises and urgent demands. The need for creating awareness about OneCGIAR and rapport-building with government agencies was also highlighted by this group. The group also strongly emphasised the opportunity offered by CGIAR's five Impact Platforms for inter-initiative collaboration and collaborative policy engagement.
The group highlighted instances where initiatives are already putting some of these suggestions into practice. The case of Odisha was discussed – a state that has created an impressive and efficient response system against frequent cyclones. The group suggested that the CGIAR initiatives can help establish brokering / liaison cells (communication cells established to facilitate engagement with government, public, and private stakeholders) to provide necessary access to information and resources to stakeholders during crises.
External Communication and Dissemination
This group took stock of the initiatives and strongly suggested that each initiative should develop a formal communications and policy engagement strategy beyond just disseminating research outputs. The initiatives – this group suggested – should work with policy analysts and science communicators to develop a detailed communication calendar and specific communications products targeted at national, regional and grassroots level.
A common theme discussed across groups was the need for 'shelf-ready' research evidence from the vast pool of CGIAR research. Policies can be influenced by creating demand for it or providing necessary evidence when the demand exists. Such a database can help with both. Experienced researchers with a thorough understanding of the knowledge developed across CGIAR can be 'Research Ambassadors' and facilitate such communication. Further, adding a financial analysis of cost components can help with their quicker adoption and uptake.
Identifying entry points within governments, working with boundary organisations, and addressing policymakers' values and needs when communicating with them is essential.
Way forward
The consultation was an essential first step in bringing together various CGIAR initiatives working in India. It facilitated an exchange of ideas and highlighted some key points of convergence. The action points discussed in each break-out group and the plenary also guided future actions to enhance the internal coherence of CGIAR initiatives in India.
Recognising the significance of the data collected on initiative activities in India by NPS, it was suggested that analysing the data, sharing it among the initiatives as a public good, and continually updating the dataset are crucial to internal coherence. It was also agreed that such data should be shared through the CGIAR initiatives dashboard.
Another key takeaway was the need for continuous conversations and consultations among initiatives. Specifically, it was proposed that NPS, TAFSSA, and the CGIAR System Office can collaborate to organise various workshops throughout the year. Some of these events could be internal CGIAR gatherings, where key results and policy recommendations from the initiatives can be discussed, and efforts could be made to have coordinated messaging for policymakers. Simultaneously, external workshops should also be planned to help deliver synchronised messaging and consistent recommendations from the initiatives for partners, donors and government stakeholders.
---
This work is part of the CGIAR Research Initiative on National Policies and Strategies (NPS). CGIAR launched NPS with national and international partners to build policy coherence, respond to policy demands and crises, and integrate policy tools at national and subnational levels in countries in Africa, Asia, and Latin America. CGIAR centers participating in NPS are The Alliance of Bioversity International and the International Center for Tropical Agriculture (Alliance Bioversity-CIAT), International Food Policy Research Institute (IFPRI), International Livestock Research Institute (ILRI), International Water Management Institute (IWMI), International Potato Center (CIP), International Institute of Tropical Agriculture (IITA), and WorldFish. We would like to thank all funders who supported this research through their contributions to the CGIAR Trust Fund.