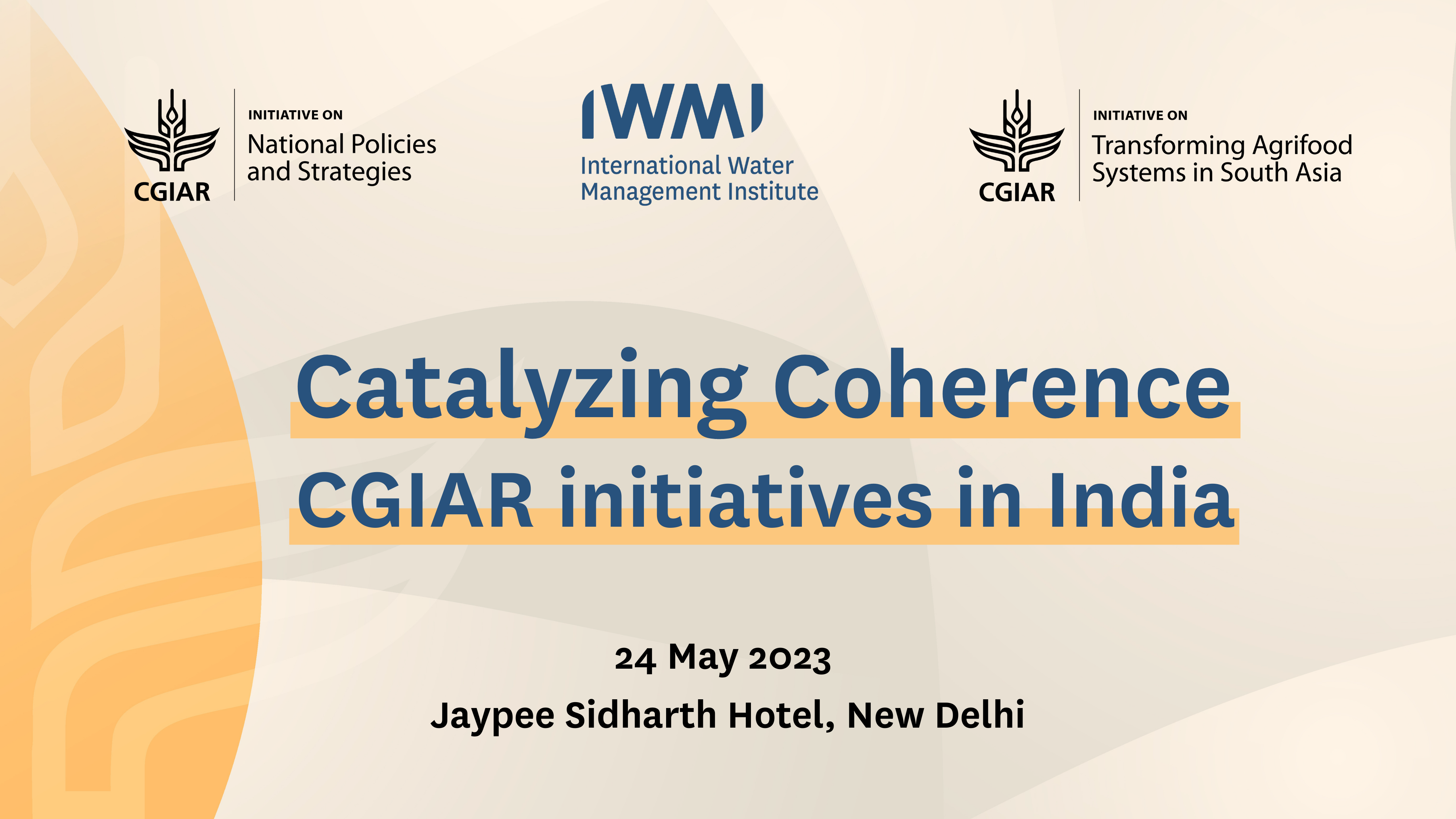 Catalysing Coherence: CGIAR initiatives in India
Date

24.05.23

Time

09:00 am > 04:00 pm

UTC+05:30
Catalysing Coherence:
CGIAR initiatives in India
24 May 2023 | Jaypee Sidharth Hotel, New Delhi
Background
The CGIAR System Office and IWMI India are delighted to invite you to a half-day consultation, being organized as part of the CGIAR Initiative on National Policies & Strategies. Building policy coherence is one of the focus areas of NPS and the initiative aims to facilitate and catalyse coherence, not only among national policies but also within the CGIAR. Home to 16 CGIAR initiatives, such coherence is doubly important in India.
The objective of this cross-initiative consultation is to promote greater understanding and appreciation among CGIAR initiatives working in India. Besides fostering exchange of ideas, the event will also identify synergies and opportunities for the initiatives to work together.
In preparation for the event, the NPS India team will compile information from each of the initiatives to understand the initiatives' focus on impact areas, research themes, geographies, partnerships and policy engagement. This information will be presented during the event. Each initiative will then be invited to share some unique and critical aspects of their work in India followed by discussion in three break-out groups – each focusing on one area of opportunity for synergistic action.
Tentative Program
Time

Program Item

Presenter

 Registration | 15 minutes | 

Introductory Session | 45mins | 

09:00 – 09:15

Welcome and Introduction

Temina Lalani-Shariff, CGIAR

09:15 – 09:30 

What do we mean by 'policy coherence'?

Why this event is important; and how can NPS help?

Clemens Breisinger, IFPRI

09:30 – 09:45

Overview of CGIAR initiatives in India

(…based on data shared by initiatives) 

NPS India Team 

Getting to Know the Initiatives | 75 mins | 

Each initiative will be invited to share, in 3 minutes,

"What about your initiative's work in India would you like this audience to know more about?"

Session Facilitator: Shilp Verma 

9:45 – 11:00

 

 

 

 

 

 

 

 

 

 

 

 

 

 

 

 

 

 

 




Alok Sikka, IWMI




Alok Sikka, IWMI




Shobha Venkatanagappa, IRRI




Ranjitha Pushkar, IRRI




Arun Padiyar, World Fish




Purnima Menon, IFPRI 




Prakashan Chellattan Veettil, IRRI 




Sheetal Sharma, IRRI 




Barun Deb Pal, IFPRI




Kuldeep Singh, ICRISAT




Deepa Joshi, IWMI




Mansi Tripathi, IWMI






NPS India Team






Moushumi Hazra, IWMI




Sudha Nair, CIMMYT

11:00 – 11:10 

Open Discussion

11:10 – 11:30

                                                                    Tea/Coffee Break

Exploring Synergies | 75 mins | 

11:30 – 11:45

 

Briefing on Break-Out Groups

(Participants will be invited to join one of three break-out groups; each group will focus on one aspect where cross-initiative collaborative work is needed for policy coherence)

NPS India Team 

11:45 – 12:00

                                          Audience Engagement | 15 min |

12:00 – 13:00

Group 1

Aligning with national and

regional priorities 

Group 2

Responding to crises and specific urgent demands

Group 3

External communication and dissemination 

                                    Group Discussion Facilitation and Reporting Back

Avinash Kishore/Muzna
Alvi, IFPRI 

Shreya Chakraborty,
IWMI/Sudha Narayanan, IFPRI

Purnima Menon, IFPRI 

13:00 – 14:00 

                                                                                     Lunch 

14:00 – 14:30

 

Reporting Back from Break-Out Groups

Aligning with national and regional priorities

Responding to crises and specific urgent demands

External communication and dissemination




Group Facilitators

14:30 – 14:35

Quick Audience Engagement | Q&A

All Participants

14:35 – 15:35 

                                               Bilateral Discussions | 60 mins |

NPS & TAFSSA

15:35 – 16:00 

Closing Remarks/Vote of Thanks 

Clemens Breisinger, IFPRI

Alan Nicol, IWMI
---
Individuals attending this event may be audio taped, videotaped, or photographed during the course of a meeting, and by attending grant permission for their likenesses and the content of their comments, if any, to be broadcast, webcast, published, or otherwise reported or recorded. Questions? Please contact nps@cgiar.org
---
This work is part of the CGIAR Research Initiatives on National Policies and Strategies (NPS). CGIAR launched NPS with national and international partners to build policy coherence, respond to policy demands and crises, and integrate policy tools at national and subnational levels in countries in Africa, Asia, and Latin America. CGIAR centers participating in NPS are The Alliance of Bioversity International and the International Center for Tropical Agriculture (Alliance Bioversity-CIAT), International Food Policy Research Institute (IFPRI), International Livestock Research Institute (ILRI), International Water Management Institute (IWMI), International Potato Center (CIP), International Institute of Tropical Agriculture (IITA), and WorldFish. We would like to thank all funders who supported this research through their contributions to the CGIAR Trust Fund.