AfricaRice and IRRI agree to a step-change in partnership to harness synergies and accelerate their impact in Africa on rice-based food systems
From
Published on

21.03.18

Impact Area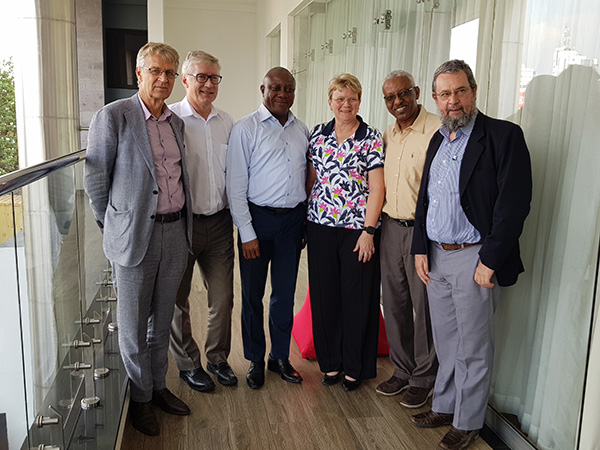 The Africa Rice Center (AfricaRice) and the International Rice Research Institute (IRRI) have agreed to a step-change in their partnership to accelerate delivery on the rapidly growing needs of the African rice sector, in particular, and the Sustainable Development Goals, in general.
The two CGIAR Centers will join together to offer a comprehensive, pan-African, multi-focus program of research for development services aligned with national priorities. The key areas of change will include more foresighting and capacity development services, addressing gender and youth opportunities, contributing to nutrition and health needs, providing evidence-based policy research, developing climate-resilient rice varieties, and assuring high performance production systems and value chains to better link smallholder farmers to markets. 
"Such a shift in our approach to the African rice sector will help achieve greater and more rapid impact across the value chain and facilitate stronger support and recognition of our joint efforts by our stakeholders," declared Harold Roy-Macauley, Director General of AfricaRice In endorsing the new approach, Matthew Morell, Director General of IRRI said "IRRI and AfricaRice are committed to harnessing our collective capacity to address the rice self-sufficiency needs of Africa and achieve it in an economically and socially sustainable manner."
The senior management teams of AfricaRice and IRRI met on the 13th and 14th March 2018 in Nairobi, Kenya. They agreed to enhance joint opportunities and harness the synergies between the two Centers and their partners in support of their shared vision. 
From these discussions, the two organizations will establish stronger mechanisms to jointly identify new opportunities, create programmatic alignment and eliminate duplication of efforts. They will also work to secure investment, strengthen partnerships, share facilities and services, and accelerate impact. 
The discussions were led by the Directors General of AfricaRice and IRRI. Dr Etienne Duveiller, AfricaRice Deputy Director General and Director of Research for Development, Dr Jacqueline Hughes, IRRI Deputy Director General for Research as well as Dr Paul Kiepe, AfricaRice Head, Research Planning and Coordination, and Dr Abdelbagi Ismail, IRRI Representative for Eastern and Southern Africa also participated in the discussions. 
IRRI and AfricaRice are among the six research organizations leading the CGIAR Research Program on rice agri-food systems (RICE). The two Centers work with a number of common partners including public and private sector organizations, local and regional governments, the CGIAR system, and investors.