Building gender and youth research capacities for agriculture and development
From
Published on

28.09.20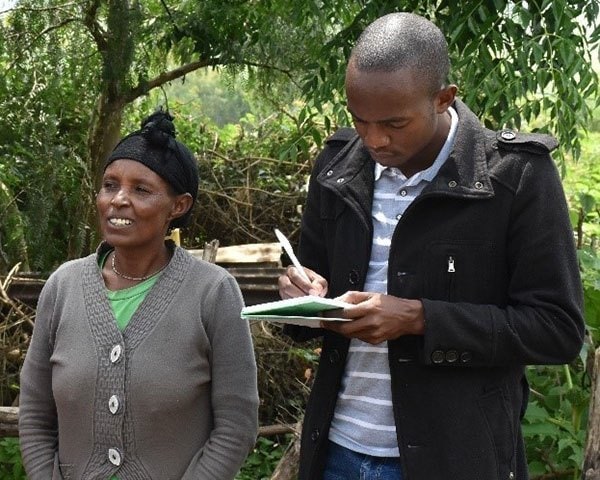 Photo: Phillip Miriti (in black) during a field interview in Ethiopia (ICRISAT)
Aspiring researchers who attended ICRISAT's capacity building programs in gender and youth research in East and Southern Africa say their learnings from the programs involving extensive field work have given them a strong orientation in these areas vis-à-vis agriculture research for development.
The value of research, technological change and innovation in agriculture for transforming economies is well-known. It also goes without saying that the success and impact of agricultural research and development depends in large measure on the quality and quantity of human resource capacity. Through a Postdoc Fellowship and Gender Internship Programs in Gender and Research, ICRISAT has created a niche in capacity building by hosting Masters, PhD and Postdoctoral students for thesis and research. We profile three aspiring researchers (one PhD graduate and two Masters' interns) to learn about their experiences and learnings from the programs.
Dr Katindi Sivi, Strategic Leadership and Strategic Foresight (PhD) graduate from Regent University, Virginia Campus, USA
Dr Katindi specializes in research, policy analysis and futures strategies. Most of her work has been around youth demographics and un/employment. During her doctoral study, she researched systemic challenges of youth unemployment in Africa and found that future youth employment lies in, among other sectors, dryland agriculture. "The opportunity to do field research in Tanzania, Uganda and Ethiopia enriched my research. On the other hand, ICRISAT was looking for a youth researcher to support empirical data collection for designing a youth strategy for drylands agriculture in the Semi-Arid Tropics. Our objectives aligned, hence the opportunity to work together," explains Dr Katindi.
Despite the study being intense, Dr Katindi is grateful for the interactions and discussions she had in the study countries because they helped refine her PhD research questions, which further clarified the research direction she was going to take. "The technical and financial support to conduct field research helped me cover much more ground than I could have done independently," she adds.
From the youth study results with the Sokoine University of Agriculture in Tanzania, a Seed Revolving Fund (SRF) was designed in December 2019 in partnership with The Accelerated Varietal Improvement and Seed Delivery of Legumes and Cereals in Africa (AVISA) Project to engage youth in accelerated seed delivery in Tanzania. Dr Katindi anticipates that some of the ideas pertaining to holistic development of youth, addressing social-cultural barriers, rural infrastructure development as well as addressing political barriers such as discriminatory policies, laws and by-laws will be tested, and the theory of change improved upon through the SRF.
She also hopes that the completion of the CGIAR Research Program-Grain Legumes and Dryland Cereals (CRP-GLDC) youth strategy and its eventual implementation would lead to an increased interest among youth in global Semi-Arid Tropics and help improve their livelihoods.
Rachel Gitundu, candidate in Master of Arts, Anthropology, The University of Nairobi, Kenya Since joining ICRISAT, Ms Gitundu's internship journey has been empowering as she was able to experience fieldwork, from project planning, data
collection, data cleaning and analysis to report writing. This was through community engagements and participation in workshops and conferences. She narrates, "I have had a lot of growth through activities such as write shops and development of research papers from field data, which has helped me participate in a number of international conferences.  Further, I have had the opportunity to travel and collaborate with people from different backgrounds and countries. These gave me the pleasure to experience life and see it through the eyes of our study participants in different countries. For an anthropologist, this is nothing short of a dream come true."
Ms Gitundu's take-home message from the internship is, gender equity is prerequisite to development because there is a need to ensure that both men and women are provided with necessary resources to enable them to uniquely perform their roles to the best of their capabilities. "Empowering women so that they can achieve their potential, and therefore realize meaningful milestones as a people is critical. After all, we cannot have half the population disadvantaged and expect to reach our optimum in development," she concludes.