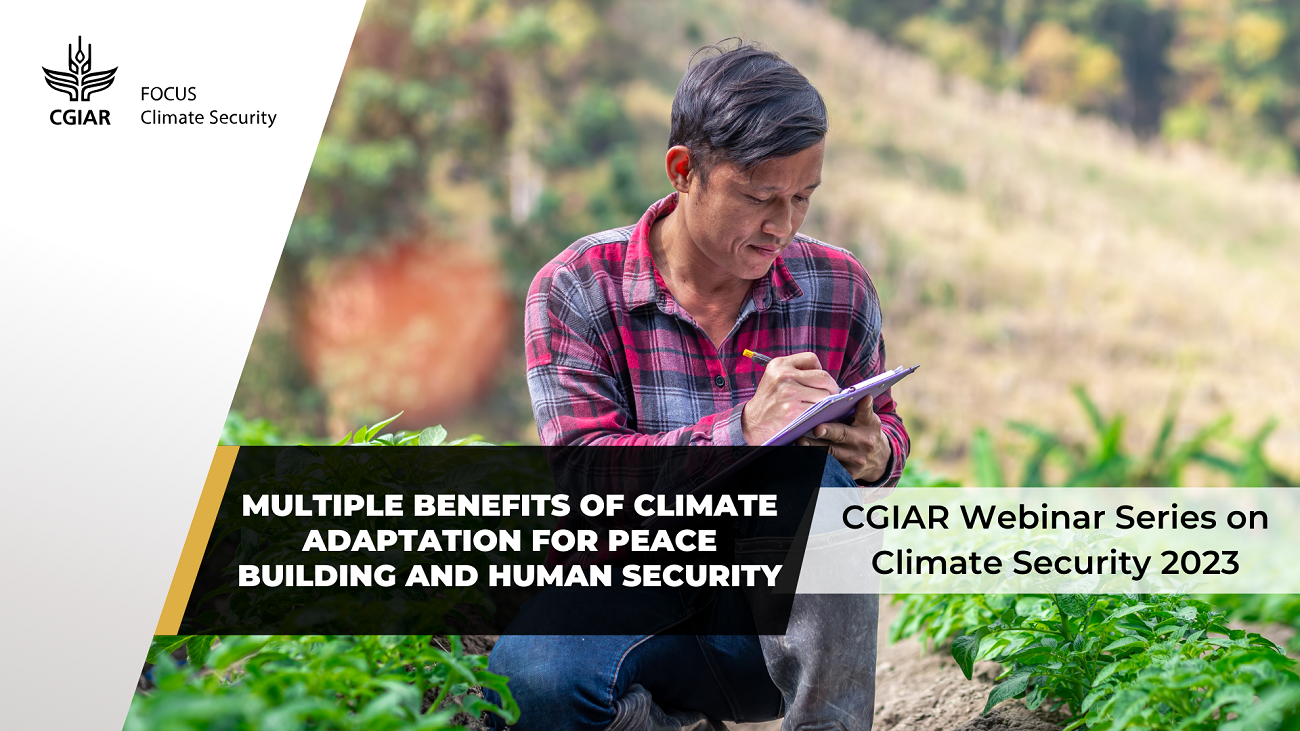 Multiple Benefits of Climate Adaptation for Peace-Building and Human Security
Date

02.11.23

Time

03:00 pm > 04:00 pm

UTC+01:00

Registration
Are you eager to explore innovative solutions at the intersection of climate adaptation, peace, and sustainable development? Join us for a thought-provoking webinar that promises to redefine the way we approach climate resilience in conflict-affected regions.
🗓️ Date: November 2, 2023
🕓 Time: 16:00 – 17:00 CET
We understand that climate vulnerability is intricately linked with fragility, conflict, and violence, which often plague agricultural communities. Tackling these challenges requires more than just environmental solutions; it demands an integrated strategy that promotes systemic resilience, productivity, and social equity.
To build truly resilient societies, we must bridge the gap between environmental sustainability and social stability. This webinar will emphasize the need to address compounded climate security risks within this complex context.
What's more exciting is that climate adaptation finance is not just about agriculture; it has the power to catalyze social cohesion and peacebuilding. When targeted and deployed effectively, climate investments can empower communities, drive economic development, and create environments resilient to both climate change and conflict.
Our panel will draw insights from the CGIAR Climate Resilience Initiative and explore actionable pathways for climate adaptation financing in conflict-affected regions.
Our primary objectives are crystal clear:
🌱 Identify practical avenues to direct adaptation funding to conflict-affected countries.
🏛️ Examine the foundational elements required for a climate finance ecosystem sensitive to conflict dynamics.
🌐 Initiate discussions to expand the mandates of global climate funds, embracing provisions for environmental peacebuilding.
Mark your calendar for November 2nd and join us in exploring innovative strategies that seamlessly integrate climate adaptation investments with peacebuilding objectives, all while advancing conflict prevention and sustainable development goals.