Improved cassava varieties are becoming a key ingredient in global food security
From

CGIAR Initiative on Accelerated Breeding

Published on

29.09.23

Impact Area
Funders

Australia, Bill and Melinda Gates Foundation, Germany, United Kingdom, United States of America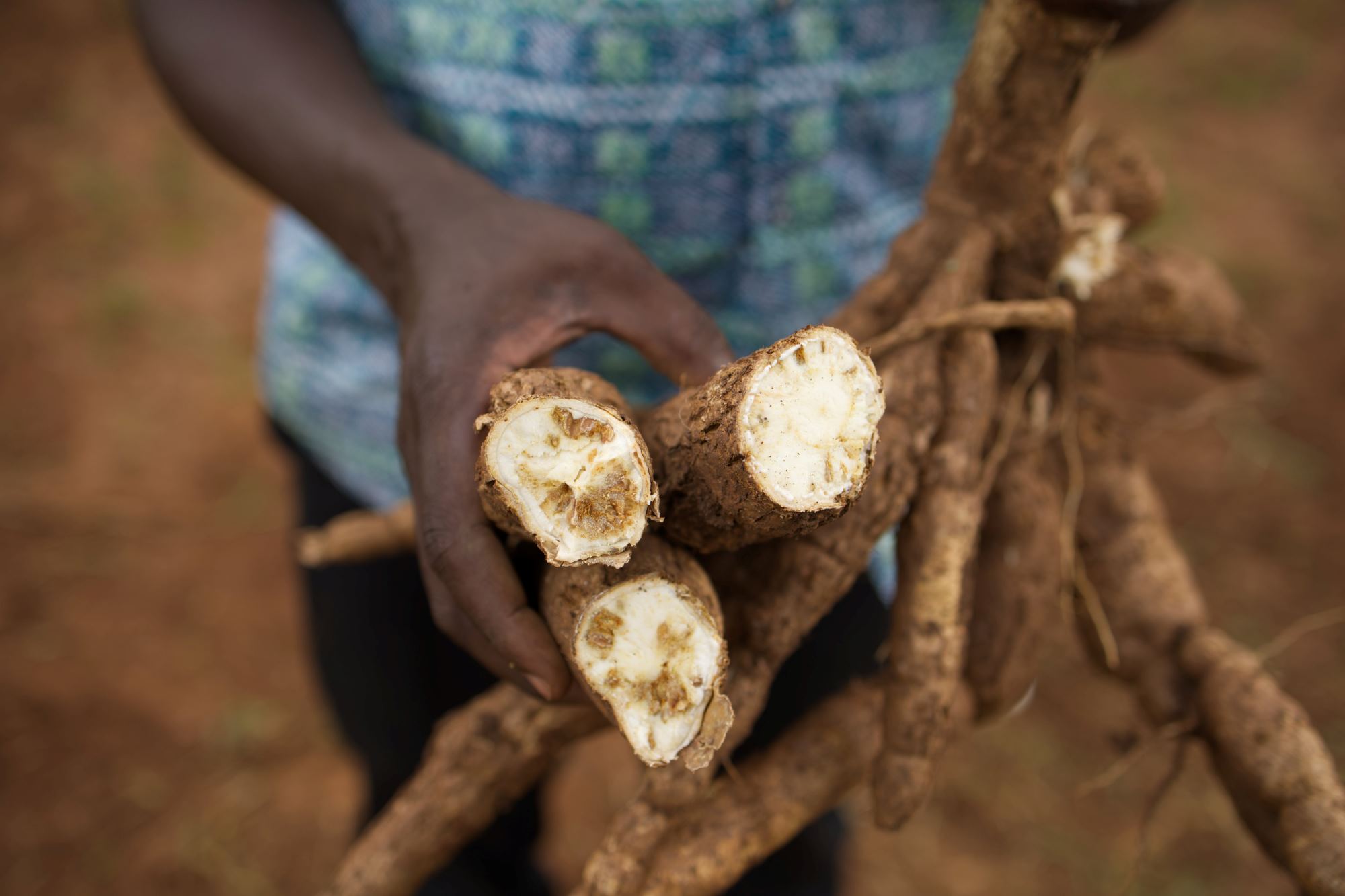 Little known in most highly developed countries, the root vegetable cassava has been largely ignored by commercial breeding and seed companies. But it is one of the most vital foods on Earth. Across developing countries, it is fourth in total crop production – with over half of that in Africa and another third in Asia. And it has enormous commercial potential to expand even further.
In the face of climate challenges, , and escalating nutritional needs, CGIAR breeding programs and their national partners are working hard to help cassava meet its promise. The network of agricultural research institutes has a long history of fending off food crises with new varieties. And it's been breeding better cassava varieties in low- and middle- income countries for decades.
But breeders are now applying state-of-the-art breeding science methods and market intelligence to push out high performing, ready-to-adopt varieties. Smallholder farmers and communities rely on the success of these efforts for this "white gold" of crops.
So how can we ensure breeding programs create these powerful, in-demand, solution-oriented varieties? We can invest in four key steps:
Align with market needs
Countries' market insights are crucial in helping breeders decide what traits to target. By harnessing this data, International Institute of Tropical Agriculture (IITA) improved product profiles for cassava – along with cowpea, maize and yam – across West and Central Africa.  Target Product Profiles (TPP) describe the traits demanded by farmers and consumers. These guide breeding decisions, ensuring programs develop cassava varieties with much greater likelihood of both adoption and impact.
And since women are often decision-makers on-farm and in-homes, criteria for gender intentionality were established in collaboration with Market Intelligence Initiative. Twenty-two percent of all breeding pipelines were defined as gender intentional. A pilot study with cassava in Central and West Africa evaluated each trait in the TPP for gender relevance and intentionality. This work is key to ensuring gender-based constraints do not hinder use of new varieties delivered.
Optimize breeding programs
Modern breeding is data-driven, designed through applying quantitative genetics principles and computer simulation tools to maximize the rate of improvement in traits of interest – such as taste or drought tolerance – needed by farmers.
Through CGIAR's Accelerated Breeding Initiative and the cassava breeding program at the Alliance of Bioversity and CIAT, breeders have been using computer simulation powered by quantitative genetics to make decisions on alternative breeding schemes. This helped them optimize the size of programs to attain the highest performance over time, find the best strategies to select varieties that have the most potential for farmers. They decided to invest in genomic selection and hybrid breeding.  Collaborating with industry consultants, the program has developed a process map and initiated cassava hybrid breeding in 2022. Such steps to modernize breeding will improve the predictive ability of breeders and increase genetic gains.

Tools and streamlined processes
Results are only as good as the tools and processes designed to achieve them. IITA has been working on improving cassava breeding programs in Africa by streamlining processes. This includes defining cassava breeding pipelines, mapping out essential processes, establishing clear organizational structures, standardizing roles and disciplines, and mapping decision responsibility to provide role clarity and enhance accountability.
These align with the CGIAR stage gates established by Accelerated Breeding – an effort to ensure all breeding programs operate under shared product development stages. Some important tools have been developed, including templates to guide product advancement process and crop calendars for managing crops and planning activities. The key performance indicators to track product advancement is currently being developed in collaboration with the accelerate breeding initiative.
The team is now socializing the developed tools and concepts across partners.
Better data management
Modern breeding's data-driven mode faces numerous challenges. Mislabeling, transcription errors, scattered storage approaches – have been associated with traditional breeding data management. But CGIAR's new data-intensive approach applies versatile data management, quality control, and analytics.
The Enterprise Breeding System (EBS) is the data management system of choice for CGIAR crops, and it is getting ready to onboard all CGIAR breeding programs. But currently, CassavaBase, an open access platform implemented by IITA, ABC and BTI/Cornell University, is providing the capabilities needed by CGIAR and national cassava breeding programs. CassavaBase allows breeders to manage phenotyping, genotyping, crossing data efficiently, track tissue samples, use genotyping plates, calibrate near-infrared spectroscopy (NIRS), and handle drone and image analysis. Its implementation has resulted in better selection accuracy and consistent genetic gain.
CasavaBase and EBS are improving both data quality and turn-around time for decision making for CGIAR and national partners. They also support breeders to improve quality control steps at different stages of the breeding process.
A range of other digitization tools and technology are also being supported to ensure higher quality data and quality control at all process steps. These include designing of field layouts, ontology-driven data management, barcode-based data collection and other tools to improve breeding results.
Technology use
Cassava breeding research involves using molecular markers to identify varieties with certain traits. One key trait needed is resistance to Cassava Brown Streak Virus Disease (CBSD), a disease considered a major threat to African food security.  The team is also developing a genomic selection platform and high-throughput phenotyping system tools to support breeding activities across their network. These technologies boost speed and data accuracy.
Conclusion
With these innovations, breeding pipelines are now designed to meet market needs and apply the right technologies to ensure quick delivery. With several new CGIAR-supported cassava varieties released by national programs every year, farmers and consumers can expect higher-yields, resistance to pests and diseases, and much needed biofortification. CGIAR and its national breeding partners are poised to improve the lives of millions with these new varieties of cassava.
—–
Blog developed by Adam Hunt, Head of Communications, CGIAR Genetic Innovation, with input from the IITA cassava team. We would like to thank all funders who support CGIAR research through their contributions to the CGIAR Trust Fund. And thank you to the supporters and partners of CGIAR Excellence in Breeding, particularly the funding from Bill and Melinda Gates Foundation. Main photo: Cassava at a CGIAR partner breeding facility in Uganda. Photo: Jjumba Martin, ABI/CGIAR.