Transformation of coffee-growing landscapes across Latin America. A review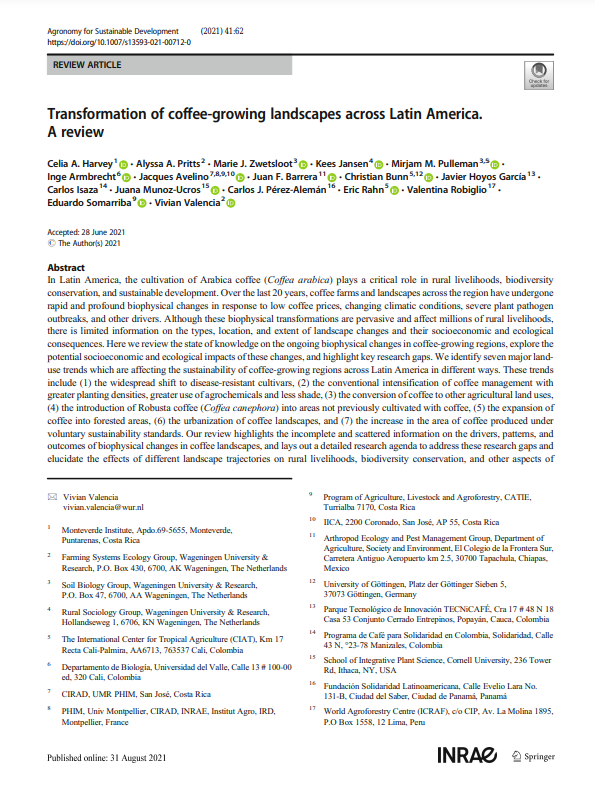 From
Published on

31.08.21

Challenges
Download
In Latin America, the cultivation of Arabica coffee (Coffea arabica) plays a critical role in rural livelihoods, biodiversity conservation, and sustainable development. Over the last 20 years, coffee farms and landscapes across the region have undergone rapid and profound biophysical changes in response to low coffee prices, changing climatic conditions, severe plant pathogen outbreaks, and other drivers. Although these biophysical transformations are pervasive and affect millions of rural livelihoods, there is limited information on the types, location, and extent of landscape changes and their socioeconomic and ecological consequences. Here we review the state of knowledge on the ongoing biophysical changes in coffee-growing regions, explore the potential socioeconomic and ecological impacts of these changes, and highlight key research gaps. We identify seven major land-use trends which are affecting the sustainability of coffee-growing regions across Latin America in different ways.
These trends include (1) the widespread shift to disease-resistant cultivars, (2) the conventional intensification of coffee management with greater planting densities, greater use of agrochemicals and less shade, (3) the conversion of coffee to other agricultural land uses, (4) the introduction of Robusta coffee (Coffea canephora) into areas not previously cultivated with coffee, (5) the expansion of coffee into forested areas, (6) the urbanization of coffee landscapes, and (7) the increase in the area of coffee produced under voluntary sustainability standards. Our review highlights the incomplete and scattered information on the drivers, patterns, and outcomes of biophysical changes in coffee landscapes, and lays out a detailed research agenda to address these research gaps and elucidate the effects of different landscape trajectories on rural livelihoods, biodiversity conservation, and other aspects of sustainable development. A better understanding of the drivers, patterns, and consequences of changes in coffee landscapes is vital for informing the design of policies, programs, and incentives for sustainable coffee production.

Harvey, Celia A.; Pritts, Alyssa A.; Zwetsloot, Marie J.; Jansen, Kees; Pulleman, Mirjam M.; Armbrecht, Inge; Avelino, Jacques; Barrera, Juan F.; Bunn, Christian; García, Javier Hoyos; Isaza, Carlos; Munoz-Ucros, Juana; Pérez-Alemán, Carlos J.; Rahn, Eric; Robiglio, Valentina; Somarriba, Eduardo; Valencia, Vivian.