How to swarm? Organizing for sustainable and equitable food systems transformation in a time of crisis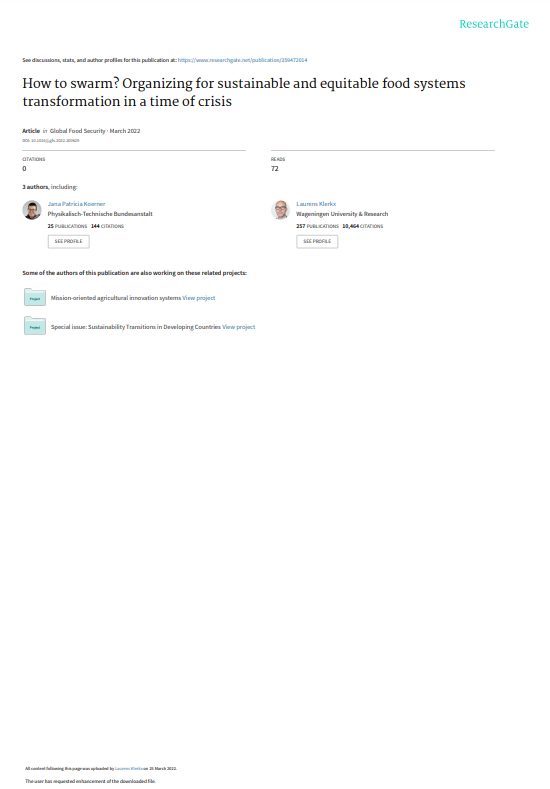 From
Published on

17.03.22

Challenges
Download
Accelerating food systems transformation in the face of climate change and other global crises requires myriad changes across all levels, themes, and geographies. This calls for re-thinking the roles of agricultural research for development (AR4D). In this perspective article we use the metaphor of 'swarms' and 'swarming' to illustrate a more distributed way of working with a set of approaches that, if implemented jointly, may help AR4D researchers and their institutions to step up the pace and scale for food systems transformation, as urgently called for in global dialogues around the UN Food System Summit, COP 26, and beyond.
We identify four roles for AR4D within swarmed design: facilitating the directionality of swarms, fostering swarm mentality and reativity, engaging with swarms in different innovation spaces, and building up and monitoring swarm intelligence. Enacting these roles would require an enabling environment, with the main food systems actors working together in four priority areas: aligning allies around shared visions and innovation portfolios, coupling tailored funding schemes and reworked incentive systems, building more permanent spaces for boundary work, and exploring new ways for structuring science.
Korner, Jana; Thornton, Philip; Klerkx, Laurens.