Selection for bean fly (Ophiomyia spp) resistance and agronomic performance in selected common bean (Phaseolus vulgaris L.) accessions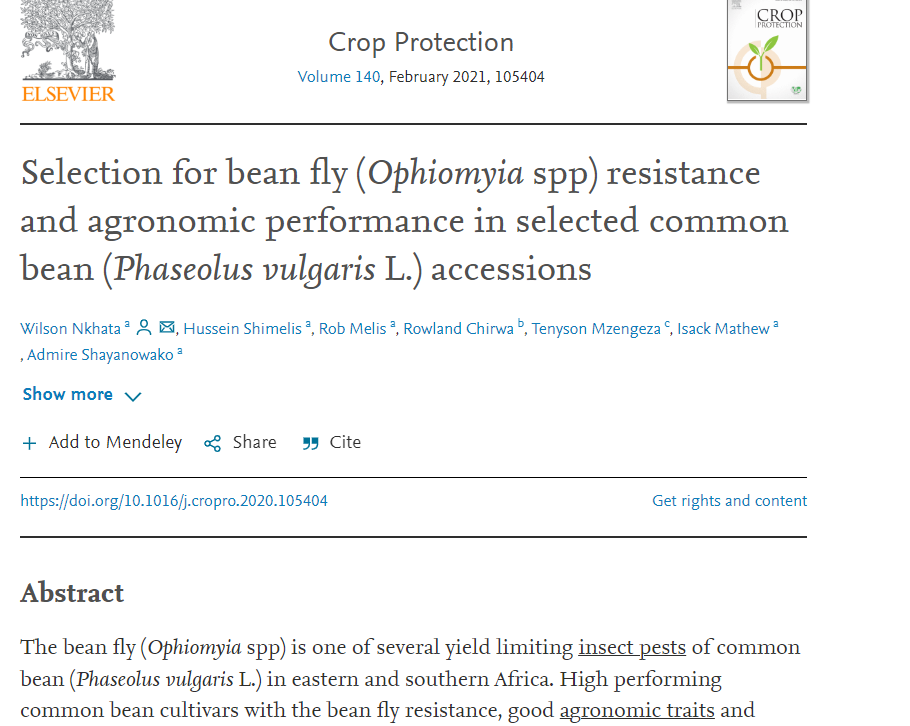 From
Published on

01.02.21

Challenges
Download
The bean fly (Ophiomyia spp) is one of several yield limiting insect pests of common bean (Phaseolus vulgaris L.) in eastern and southern Africa. High performing common bean cultivars with the bean fly resistance, good agronomic traits and market-preferred attributes are yet to be developed in the region. The objective of this study was to evaluate the bean fly resistance and agronomic performance of common bean accessions adapted to the eastern and southern African regions and to select parental lines for breeding. Ninety-nine common bean accessions were evaluated in bean fly hotspot areas in two locations in Malawi during the 2018 and 2019 growing seasons. Damage severity (BDS), plant mortality rate (PMR) and pupa count (PC) were measured to evaluate resistance to the bean fly.
The following agro-morphological traits were assessed: the length between first internode and fifth internode at first flowering (FIL), number of nodes at the first flower (NFF), stem diameter (SD) at 50% flowering stage, days to 50% flowering (DTF), days to 90% physiological maturity (DTM), number of pods per plant (NPP), number of seed per pod (NSP) and grain yield in kg ha−1 (GYD). The analysis of variance revealed significant genotypic variation (p < 0.05) for both bean fly resistance and agro-morphological traits for common bean improvement. About 67.13% variation was explained by the first three principal components associated with BDS, PMR, DTF, SD, NPP, NSP and GYD. Phenotypic correlations between bean-fly resistance traits and grain yield were significant (p < 0.05) and negative, implying that direct selection for bean fly resistant genotypes could improve GYD. Twelve genotypes, namely, A55, A222, A429, Sinoni, ALB 196, MW3954, SIN526, CZ114-50, SCR63, MW3917, ALB133 and A344 showed high grain yield and exhibited resistance to the bean fly. These genotypes will be useful as parental lines for resistance breeding programs in the region.
Nkhata, Wilson; Shimelis, Hussein; Melis, Rob; Chirwa, Rowland; Mzengeza, Tenyson; Mathew, Isack; Shayanowako, Admire.