Replication data for: Genetic analyses for the response to Bean Leaf Crumple Virus (BLCrV) identify a candidate LRR-RLK gene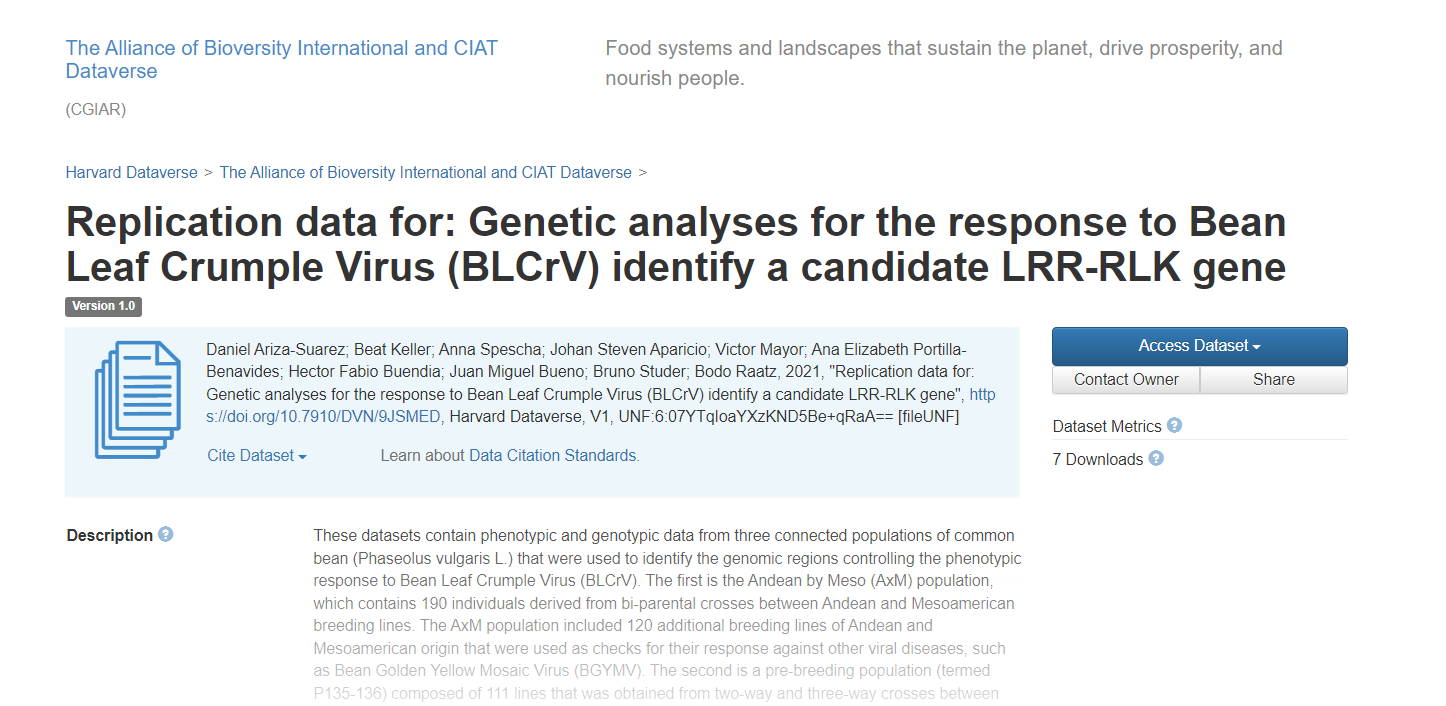 From
Published on

06.12.21

Challenges
Download
These datasets contain phenotypic and genotypic data from three connected populations of common bean (Phaseolus vulgaris L.) that were used to identify the genomic regions controlling the phenotypic response to Bean Leaf Crumple Virus (BLCrV). The first is the Andean by Meso (AxM) population, which contains 190 individuals derived from bi-parental crosses between Andean and Mesoamerican breeding lines. The AxM population included 120 additional breeding lines of Andean and Mesoamerican origin that were used as checks for their response against other viral diseases, such as Bean Golden Yellow Mosaic Virus (BGYMV). The second is a pre-breeding population (termed P135-136) composed of 111 lines that was obtained from two-way and three-way crosses between elite Andean lines and resistant sources against viral diseases.
The third population is a panel of 186 Mesoamerican breeding lines assembled from a collection of elite materials from the Mesoamerican breeding pipeline at CIAT. The AxM population was evaluated in three yield trials in Palmira (Colombia)between 2013 and 2015 for flowering, maturity time and yield. All three population were evaluated in three BLCrV trials in Pradera (Colombia), where the disease pressure is naturally high. The AxM and the Mesoamerican panel were genotyped by sequencing (GBS), and these datasets contain their corresponding genotypic matrices in variant-call format (VCF, v4.2) with sequence variants mapped against the reference genome of P. vulgaris (G19833, v2.1). A joint genotypic matrix with all available GBS data from these three populations is also included. The population P135-136 was genotyped with the DArTag targeted genotyping service offered by Diversity Arrays Technology (DArT PL, Bruce ACT, Australia), and the genotypic matrix is similarly included in VCF format.
Ariza-Suarez, Daniel; Keller, Beat; Spescha, Anna; Aparicio, Johan Steven; Mayor, Victor; Portilla-Benavides, Ana Elizabeth; Buendia, Hector Fabio; Bueno, Juan Miguel; Studer, Bruno; Raatz, Bodo.