Land reclamation potential of four forage legumes along an environmental gradient in Cauca, Colombia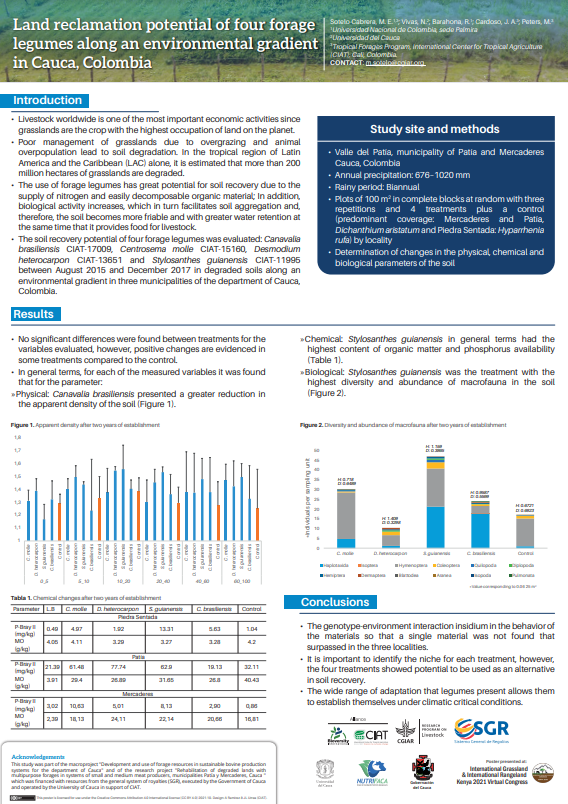 From
Published on

25.10.21

Challenges
Download
Soil degradation due to overgrazing and overstocking of animals is a worldwide problem. It is estimated that over 200 million of hectares of grazing and pastureland are degraded in tropical Latin America and the Caribbean (LAC).
There are several strategies aimed to restore, rehabilitate or reclaim degraded lands based on forages. In soils with inherent low organic matter contents—such as the ones typically found in highly weathered soils of tropical LAC—the use of forage legumes has great potential for soil reclamation while providing feed for livestock. The reasoning behind the use of legumes for soil reclamation is to add nitrogen and readily decomposable material to the low pool of organic matter in the soil. An increment of readily decomposable plant material also increases biological activity which in turn facilitate soil aggregation and thereby, the soil becomes more friable and with greater water holding retention.
The present work assessed the soil reclamation potential of four forage legumes: Canavalia brasiliensis CIAT-17009, Centrosema molle CIAT-15160, Desmodium heterocarpon CIAT-13651 and Stylosanthes guianensis CIAT-11995 over a two-year evaluation period in degraded soils along an environmental gradient across three municipalities of the Cauca region, Colombia. Our results showed that all forage legumes exerted a positive effect on some physical, chemical and biological soil properties. Among tested legumes, S. guianensis showed greater impact on soil physical (greater water holding retention and reduction of soil bulk density), chemical (greater organic matter content and phosphorus availability), and biological (greater diversity and abundance of macro fauna in the soil) properties.
We hypothesize that greater impact of S. guianensis on improvement of soil properties—and thereby land reclamation potential in highly weathered soils of tropical LAC—is associated to high phosphorus extraction potential as shown elsewhere.

Sotelo Cabrera, Mauricio Efren; Vivas, Nelson; Barahona, Rolando; Cardoso, Juan Andrés; Peters, Michael.