Healthy and sustainable diets from today to 2050—The role of international trade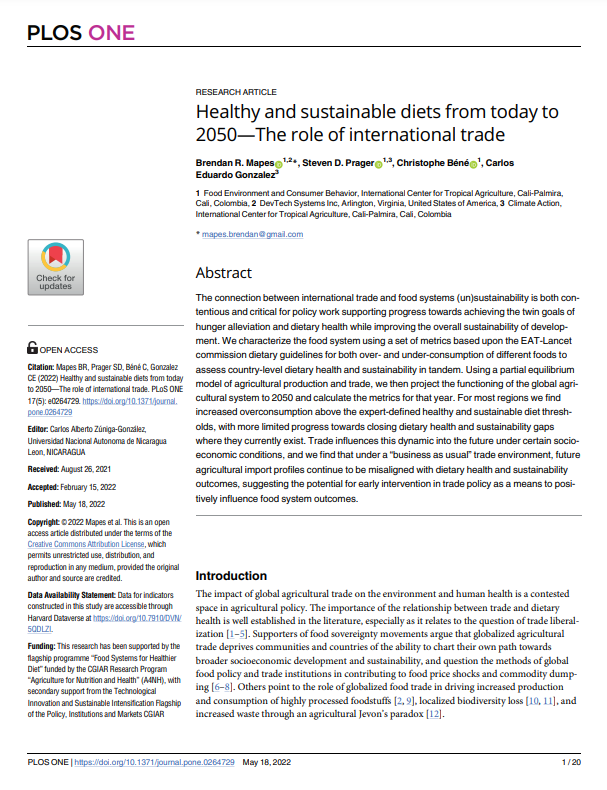 From
Published on

18.05.22

Challenges
Download
The connection between international trade and food systems (un)sustainability is both contentious and critical for policy work supporting progress towards achieving the twin goals of hunger alleviation and dietary health while improving the overall sustainability of development. We characterize the food system using a set of metrics based upon the EAT-Lancet commission dietary guidelines for both over- and under-consumption of different foods to assess country-level dietary health and sustainability in tandem.
Using a partial equilibrium model of agricultural production and trade, we then project the functioning of the global agricultural system to 2050 and calculate the metrics for that year. For most regions we find increased overconsumption above the expert-defined healthy and sustainable diet thresholds, with more limited progress towards closing dietary health and sustainability gaps where they currently exist.
Trade influences this dynamic into the future under certain socioeconomic conditions, and we find that under a "business as usual" trade environment, future agricultural import profiles continue to be misaligned with dietary health and sustainability outcomes, suggesting the potential for early intervention in trade policy as a means to positively influence food system outcomes.
Mapes, Brendan R.; Prager, Steven D.; Béné, Christophe; Gonzalez, Carlos Eduardo