Genome-wide and comparative phylogenetic analysis of senescence-associated NAC transcription factors in sunflower (Helianthus annuus)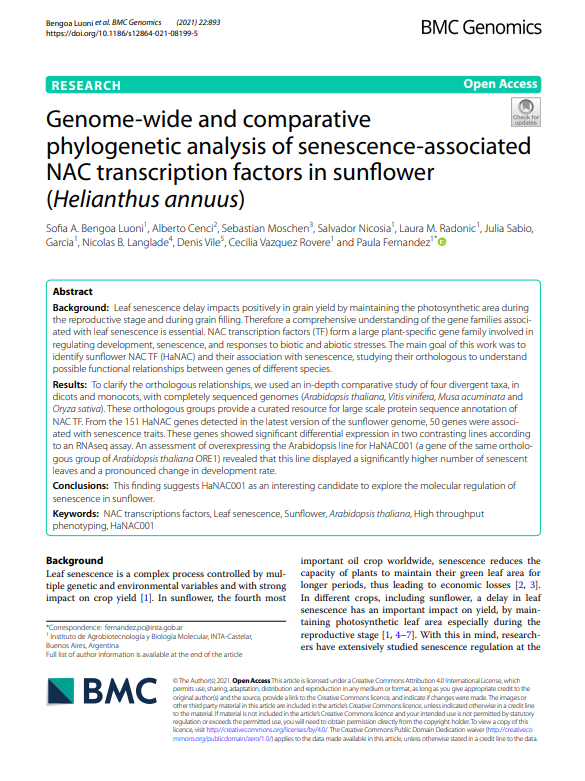 From
Published on

01.12.21

Challenges
Download
Leaf senescence delay impacts positively in grain yield by maintaining the photosynthetic area during the reproductive stage and during grain filling. Therefore a comprehensive understanding of the gene families associated with leaf senescence is essential. NAC transcription factors (TF) form a large plant-specific gene family involved in regulating development, senescence, and responses to biotic and abiotic stresses.
The main goal of this work was to identify sunflower NAC TF (HaNAC) and their association with senescence, studying their orthologous to understand possible functional relationships between genes of different species. To clarify the orthologous relationships, we used an in-depth comparative study of four divergent taxa, in dicots and monocots, with completely sequenced genomes (Arabidopsis thaliana, Vitis vinifera, Musa acuminata and Oryza sativa). These orthologous groups provide a curated resource for large scale protein sequence annotation of NAC TF. From the 151 HaNAC genes detected in the latest version of the sunflower genome, 50 genes were associated with senescence traits. These genes showed significant differential expression in two contrasting lines according to an RNAseq assay. An assessment of overexpressing the Arabidopsis line for HaNAC001 (a gene of the same orthologous group of Arabidopsis thaliana ORE1) revealed that this line displayed a significantly higher number of senescent leaves and a pronounced change in development rate. This finding suggests HaNAC001 as an interesting candidate to explore the molecular regulation of senescence in sunflower.
Bengoa Luoni, Sofia A.; Cenci, Alberto; Moschen, Sebastian; Nicosia, Salvador; Radonic, Laura M.; Sabio Garcia, Julia; Langlade, Nicolas B.; Vile, Denis; Vazquez Rovere, Cecilia; Fernandez, Paula.