2022 Global food policy report: Climate change and food systems - Regional developments: Central Asia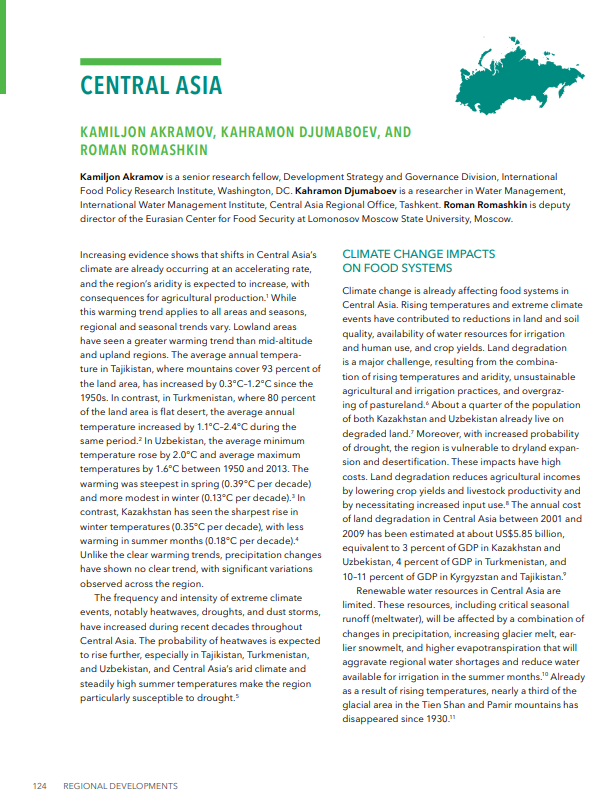 From

CGIAR Initiative on Fragility to Resilience in Central and West Asia and North Africa

Published on

26.07.23

Challenges
Download
Climate change threatens our food systems and the multiple development goals linked to sustainable food system transformation. Action is urgently needed, both to increase adaptation and resilience and to achieve major emissions reductions. Current efforts must be stepped up and greatly expanded to ensure food security, nutrition, and well-being for all in the years to come. The 2022 Global Food Policy Report showcases opportunities for accelerating innovation, reforming policies, resetting market incentives, and increasing financing for sustainable food systems transformation, as well as promoting healthy diets and building resilience.
Regional developments
Climate change is a truly global threat, but its impacts differ around the world. Regions and countries urgently need to identify and implement policy responses that reflect local needs and opportunities. This section examines the effects of climate change on national and regional food systems in Africa, the Middle East and North Africa, Central Asia, South Asia, East and Southeast Asia, and Latin America and the Caribbean. For each major region, promising innovations and policy directions to promote the resilience and sustainability of food systems are considered:
Scaling up social protection programs in Africa south of the Sahara
Strengthening the focus on climate adaptation in Africa
Rethinking water use in the Middle East and North Africa
Promoting climate-smart practices and crop diversification in Central Asia
Reforming agricultural support policies in South Asia
Improving financing for climate change mitigation and adaptation in East and Southeast Asia
Supporting global food security and sustainability in Latin America and the Caribbean
Central Asia
The Central Asia section of Global food policy report highlights regional developments, climate change and its impact on food systems in terms of water use in the region. Moreover, provides options for crop diversification to mitigate malnutrition and role of water saving technologies for adapting climate change impacts.
Citation
Akramov, K.; Djumaboev, Kakhramon; Romashkin, R. 2022. Regional developments: Central Asia. In International Food Policy Research Institute (IFPRI). 2022 Global food policy report: climate change and food systems. Washington, DC, USA: International Food Policy Research Institute (IFPRI). pp.124-127. (Global Food Policy Report). https://doi.org/10.2499/9780896294257_13