#Weareindigenous: working towards a seat at the table, not just on the sidelines
From

CGIAR Initiative on Climate Resilience

Published on

02.11.23

Impact Area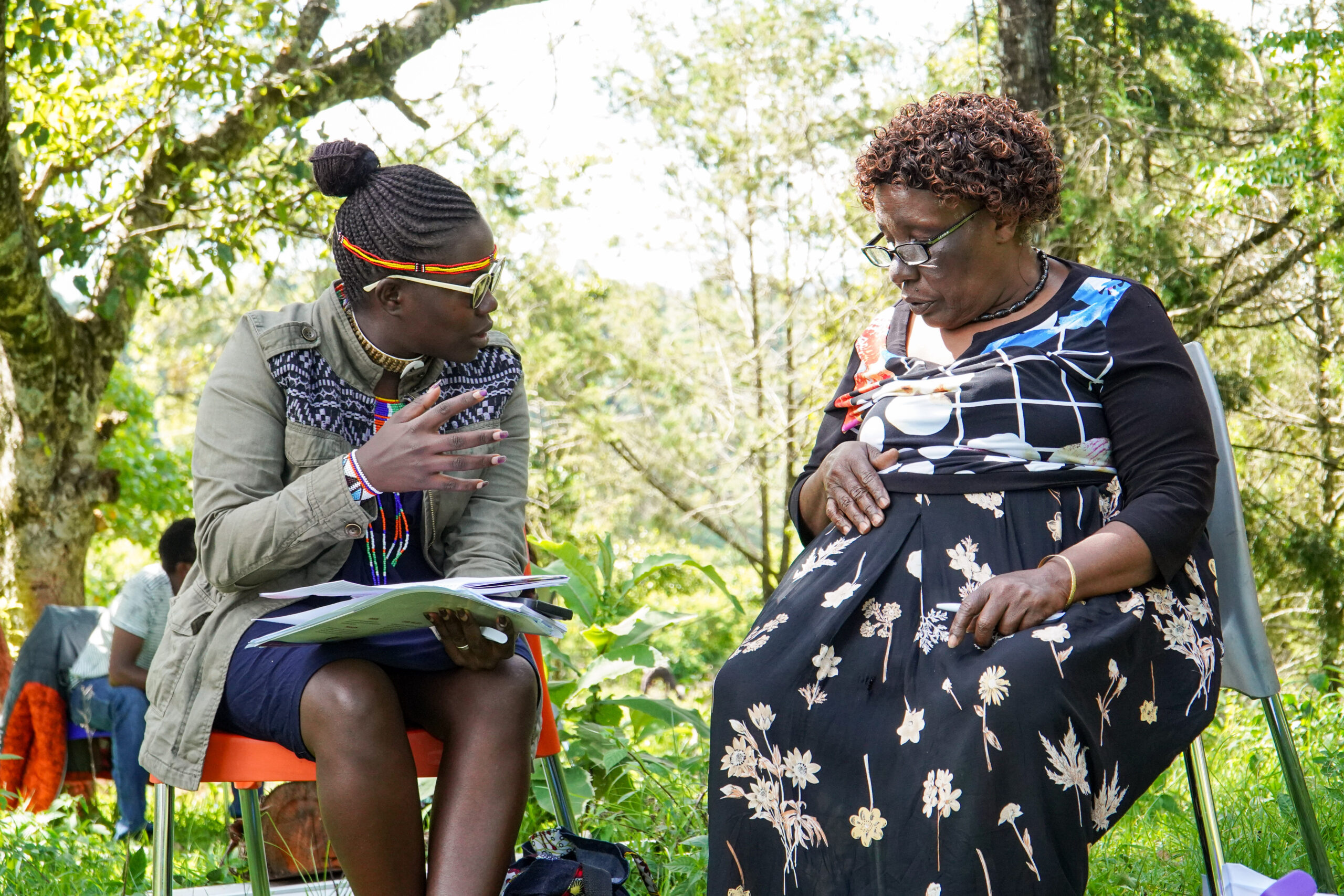 by Mary Ng'endo Kanui,ClimBeR, Nyang'ori Ohenjo, CEMIRIDE, Jeptoo Kibichum, CEMIRIDE, Martina Mascarenhas, ClimBeR
For generations, Indigenous Peoples (CEMIRIDE, 2010) have been custodians of the natural environment. Yet, these same custodians are the ones who often disproportionately suffer the impacts of climate change. This is why it is imperative that building resilience to climate change must ensure that indigenous peoples' voices are not just heard but also represented at climate change negotiations.
The global response to climate change is implemented through a series of governing mechanisms, such as the United Nations Framework Convention on Climate Change (UNFCCC). Decisions made through such mechanisms are based on negotiated texts, which are complex and technical in nature. Often, the considerations of those most affected and marginalized – those disproportionately affected by climate change are not included in such texts, mainly because those communities are not a part of such negotiations. Take for example, the Nairobi Declaration, launched at the Africa Climate Summit in early September, which includes indigenous peoples in the preamble but does not reflect this same intention throughout the rest of the text.
If we are to achieve truly meaningful impact, conversations about climate change must address how to bring those who are often excluded into such negotiations and address how to support emerging climate leaders with the necessary knowledge, skills, and resources to navigate the complex landscape of climate governance and ultimately bring about transformative change.
Improving the welfare of humankind means that the rights of indigenous peoples must be heard and brought on board. As a collective, we need to work to ensure that strategies are put in place that integrate the voices of indigenous peoples.  One of the gaps that currently exists is that as much as we have the presence of indigenous peoples in climate change negotiations, there is not much evidence or documentation on how their voices have influenced negotiations in the past.
Documenting the stories of indigenous peoples plays a crucial role in this effort. This is one area where the CGIAR Research Initiative on Climate Resilience (ClimBeR) is working in partnership with the Centre for Minority Rights Development (CEMIRIDE) – a rights-based organization from Kenya.
CEMIRIDE and ClimBeR have worked together with the pastoralist and hunter-gatherer communities of the Baringo – the Ogiek and the Endorois, to do this through the "Voices of Change" video series – the first of its kind within these communities. These stories include positive, successful initiatives that can influence adaptation and be used as part of climate action programming. These stories are just the beginning. We need a greater presence, more evidence, and even more stories out there. There are more dimensions to how climate change impacts indigenous communities, including how climate change impacts the security of individuals, causes forced migration, and so on; all areas that CEMIRIDE and CGIAR are exploring together.
Sharing these stories is a means of generating and providing the evidence that is currently missing. This helps to better identify how to integrate and mainstream the issues that concern these communities so that meaningful and relevant solutions can be developed and implemented. Ensuring that indigenous peoples' voices are heard alone is not enough. We also need to make sure that these voices can influence climate issues through climate change negotiations so that the concerns of these communities are at the heart of the formulation of climate change policies.
The other missing piece here is strengthening the capacity of indigenous peoples and communities so that they can participate in negotiations. Going back to the Nairobi Declaration – one of the reasons that we probably don't see any text related to indigenous peoples is probably because there was no representative from these communities engaged in the negotiation process. This too, is set to change through effective partnerships, such as a key partner that both CGIAR and CEMIRIDE share –the African Group of Negotiators Experts Support (AGNES) – a not-for-profit think tank that facilitates the exchange of ideas between experts and negotiators at the international level, especially within the framework of the UNFCCC. Together, with AGNES, CEMIRIDE has currently trained about six indigenous representatives from across Kenya, including people with disabilities- specifically women, on negotiation skills, with the goal of bringing more indigenous representatives to the negotiation table.
Indigenous peoples, and more so indigenous youth are out there, very prominently, issuing statements, and raising the call to action but, they are not at the negotiation table, which is where decisions are made, and put in place. We need to strengthen negotiation skills which can help create a better understanding of the technical nature of these negotiations. We also need to integrate indigenous youth in this, so that the text and related actions that emerge from such negotiations have very practical provisions for indigenous peoples and their future. These can then be further cascaded to the national and local levels for implementation. What is clear is that indigenous peoples need to be a part of the negotiations process, and at the table, not just on the sidelines.
Reiterating what was to us, one of the key takeaways from the Africa Climate Summit – there needs to be greater focus and impetus to leverage indigenous knowledge on matters related to climate change, and women, including women with disabilities, who are often the custodians of this knowledge must be given greater agency to pass on this knowledge to future generations. We must ensure that adaptation strategies and climate solutions are locally led, through the active involvement of indigenous peoples and local communities.
As we get closer to COP28, which is now less than a month away, it is now more important than ever that we work to ensure that representation and inclusion go beyond just a pavilion. We need to work together, through effective partnerships, such as those we have highlighted here, to ensure that indigenous communities, the marginalized, and the underrepresented are given the training needed so that they can be a part of technical negotiations that determine their future. Indigenous peoples are more than just nature's custodians. They are also key stakeholders in national-level climate change policies and plans, and active custodians of their future.
Related resources:
Local knowledge for global decision making: #weareindigenous
Note: Indigenous Peoples/ Communities in the African and Kenyan context are communities that have retained and maintained a traditional lifestyle & livelihood (pastoralism, forest dwellers & fishing Livelihoods – natural resource dependent. They are so identified because their culture, religion, and traditional way of life are intimately intertwined with their ancestral lands. They have a special attachment to their lands and natural resources and have traditionally lived in land and territories that are rich in natural resources. See Centre for Minority Rights Development (Kenya) and Minority Rights Group International on behalf of Endorois Welfare Council v. Kenya, 276/2003, African Commission on Human and Peoples' Rights, 4 February 2010, available at: https://www.refworld.org/cases,ACHPR,4b8275a12.html [accessed 6 October 2023].
Feature image: L-R: Judy Kipkenda, a young Ogiek woman who is also the founder of the Koibatek Ogiek Women and Youth Network, and Julia Yegon, a middle-aged woman from Ogiek, whose tree-planting journey was borne out of physical disability – both protagonists of Voices of Change, pictured during the production of the video series. Photo credit: Samwel Getui Basigwa/ClimBeR.