The Kenyan government welcomes the launch of CGIAR Food systems accelerator program
From

CGIAR Initiative on Diversification in East and Southern Africa

Published on

15.12.22

Impact Area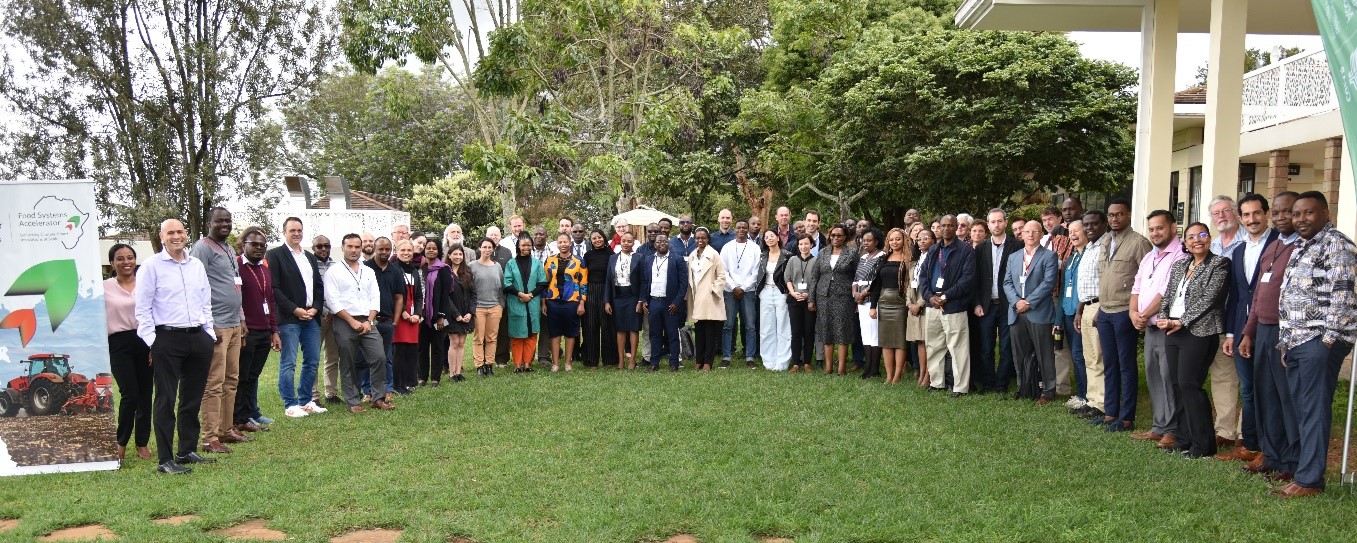 By Saba Ermyas
CGIAR's regional initiative Ukama Ustawi (UU) partners in the East and Southern Africa (ESA) region, CGIAR (IWMI, ILRI, IFPRI, ABC, CIMMYT, WorldFish, IITA), and GIZ scaling experts came together in Nairobi from 22–24 November to discuss scaling agri-food system innovations where they launched the CGIAR Food Systems Accelerator program on 23 November at the International Livestock Research Institute's Nairobi campus. More than 70 guests attended the launch including high-level Kenyan government officials, farmer representatives, agtech start-ups, small- and medium-enterprises (SMEs), public and private investors, development partners, CGIAR and GIZ scaling task force staff.
Two side events: Launch of the UU Kenya National Policy Dialogue (read the Press Release and blog on the UU Kenya National Policy Dialogue), and Innovation Packaging workshop for CGIAR's Sustainable Animal Productivity Initiative's Dairy profitability simulator application, also took place respectively on 21 and 25 November.
Agriculture is crucial for reducing poverty, fostering food security, increasing incomes, creating jobs, and driving inclusive and sustainable growth in the East and Southern Africa region. Several climate-smart agricultural innovations have been developed in the region. However, these innovations often fail to go to scale due to lack of adequate public and private financing coupled with climate change related risks that are affecting investors' confidence.
UU is launching the Food Systems Accelerator Program to unlock access to funding and investment for climate-smart agriculture innovations to enable them to scale and reach millions. Hauke Dahl, Co-lead of UU initiatives' work package 3 and the Food Systems Accelerator Program, urged agribusinesses, investors, enablers, and researchers to join the journey to scale food systems innovations and catalyse investments in the climate smart agriculture. He said, 'Let us tackle the funding gap for agribusiness development together.'
Teresia Karanja, who delivered remarks at the launch on behalf of Francis Owino, said, 'The Kenyan government fully supports the launch of the accelerator program as an enabler for agricultural transformation in the country.' She added, 'The program is well aligned with the government's agricultural transformation and growth strategy 2019-2029 and we hope that the successful agribusinesses will create capacity building, technology transfer, and market access opportunities to other SMEs.' 
UU has been working to diversify and sustainably intensify maize mixed farming systems. Through the accelerator program, UU will be supporting agribusinesses to scale different innovations. Inga Jacobs-Mata, the UU initiative lead, and Regional Representative for International Water Management Institute Southern Africa offices, at the launch said, UU is supporting SMEs on mechanization, irrigation, digital agriculture, and nutrition. 'With the accelerator program, we want to provide scaling grants and technical support to SMEs who have ready-to-scale innovations that can reach many farmers,' she added.   
Henk van Duijn, COO/CFO and incoming President of the International Fertilizer Development Center (IFDC) and chair of the 2SCALE supervisory Board, who also spoke at the launch, said he is pleased that IFDC building on its experience in 2SCALE is working with UU to make the accelerator program a reality, which will contribute to connecting research with farmers and farmers to markets. IFDC is one of the operational partners for the Food Systems Accelerator.
Agribusinesses with climate-smart innovations that tackle food insecurity and increases resilience in the East and Southern Africa region can apply for the accelerator program support by 22 December.
CGIAR-GIZ scaling experts' networking and learning event (22 November 2022)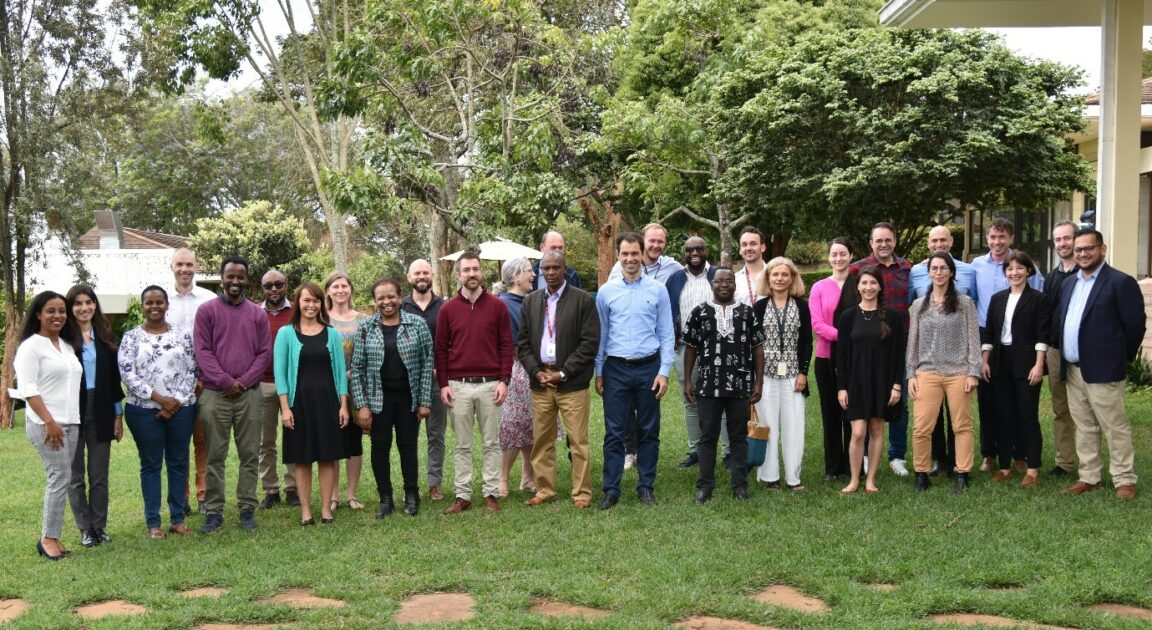 Scaling is at the heart of the CGIAR 2030 Research and Innovation Strategy. The CGIAR scaling community expanding and advancing the science and practice of scaling innovation with public and private sector partners. As part of its transition, CGIAR is setting up dedicated scaling departments under all science groups/ action areas. CGIAR initiatives are embracing novel scaling approaches. Several Initiatives have dedicated scaling work packages. CGIAR scaling experts are closely working with the GIZ Taskforce. CGIAR and GIZ Taskforce scaling community organized a two-day networking and learning workshop for CGIAR and GIZ scaling experts from across the world on 22 November 2022 at the ILRI Nairobi campus.  
Explaining the objectives of the event, Thomas Pircher (GIZ) and Marc Schut (Wageningen University and Research and CGIAR), the organizers of the day, said, 'Scaling is a hot topic in the CGIAR and as the new CGIAR initiatives are activated, we thought it would be important to bring together CGIAR and GIZ scaling experts to network, learn and exchange.'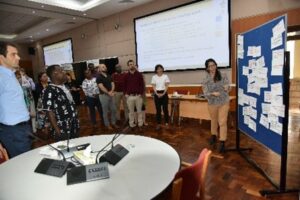 Eva Marina Valencia Leñero, who was running a non-profit sustainable development advocacy organization in Mexico before joining CIMMYT, was among the participants of the scaling week. Eva said the workshop has helped to network and understand who is doing what in scaling.
Participants emphasized on the importance of partnerships, thinking of scaling from the initial development project design stage and following a farmer centric approach to scaling.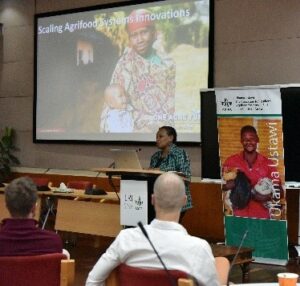 Annie Wakanyi, Director Global Government Partnerships at One Acre Fund, who shared One Acre Fund's experience in scaling agrifood systems innovations in the region told participants that development practitioners have a responsibility of ensuring that farmers have access to the technologies for increasing food security and resilience in the face of climate change and other shocks. Annie reminded participants on the importance of nimble partnerships that put farmers at the front and centre of scaling agricultural innovations.
CGIAR scientists have been developing state-of-the art agricultural innovations. Scaling is the vehicle to ensuring that many farmers, extension providers and public and private organizations can benefit from these innovations. During a series of parallel sessions, the CGIAR and GIZ scaling experts exchanged around a series of scaling themes such as Scaling Readiness, Systems Change for Scaling, Scaling Acceleration, Gender-responsible Scaling, and Scaling Partnerships.
Martin Kropff, Managing Director, Resilient Agri-Food Systems, CGIAR, while virtually welcoming participants, said that it is high time to start scaling of CGIAR innovations. Martin emphasized on the importance of partnerships for scaling. He said, 'Scaling is not like the traditional extension system. It should be done with and by partners.'  
Scaling in the agribusiness ecosystem (23 November 2022)
On 23 November, partners focused on the agribusiness ecosystem which UU has strong focus on where participants looked deep into the mechanisms of linking farmers with markets.
The accelerator program was launched later that day.
Ukama Ustawi scaling hub (24 November 2022)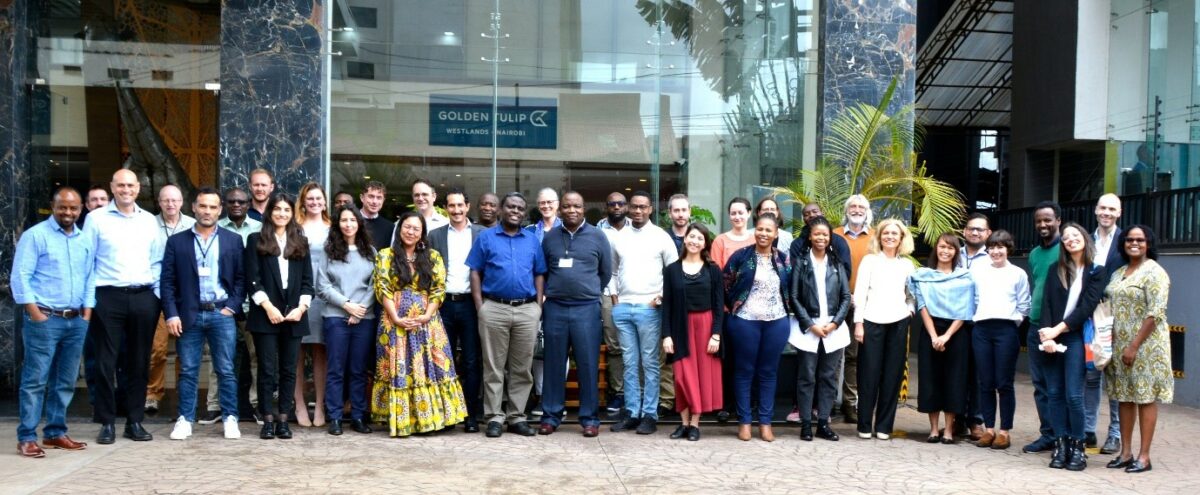 On the last day of the scaling week, CGIAR and GIZ scaling partners delved into the Ukama Ustawi scaling hub concept, a one-stop-shop to give partners access to CGIAR innovations that are ready to scale.
Iddo Dror, UU initiative's work package 6 lead and ILRI-Impact at Scale program leader, shared the Scaling Hub's vision, strategic objectives, delivery mechanisms and timelines. The hub, that is set to be launched in the third quarter of 2023, aims to be the leading open platform for scaling agricultural innovations that can transform food, land, and water systems. It will provide a platform for technology transfer and commercialization, capacity development and knowledge management. Dror said, 'We want the scaling hub to contribute to existing platforms and not duplicate efforts. It is therefore important that we design the hub concept with partners. I am pleased we are joined by experts from diverse institutions in different countries from the region to help us design the scaling hub.'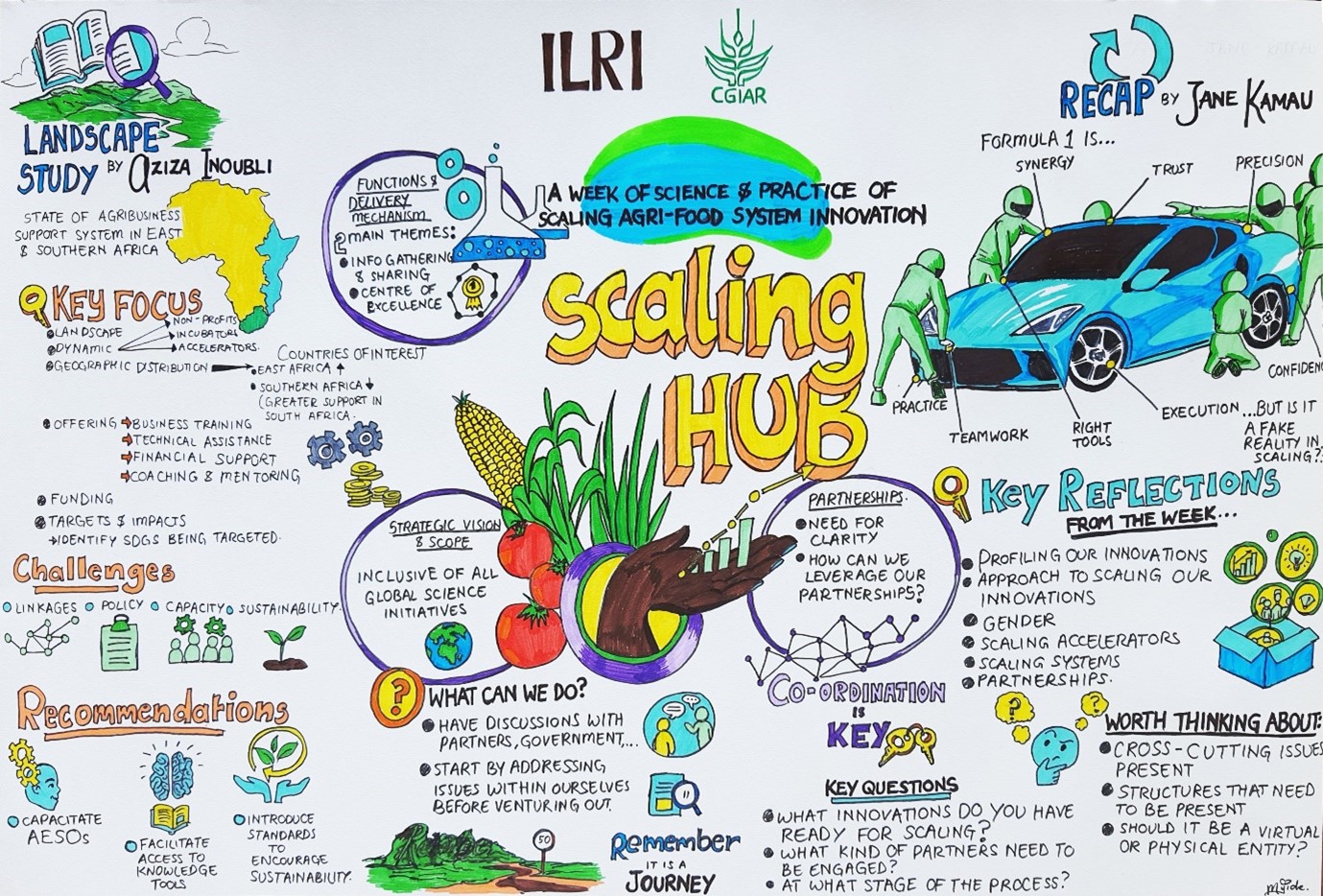 The partners went into 3 groups for a round of 'world cafe' discussions and provided inputs to the hub's strategic vision and scope, partnerships, and delivery mechanisms. They discussed on being intentional in identifying scaling partners, applying a gender lens when scaling innovations, and documenting innovations to learn from their successes/failures. The partners also asked if the hub connects key players in the agri-business ecosystem in the region and works with other similar global and regional platforms.
Inga Jacobs-Mata said, 'With the Scaling Hub, UU wants to build on existing platforms to bring together the various scaling initiatives in the region that are currently working in silos.' She added, 'This is a great opportunity for us to work with our partners in conceptualizing the scaling hub and see how we can contribute to existing scaling platforms.'
UU commissioned Briter Bridges to conduct two studies, on the role and synergies of key stakeholders in agribusiness ecosystem and the state of agribusiness support ecosystem in ESA region. Preliminary findings of the studies were presented to participants respectively on 23 and 24 November. Comments from participants will be incorporate into the reports. The final results will feed into designing UU and other CGIAR initiatives' interventions in the region.  
Materials from the meeting are available online:
Featured image: Partners of the Ukama Ustawi initiative at the launch of the CGIAR Food Systems Accelerator program on 23 November 2022 (Credit: Wilson Maina/ILRI).