Press Release: Kenya National Policy Dialogue by CGIAR's Ukama Ustawi Initiative targets climate-resilient agriculture and more
From

CGIAR Initiative on Diversification in East and Southern Africa

Published on

23.11.22

Impact Area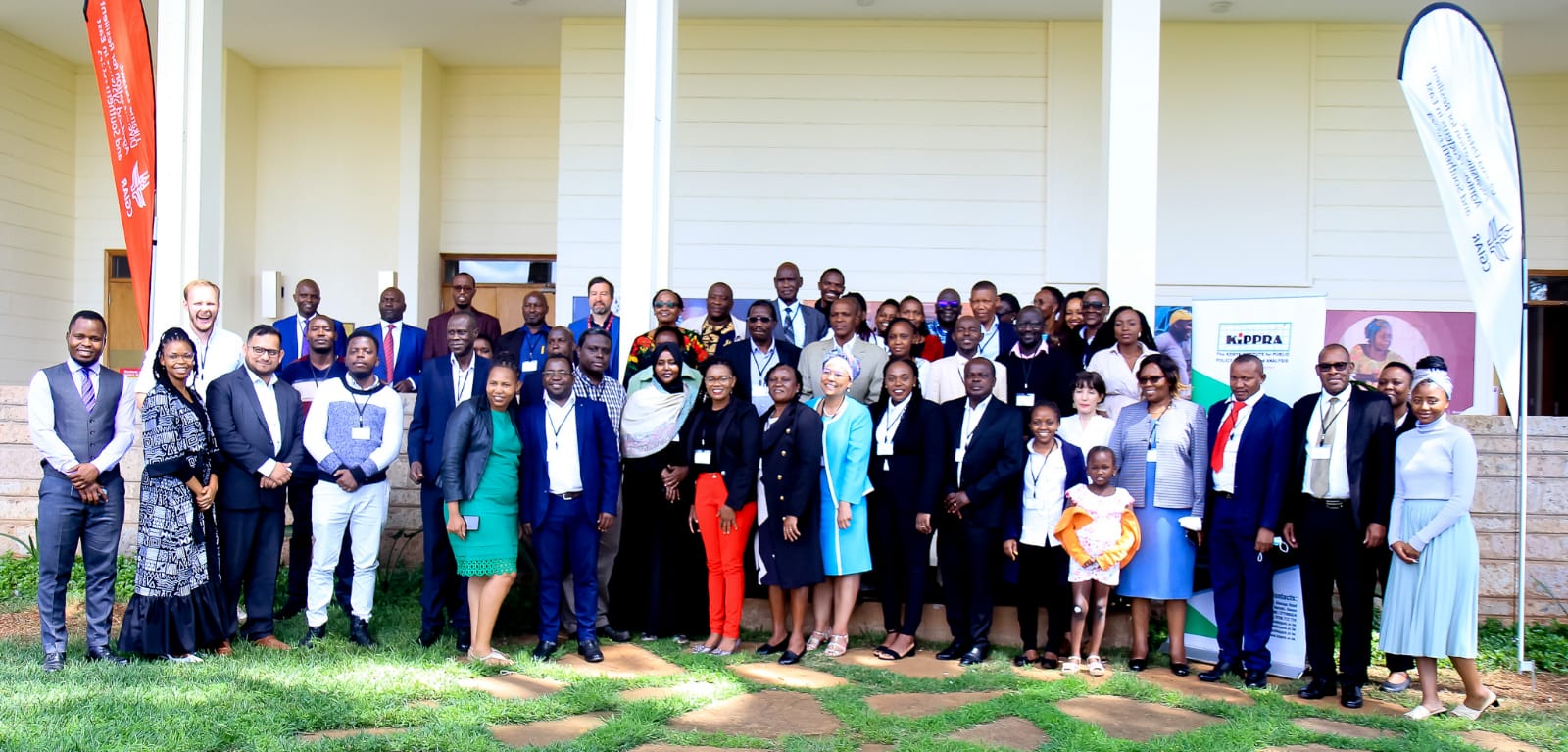 Bridging knowledge and coordination gaps for resilient maize production and a better enabling environment for agribusiness and trade that will prosper livelihoods.
NAIROBI, November 21, 2022 — Maize accounts for 65 percent of calories consumed by Kenyan households, 40 percent of crop area, and is mainly cultivated by smallholders. It provides the backbone of agriculture in Kenya. But erratic rainfall, surging temperature, and increasingly frequent extreme weather linked to climate change are disrupting maize production and supply chain and badly impacting smallholder livelihoods.
While maize production in Kenya has been declining since the 1990s, market failures prevent the efficient distribution of maize from surplus to deficit areas: traders often lack incentives to move maize, leading producers to encounter difficulties finding buyers. Moreover, due to insufficient domestic production, Kenya is overly reliant on maize imports from Ethiopia and Tanzania, lacking self-sufficiency in maize, a staple food crop. Climate change aggravates this situation, making farmers increasingly vulnerable to food and income insecurities.
The needed policy response is a combination of approaches, including sustainable maize-mixed crop intensification, efficient management of scarce natural resources, trade incentives to mobilize market forces, diversification into other agricultural sub-sectors, and innovative food distribution systems. A concerted effort by the key stakeholders can help Kenya emerge as a maize exporter to the region, bring in new trade opportunities, and achieve middle-income status, as outlined in the country's Vision 2030 statement.
The national policy dialogue organized by the CGIAR initiative Ukama Ustawi: Diversification for Resilient Agrifood Systems in East and Southern Africa (ESA) led by International Water Management Institute (IWMI) South Africa, in collaboration with its partners FANRPAN and KIPPRA, invited diverse policy stakeholders, including senior government officials, researchers, farmers, agribusinesses, and donors, to discuss the potential pathways to achieve sustainable maize intensification, diversification, agribusiness, and trade. Stakeholders echoed their experience in discussing how to bridge knowledge and coordination gaps and influence the enabling policy and investment environment to help livelihoods prosper.
"CGIAR has a longstanding history of policy support work in Kenya. Our aim under UU is not to reinvent the wheel but build on these efforts and identify quick wins to help strengthen the enabling environment. The national policy dialogue helped us refine our priorities to do just that," said Dr. Inga Jacobs-Mata, UU Initiative Lead and Regional Representative, IWMI, Southern Africa.
Insights gathered during the dialogue will inform the Kenyan government and the public through technical reports, policy briefs, blog pieces, and advisory notes. Insights will also be shared with the ESA Policy Hub and the initiative partners, along with CCARDESA and ASARECA, to scale innovative solutions to the regional level to address food and income security challenges through regional trade.
"Through a consultative process in Kenya, the Ukama Ustawi Initiative of CGIAR in East and Southern Africa hopes to build on the established governance and policy work of previous and existing CGIAR initiatives and partner programs and provide targeted and tailored enabling environment support," Dr. Jacobs-Mata added.
The first National Policy Dialogue under the Ukama Ustawi Initiative took place in Lusaka, Zambia, in August 2022.
 
About the Ukama Ustawi Initiative:

Ukama Ustawi is a three-year project launched in March 2022 and involves several CGIAR organizations (IWMI, CIAT, CIMMYT, ILRI, IFPRI, IITA, and WorldFish). It seeks to enable 50,000 value chain actors in East and Southern Africa (ESA) to adopt climate-smart intensification and diversification practices and provide one million farmers with access to digital agro-advisory. Emphasizing the role of the private sector in driving such transformation, it also aims to support at least 30 start-ups and SMEs, in addition to providing policy support to governments. Activities fall under five work packages (WPs), namely:

WP1: Diversify and intensify from maize-mixed to diversified systems,
WP2: De-risk and digitize agriculture, agricultural risk management, and agro-advisories,
WP3: Support and accelerate SMEs, markets, and inclusive finance,
WP4: Govern and enable shared vision, cascaded targets, coordination, and implementation,
WP5: Empower and engage the youth and women, and
WP6: Scale and coordinate diverse initiatives on the regional and global level.

Proposed 3-year outcomes include:

At least 30 agribusinesses (40% run by women and 40% by youth) scale climate-smart solutions supporting diversification, intensification and risk management of maize mixed systems through at least US$5 million of new finance in debt, equity and grants.
At least 50,000 farmers, value chain actors and consumers (40% women and 40% youth) in maize mixed systems start to use climate-smart intensification and diversification practices with improved water and land management.
Investments of US$100 million enable, and two strategies/policies help support, collaborative governance and management of multifunctional landscapes.
At least 1 million farmers and other value chain actors (40% women and 40% youth) access bundled digital agro-advisory and agricultural risk management products and services that support their response to climate risks and management of land and water systems for climate resilience.

Projected impacts and benefits include climate adaptation and mitigation; nutrition, health and food security; poverty reduction, livelihoods and jobs; gender equality, youth and social inclusion; environmental health and biodiversity and target SDG goals 1–3, 5–8, 13, 15, and 17*.

*     1) No poverty, 2) Zero hunger, 3) Good health and well-being, 5) Gender equality, 6) Clean water and sanitation, 7) Affordable and clean energy, 8) Decent work and economic growth, 13) Climate action, 15) Life on land, and 17) Partnership for the goals.

More information:

https://www.cgiar.org/initiative/21-ukama-ustawi-u2-water-secure-and-climate-resilient-agricultural-livelihoods-in-east-and-southern-africa/

For more information, please contact Dr. Idil Ires, Water and Climate Policy Fellow, IWMI South Africa i.ires@cgiar.org (Ext: +27-12-845-9100)
Media contact: Ms Ngowenani Nohayi, Research Officer – Policy and Water Governance, IWMI South Africa (n.nohayi@cgiar.org Ext: +27-12-845-9100)