Enhancing livestock investments for climate-resilient and inclusive policy implementation
From
Published on

31.10.23

Impact Area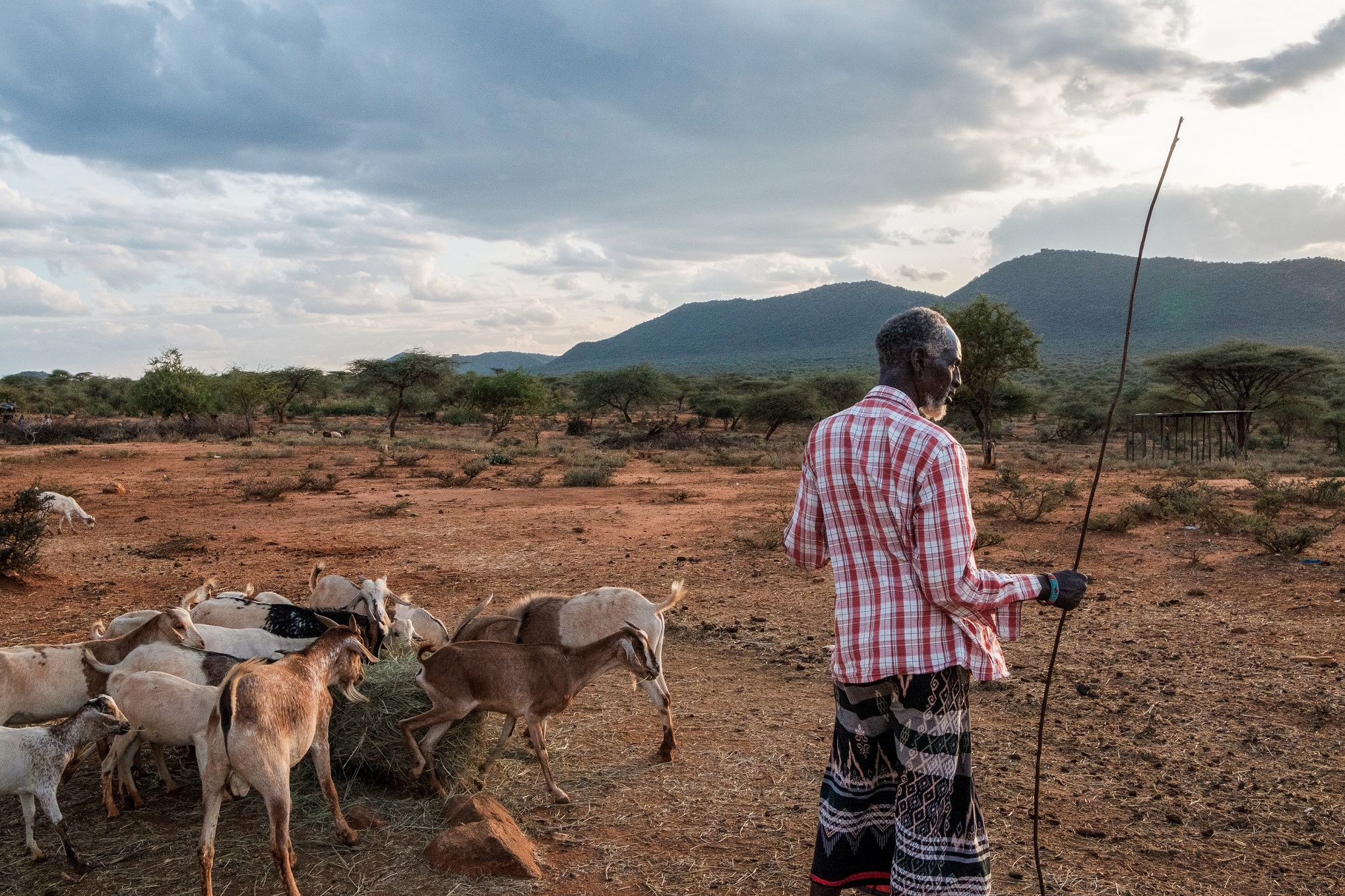 The livestock sector plays a vital role in Africa's economy. It not only provides food security and nutrition for millions of people but also serves as a source of livelihood. However, despite its significance, the livestock sector in Africa grapples with several challenges that hinder its potential contributions to sustainable development. Challenges include low productivity, resource competition, inadequate investment and limited policy support. At the same time, this sector faces challenges from climate change, animal health, disease control, limited access to markets and inputs, inadequate infrastructure and insufficient capacity for innovation and knowledge sharing.  
Last month, the CGIAR Research Initiative on Sustainable Animal Productivity (SAPLING) and Livestock and Climate (LCSR) led by International Livestock Research Institute (ILRI) collaborated with the Botswana University of Agriculture and Natural Resources (BUAN) to host the side event, 'Enhancing livestock investments: policies, strategies, and partnerships for sustainable livelihoods in Africa at the All-Africa Conference on Animal Agriculture (AACAA8) in Gaborone, Botswana. This event called for increased collaboration between diverse stakeholders on policy and strategy support and sustainable development. A collaborative, enabling environment will unlock investment opportunities to better implement solutions towards a more climate-resilient, inclusive livestock sector for the continent. 
During his opening remarks, Tebogo Seleka, Dean of BUAN, emphasised how comprehensive livestock policies can enable solutions for poverty reduction and climate change in Africa: 
As we gather here today, we are faced with an imperative challenge, one that transcends national borders and impacts the well-being of millions of people across the African continent. The challenge before us is to build a stronger economy, improve equity and livelihoods and create a greener future through sustainable livestock policies and actions. 
Sarah Ossiya, project officer at the African Union Inter-African Bureau for Animal Resources (AU-IBAR), highlighted collaboration for livestock development in her keynote address: 
"My background is research, and science does have an important role in developing this sector. But since joining the African Union, I've realised that science, policy, finance and engaging development partners all must come together."
Policy and strategy support – lessons learned from Tanzania's Livestock Master Plan (LMP)
Sirak Bahta, senior agricultural economist at ILRI, introduced Livestock Master Plans (LMPs), a powerful tool designed to bridge the gap between the current state of the livestock sector and its increasing demands expected by 2030. Requested by a country, LMPs encompass both investment analysis and budget formulation for governments to guide the sustainable development of their country's livestock sector.   
The government of Tanzania in collaboration with livestock sector partners launched the Tanzania Livestock Master Plan (TLMP) to address sector challenges like low productivity. Stephen Michael, the coordinator for livestock sector desk in the Tanzania Ministry of Livestock and Fisheries, presented TLMP's achievements which included improved productivity, disease control, better feed and water management and livestock genetics extension workers trainings. Market evaluations revealed that exports of livestock and livestock products also witnessed substantial growth. 
TLMP's implementation offers valuable insights into the need for stronger monitoring and evaluation (M&E), enhanced coordination, and more engagement with financial institutions. The involvement of the private sector is also essential for effective implementation of LMPs.  
Sustainable development – climate resilience and women, youth and smallholder farmer inclusion
For sustainable livestock development, empowering women and youth in the sector and addressing cross-cutting issues like the environment are crucial. Co-creation with women, youth and smallholder livestock farmers is essential to align top-down planning with grassroots needs. 
Laura Cramer, policy engagement specialist at ILRI, underscored the significance of climate change in livestock policymaking. Livestock production is vulnerable to climate change's adverse effects, such as increased heat stress, disease outbreaks and changes in feed availability. Policymakers must integrate climate action into livestock policies, creating coherence to address contrasting priorities like land use and conservation. Key recommendations were government collaboration, integration of climate forecasts into research, development partners' continued funding of the livestock sector, and engagement with the private sector to meet the demands of a changing climate. 
Isabelle Baltenweck, program leader for Policies, Institutions and Livelihoods at ILRI, emphasised the importance of gender-inclusive policies in the livestock sector. Women constitute the majority of poor livestock keepers and often have more control over livestock than other assets like land. Ensuring gender equality and empowering youth is essential for the future of the livestock sector. Gender considerations need to be integrated into LMPs, highlighting the need for buy-in from the country, gender-specific objectives and the inclusion of gender in modelling work. 

Not only do women and youth need to be included during policymaking, but smallholder farmers also must be invited to the table to engage in discussions. Stakeholder engagement with all value chain actors is necessary to ensure the effective implementation of livestock policies. 
Philip Kiriro, former president of East Africa Farmers Federation (EAFF), urged the audience to listen farmers who are already advocating for inclusion:
"To support farmers, we need inclusion. We have organised ourselves and negotiated space for discussions with the African Union (AU), Common Market for Eastern and Southern Africa (COMESA) and East Africa community. That's how we got space."
Cramer shared how farmer inclusion will provide critical insights into the practical aspects of livestock farming and its challenges like climate change:
"Farmers need to be included. They need to have financing because it's going to be their actions on the ground, taking care of the environment and improving their productivity."
Investing in the livestock sector – necessary for policy implementation
Implementation was a major challenge highlighted throughout the session. Innovative financing mechanisms and models for mobilising public and private sector investment could unlock access to finance, risk-sharing arrangements and incentives to encourage investment for livestock policy implementation. 
Ahmed Elbeltagy, AU-IBAR, reviewed the progress of livestock-related policies in Africa, starting from the Maputo to Malabo Declaration and shared the vision of Africa's livestock sector post-Malabo. Challenges and gaps hindering the implementation of Malabo Declaration commitments were policy coordination, institutional capacity and data collection. Elbeltagy shared AU-IBAR's shifting focus to implementation:
"We have enough in the policy landscape. Now we need to focus on policy coordination, coherence and implementation."
Liang Wang, country representative for Botswana at the World Bank, emphasised collaboration to encourage governments to invest in the livestock sector:
"Financing is a constraint. LMPs let us know what we should finance, but ultimately governments need to commit to sectoral spending. That's why partnership and coalition is necessary to make a compelling case to the government."
Michael highlighted the role of the private sector for livestock investment:
"In Tanzania, our investment plan engages public and private partners. If the private sector is enabled to supplement value chain development and favourable government policies, they will also benefit. We need to encourage more private sector investment to enable policy implementation."
Looking forward
While significant strides have been made in developing comprehensive LMPs, the livestock sector is moving its focus towards policy implementation and accountability. It is clear that the future success of the livestock sector depends on evidence-based policies, a commitment to gender inclusivity and effective responses to climate change. Research, policymakers and farmers all have their role to play to ensure policies are improving livelihoods at farm-level. 
Patrick Malope, head of the Department of Agricultural and Applied Economics at BUAN, closed the session by emphasising again the need for investment for policy implementation:
"Investment is so important. There are competing interests between sectors, so we need to prioritise investments. LMPs can help us plan where the public and private sector need to invest."
Written by Madeline Wong (ILRI).