Connecting the dots between crises
From
Published on

14.10.22

Impact Area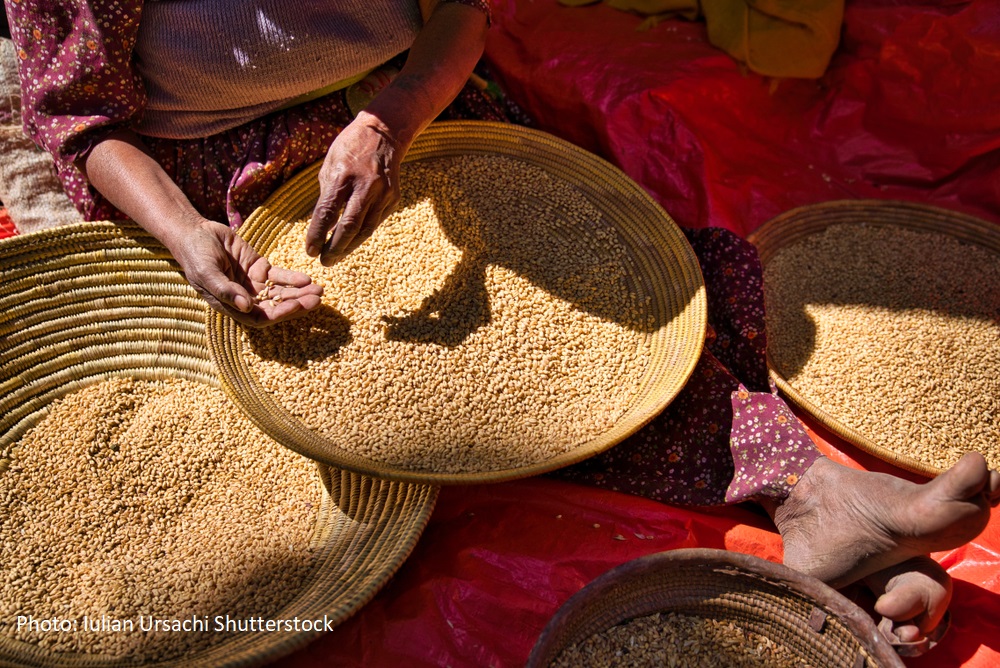 By Matthew McCartney and Claudia Ringler
What do the floods in Pakistan, drought in the Horn of Africa and the war in Ukraine have in common, other than human suffering? The answer is food. Simply put, all these complex crises undermine agricultural activity and food systems, threaten the livelihoods of vulnerable smallholder farmers, and negatively impact food and nutrition security at community, national and global levels – triggering more widespread, chronic suffering. Moreover, they are interlinked at multiple levels: each crisis intensifies the others.
A domino effect
On World Food Day this year, the Food and Agriculture Organization (FAO) has declared that we should Leave NO ONE Behind. This appeal to global solidarity emphasizes the connections between people across the world – including the most vulnerable among us – and the systems that sustain us all. The current crises we are experiencing serve to highlight the water–energy–food–environment nexus. The war in Ukraine has devastating consequences that reach far beyond the horrific images of violence and destruction we see daily in the news. Together, Russia and Ukraine account for over a quarter of global wheat exports and are also major exporters of fertilizer and cooking oil. As a result, prices of these key agricultural commodities – including a staple crop for billions of people, a key input to grow food and a key ingredient for consumption – have substantially increased in recent months due to insecurity, export-limiting sanctions and difficulties in reaching global markets (Figure 1).

Figure 1: Consecutive food and energy price spikes, linked to climate extremes and other crises, correlate with weak income growth in low- and middle-income countries.
Source: Headey and Hirvonen (2022) using data from FAO, the World Bank and the IMF.
The reduced supply of key commodities coincides with climatic stress in other major food producers. In the USA, drought conditions in the southern plains meant that winter wheat production is forecast to decrease by 8% in 2022. In India, a severe heatwave and associated water stress literally shriveled grain size and yields of wheat, and subsequent to the invasion of Ukraine an export ban has been in place; more recently, there has been a ban on rice exports (India is the world's largest rice exporter). In Pakistan, catastrophic flooding on the heels of the same heatwave has decimated crops, which will severely restrict the country's exports (Pakistan was the fourth-largest exporter of rice in 2021/2022) and require imports to meet needs. These natural disasters have driven global food prices up, and although the FAO Food Price Index currently shows a decline (with the exception of cereals) since the peak food commodity prices of March 2022, they remain higher than in previous years and high levels of inflation keep food out of reach in low- and middle-income countries.
The war in Ukraine and concurrent climate–water challenges have thus directly contributed to increased global hunger, particularly in poorer countries already affected by weak income growth due to the COVID-19 pandemic. The Eastern Horn of Africa has weathered four seasons of drought, exacerbated by La Niña and the effects of climate change. By the end of 2022, an additional six million people may experience severe hunger there, according to the World Food Programme (WFP). In South Sudan, three years of flooding have reduced the land available for agriculture and killed livestock. More than half of the population are facing food insecurity, according to WFP.
Understanding connections, building resilience
In drawing connections between apparently disparate crises, some parallels are easy to spot. In all the climate crises above, there is either too much water or too little of it, leading to crop failure, livestock loss and food insecurity. Many of the countries suffering the worst impacts are relatively poor, with little resilience. Climate change exacerbates existing vulnerabilities, thereby becoming a contributing factor to food and water insecurity.
CGIAR's NEXUS Gains Initiative applies a systems approach toward building resilience so that communities can better cope with the multiple, compounding risks of the global food and climate crisis. Nexus thinking is used to identify linkages, trade-offs and synergies across water, energy, food and environment sectors at different levels so that resilience can be built across systems. In order to translate systems understanding into action, the Initiative is developing practical and user-friendly tools for decision makers that allow them to draw on scientific evidence in responding to crises, so that actions in one sector do not negatively impact other sectors.
Preparing for better times
The systems approach supports the identification of solutions in one sector that can support multiple positive impacts concurrently. For example, to address the joint food and energy crises, NEXUS Gains analyzes business and finance models for solar water pumps and solar-supported cold storage, the sustained uptake of which could dampen food price spikes or decouple fuel from food price spikes. The Initiative also rolls out integrated water storage solutions to jointly enhance water, energy and food security and reduce the adverse impacts of climate extremes. These solutions will be underpinned by better understanding of environmental flows, achieved through the development of an environmental flows calculator. This will evaluate flow requirements to safeguard valuable ecosystems services, which will, in turn, build resilience. Finally, new water governance approaches strengthen the agency of women and men farmers in Central and South Asia to manage complex water systems themselves, ensuring that local food production can be sustained despite droughts and floods.
The war in Ukraine has destroyed lives, families and livelihoods, and not just in the conflict zones. FAO acknowledges the suffering caused by "the domino effect of challenges that know no borders". On World Food Day 2022, it's worth recalling that in systematically transforming agri-food, water and energy systems, we help the most vulnerable among us. In doing so, we all become stronger together.
---
Matthew McCartney is the NEXUS Gains Initiative Lead, and Research Group Leader – Sustainable Water Infrastructure & Ecosystems, IWMI; Claudia Ringler is the NEXUS Gains Initiative Co-lead, and Deputy Director of Environment and Production Technology Division, IFPRI.