Wheat improvement: Food security in a changing climate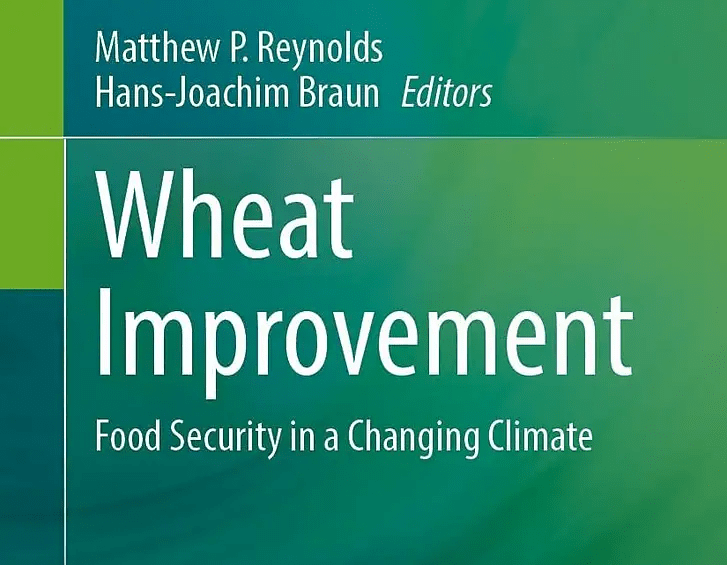 From
Published on

24.06.22

Challenges
This open-access textbook provides a comprehensive, up-to-date guide for students and practitioners wishing to access the key disciplines and principles of wheat breeding. Edited by Matthew Paul Reynolds, Senior Scientist and head of Wheat Physiology at CIMMYT, and Hans-Joachim Braun, former Director of CIMMYT's Global Wheat Program, it covers all aspects of wheat improvement, from utilizing genetic resources to breeding and selection methods, data analysis, biotic and abiotic stress tolerance, yield potential, genomics, quality nutrition and processing, physiological pre-breeding, and seed production.
It will give readers a balanced perspective on proven breeding methods and emerging technologies. The content is rich in didactic material that considers the background to wheat improvement, current mainstream breeding approaches, translational research, and avant-garde technologies that enable breakthroughs in science to impact productivity, facilitating learning.
While the volume provides an overview for professionals interested in wheat, many of the ideas and methods presented are equally relevant to small grain cereals and crop improvement in general.
All chapter authors are world-class researchers and breeders whose expertise spans cutting-edge academic science to impacts in farmers' fields.
Given the challenges currently faced by academia, industry, and national wheat programs to produce higher crop yields, often with fewer inputs and under increasingly harsher climates, this volume is a timely addition to their toolkit.
Click here to read this open-access book.