Unlocking the power of partnership to address Yemen's food crisis and strengthen food system resilience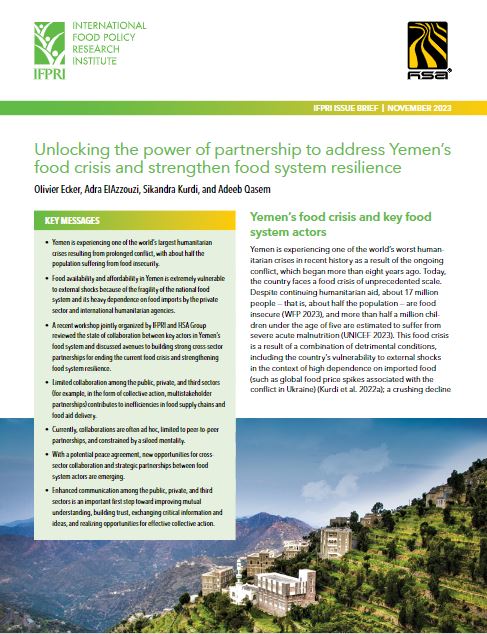 From

CGIAR Initiative on Fragility, Conflict, and Migration

Published on

10.11.23

Challenges
Key Messages
Yemen is experiencing one of the world's largest humanitarian crises resulting from prolonged conflict, with about half the population suffering from food insecurity.
Food availability and affordability in Yemen is extremely vulnerable to external shocks because of the fragility of the national food system and its heavy dependence on food imports by the private sector and international humanitarian agencies.
A recent workshop jointly organized by IFPRI and HSA Group reviewed the state of collaboration between key actors in Yemen's food system and discussed avenues to building strong cross-sector partnerships for ending the current food crisis and strengthening food system resilience.
Limited collaboration among the public, private, and third sectors (for example, in the form of collective action, multistakeholder partnerships) contributes to inefficiencies in food supply chains and food aid delivery.
Currently, collaborations are often ad hoc, limited to peer-to-peer partnerships, and constrained by a siloed mentality.
With a potential peace agreement, new opportunities for cross sector collaboration and strategic partnerships between food system actors are emerging.
Enhanced communication among the public, private, and third sectors is an important first step toward improving mutual understanding, building trust, exchanging critical information and ideas, and realizing opportunities for effective collective action.
This brief emerged from the workshop "Rethinking Food Crisis Responses: the Power of Partnership to Build Resilient Food Systems in Yemen," which was jointly organized by IFPRI and HSA Group in Amman, Jordan, on may 24, 2023.
The authors acknowledge financial support from HSA Group and the CGIAR Research Initiative on Fragility, Conflict, and Migration (FCM) for organizing the workshop.
Any opinions stated in this brief are those of the authors and are not necessarily representative of or endorsed by HSA Group, IFPRI, or CGIAR.