Shrimp value chains in Bangladesh: A scoping study of possible research interventions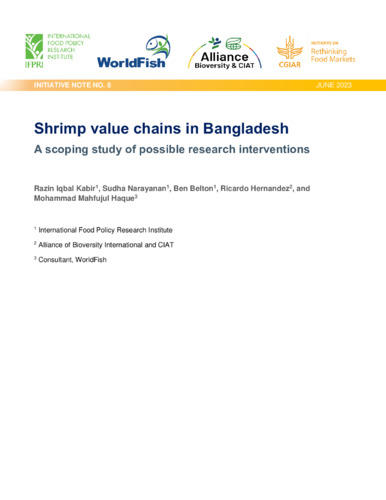 From
Published on

21.09.23

Challenges
Shrimp is Bangladesh's main agricultural export and makes a substantial contribution to the economy of southern Bangladesh, but the sector has a checkered history. Bangladesh's shrimp production and exports have been in steady decline, since peaking in the early 2010's. Most shrimp exports from Bangladesh are used by the food service and niche ethnic markets in Europe.
The complex nature of shrimp supply chains in Bangladesh, comprised of hundreds of thousands of small polyculture farms and tens of thousands of small traders, make it difficult to implement tracea bility and certification initiatives – now a prerequisite for entry into most supermarket supply chains.
This report provides an overview of the sector and the challenges it faces, drawing on secondary and survey data, reviews of government reports and academic literature. We also report the findings of an expert consultation conducted to identify key constraints and potential solutions.
The consensus among industry stakeholders who were part of the expert consultations is that issues related to the supply and quality of shrimp seed and pond management practices represent some of the most pressing, yet relatively simple-to-solve challenges currently faced by the sector. This would serve as the foundation for establishing traceability and certification processes. Previous interventions aimed at upgrading production practices (such as promoting stocking of disease-free shrimp seed) and facilitating disintermediation and transparency in the supply chain (such as by establishing producer groups, shrimp collection centers, and contracts with processors), have met with limited success. We outline potential interventions and partners that might offer scalable solutions enabling small shrimp farmers to access global markets.
Razin Iqbal Kabir, Sudha Narayanan, Ben Belton, Ricardo Hernandez , and Mohammad Mahfujul Haque