Roadmap for the scaling up of Agroecology in Peru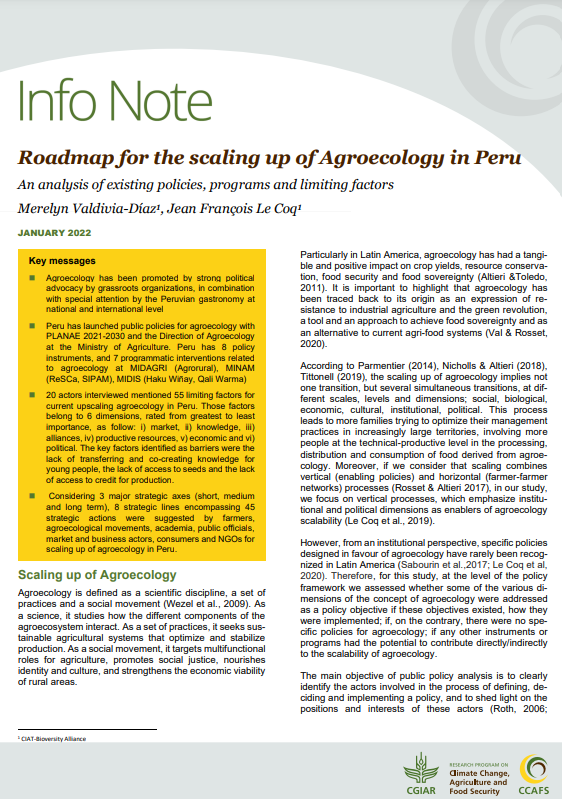 From
Published on

30.01.22

Challenges
Download
Agroecology has been promoted by strong political advocacy by grassroots organizations, in combination with special attention by the Peruvian gastronomy at national and international level
Peru has launched public policies for agroecology with PLANAE 2021-2030 and the Direction of Agroecology at the Ministry of Agriculture. Peru has 8 policy instruments, and 7 programmatic interventions related to agroecology at MIDAGRI (Agrorural), MINAM (ReSCa, SIPAM), MIDIS (Haku Wiñay, Qali Warma)
20 actors interviewed mentioned 55 limiting factors for current upscaling agroecology in Peru. Those factors belong to 6 dimensions, rated from greatest to least importance, as follow: i) market, ii) knowledge, iii) alliances, iv) productive resources, v) economic and vi) political. The key factors identified as barriers were the lack of transferring and co-creating knowledge for young people, the lack of access to seeds and the lack of access to credit for production.
Considering 3 major strategic axes (short, medium and long term), 8 strategic lines encompassing 45
strategic actions were suggested by farmers, agroecological movements, academia, public officials,
market and business actors, consumers and NGOs for scaling up of agroecology in Peru.
Valdivia-Diaz, Merelyn; Le Coq, Jean-François