Research support to address barriers and accelerate the impact of the Great Green Wall Initiative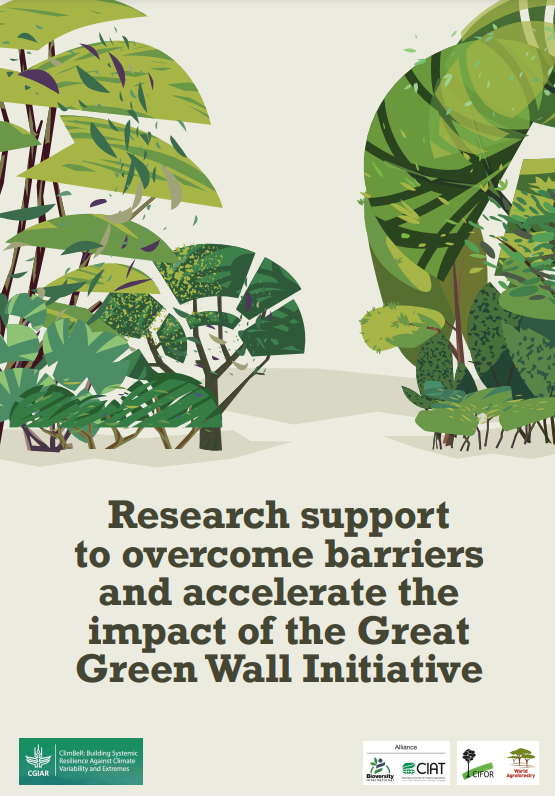 From
Published on

27.01.23

Challenges
Download
The Africa Union's Great Green Wall Initiative Strategy and ten-year Implementation Framework, drafted in December 2022, reiterates the need to facilitate collaboration between stakeholders – including strengthening linkages with the research community – to coordinate and scale actions towards achieving its goals.
In addition the recent Landmark Report on the implementation status of the GGWI highlighted the lack of its prioritisation in national environmental and climate priorities, and the resultant lack of integration in relevant sector strategies, policies, and action plans. The report also highlighted weak institutional and coordination structures for implementation, including the exchange and flow of information at multiple scales. The African Union and partners of the GGWI call upon all stakeholders, and the research community, to assist in addressing these challenges. It also requests research to contribute evidence to enhance and target investment in small and medium-sized farms and strengthen value chains, local markets and exports; promote land restoration and sustainable management of ecosystems, including climate-resilient natural infrastructure; strengthen institutional frameworks to promote effective governance, sustainability, stability, and security and capacity building. As such, there is a renewed momentum for research that is tailored in response to national and regional government priorities and community needs, through demand-driven processes of adequate stakeholder engagement and inclusivity.
This short summary report maps the policy bottlenecks that were identified through a regional virtual dialogue, hosted by the One CGIAR ClimBeR Initiative and Alliance of Bioversity International and the International Centre for Tropical Agriculture along with CIFOR-ICRAF. In addition it brings in analysis and insights from stakeholder interviews conducted.
This report aims to synthesise key bottlenecks that emerged from the regional dialogue and link research support, opportunities and offerings to address these barriers and bottlenecks. The objective is to build an agenda to respond to the current bottlenecks experienced in the implementation of the GGWI by connecting relevant research activities and research outputs from the One CGIAR and other
research organisations to strategic stakeholders implementing the GGWI.
Chevallier, R.; Chesterman, S.