Prioritizing sustainable use in the Kunming-Montreal global biodiversity framework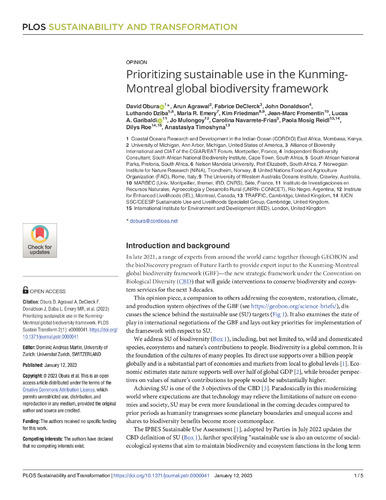 From
Published on

03.06.23

Challenges
In late 2021, a range of experts from around the world came together through GEOBON and the bioDiscovery program of Future Earth to provide expert input to the Kunming-Montreal global biodiversity framework (GBF)—the new strategic framework under the Convention on Biological Diversity (CBD) that will guide interventions to conserve biodiversity and ecosystem services for the next 3 decades. This opinion piece, a companion to others addressing the ecosystem, restoration, climate, and production system objectives of the GBF (see https://geobon.org/science-briefs/), discusses the science behind the sustainable use (SU) targets. It also examines the state of play in international negotiations of the GBF and lays out key priorities for implementation of
the framework with respect to SU.
Obura, D.; Agrawal, A.; Declerck, F.; Donaldson, J.; Dziba, L.; Emery, M.R.; Friedman, K.; Fromentin, J.; Garibaldi, L.A.; Mulongoy, J.; Navarrete-Frias, C.; Mosig Reidl, P.; Roe, D.; Timoshyna, A.