Peacebuilding in times of COVID-19: risk-adapted strategies of cooperation and development projects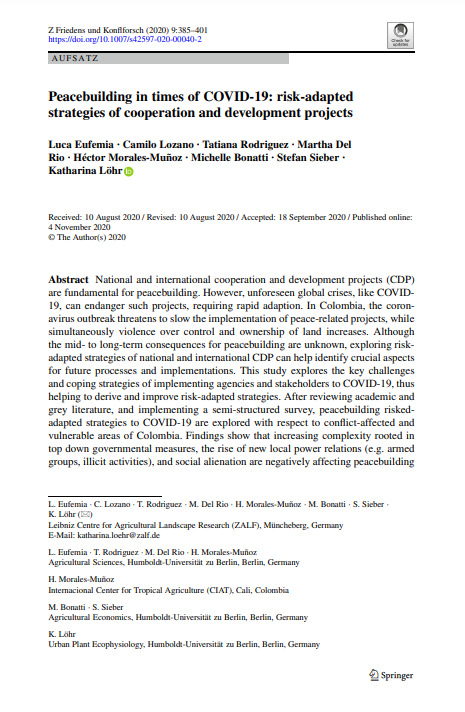 From
Published on

24.09.20

Challenges
Download
National and international cooperation and development projects (CDP) are fundamental for peacebuilding. However, unforeseen global crises, like COVID-19, can endanger such projects, requiring rapid adaption. In Colombia, the coronavirus outbreak threatens to slow the implementation of peace-related projects, while simultaneously violence over control and ownership of land increases. Although the mid- to long-term consequences for peacebuilding are unknown, exploring risk-adapted strategies of national and international CDP can help identify crucial aspects for future processes and implementations. This study explores the key challenges and coping strategies of implementing agencies and stakeholders to COVID-19, thus helping to derive and improve risk-adapted strategies.
After reviewing academic and grey literature, and implementing a semi-structured survey, peacebuilding risked-adapted strategies to COVID-19 are explored with respect to conflict-affected and vulnerable areas of Colombia. Findings show that increasing complexity rooted in top down governmental measures, the rise of new local power relations (e.g. armed groups, illicit activities), and social alienation are negatively affecting peacebuilding in Colombia. Future CDP risk adapted strategies should build on local interests and needs through public-private and environmental cooperation.
Eufemia, L.; Lozano, C.; Rodriguez, T.; Del Rio, M.; Morales-Muñoz, H.; Bonatti, M.; Sieber, S.; Löhr, K.