Identification and evaluation of resistance to Fusarium oxysporum f. sp. cubense tropical race 4 in Musa acuminata Pahang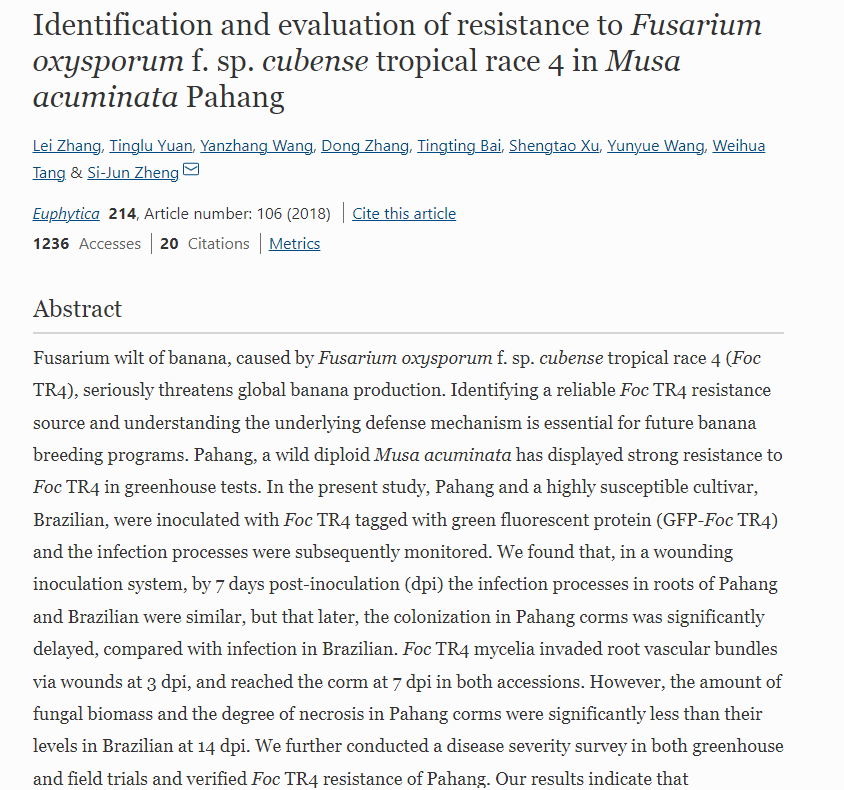 From
Published on

15.02.19

Challenges
Download

Fusarium wilt of banana, caused by Fusarium oxysporum f. sp. cubense tropical race 4 (Foc TR4), seriously threatens global banana production.
Identifying a reliable Foc TR4 resistance source and understanding the underlying defense mechanism is essential for future banana breeding programs. Pahang, a wild diploid Musa acuminata has displayed strong resistance to Foc TR4 in greenhouse tests. In the present study, Pahang and a highly susceptible cultivar, Brazilian, were inoculated with Foc TR4 tagged with green fluorescent protein (GFP-Foc TR4) and the infection processes were subsequently monitored.
We found that, in a wounding inoculation system, by 7 days post-inoculation (dpi) the infection processes in roots of Pahang and Brazilian were similar, but that later, the colonization in Pahang corms was significantly delayed, compared with infection in Brazilian. Foc TR4 mycelia invaded root vascular bundles via wounds at 3 dpi, and reached the corm at 7 dpi in both accessions. However, the amount of fungal biomass and the degree of necrosis in Pahang corms were significantly less than their levels in Brazilian at 14 dpi. We further conducted a disease severity survey in both greenhouse and field trials and verified Foc TR4 resistance of Pahang. Our results indicate that suppression of further fungal proliferation in the corm is a possible mechanism of Fusarium wilt resistance in Pahang.
Zhang, L.; Yuan, T.; Wang, Y.; Zhang, D.; Bai, T.; Xu, S.; Wang, Y.; Tang, W.; Zheng, S.