Horticultural biodiversity to attain sustainable food and nutrition security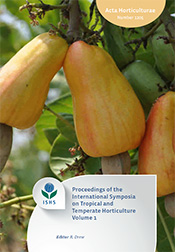 From
Published on

27.02.19

Challenges
Download
International investment in fruit and vegetable research is very low despite the strategic importance of these species in our lives. Fruits, vegetables and nuts are gaining increasing attention in the nutrition community for their role in combating the triple burden of malnutrition. These major horticultural groups are characterized by remarkable levels of genetic diversity in both wild and cultivated species, yet much of their diversity is underutilized and poorly conserved.
The genetic and nutritional richness of fruit and vegetables is equalled by a unique diversity of traditional knowledge associated with their management and use. This paper will share the work of Bioversity International and its partners in blending good practices developed by farmers with scientific approaches for the sustainable conservation and utilisation of underutilised horticultural species across Latin America and South East Asia. We will highlight methods, approaches and tools that have helped local communities to strengthen the conservation of wild and cultivated species, to add value and improve the marketing of horticultural products, and to enhance their contribution to improving food and nutrition security.
Findings from our work show that empowering farmers and their institutions, actively engaging them in research for development activities while creating space for social learning and innovation, as well as gender-sensitive interventions, can contribute to a dynamic system of community biodiversity management and sustainable use. An additional focus of Bioversity International's recent work has been examining ways to diversify school meals and public food procurement programmes through the better integration of local fruit and vegetables.
While such an approach has much potential to contribute to healthier diets and improved nutrition, it can also be linked to agricultural and community development by improving farmer livelihoods and environmental sustainability.
Padulosi, S.; Sthapit, B.; Lamers, H.; Kennedy, G.; Hunter, D.