Gene flow in Phaseolus beans and its role as a plausible driver of ecological fitness and expansion of cultigens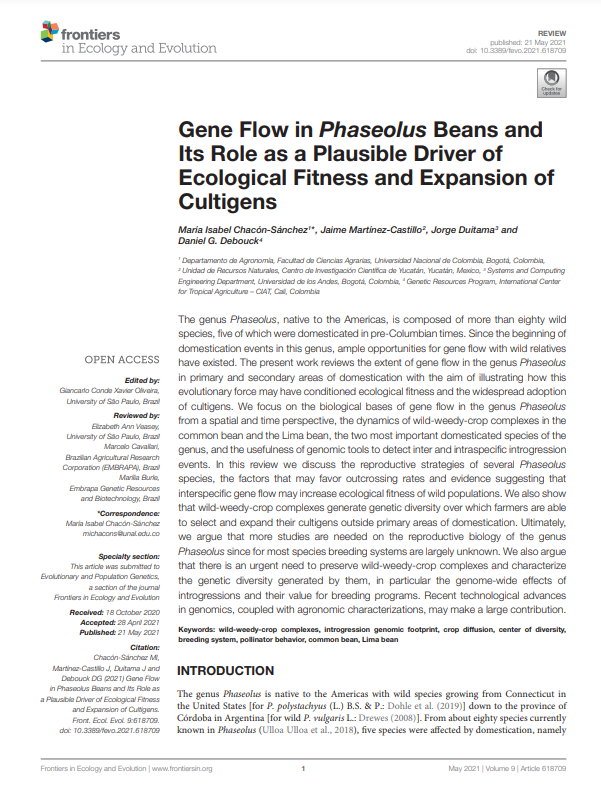 From
Published on

01.05.21

Challenges
Download
The genus Phaseolus, native to the Americas, is composed of more than eighty wild species, five of which were domesticated in pre-Columbian times. Since the beginning of domestication events in this genus, ample opportunities for gene flow with wild relatives have existed. The present work reviews the extent of gene flow in the genus Phaseolus in primary and secondary areas of domestication with the aim of illustrating how this evolutionary force may have conditioned ecological fitness and the widespread adoption of cultigens.
We focus on the biological bases of gene flow in the genus Phaseolus from a spatial and time perspective, the dynamics of wild-weedy-crop complexes in the common bean and the Lima bean, the two most important domesticated species of the genus, and the usefulness of genomic tools to detect inter and intraspecific introgression events. In this review we discuss the reproductive strategies of several Phaseolus species, the factors that may favor outcrossing rates and evidence suggesting that interspecific gene flow may increase ecological fitness of wild populations. We also show that wild-weedy-crop complexes generate genetic diversity over which farmers are able to select and expand their cultigens outside primary areas of domestication. Ultimately, we argue that more studies are needed on the reproductive biology of the genus Phaseolus since for most species breeding systems are largely unknown. We also argue that there is an urgent need to preserve wild-weedy-crop complexes and characterize the genetic diversity generated by them, in particular the genome-wide effects of introgressions and their value for breeding programs. Recent technological advances in genomics, coupled with agronomic characterizations, may make a large contribution.

Chacón-Sánchez, Maria Isabel; Martínez-Castillo, Jaime; Duitama, Jorge; Debouck, Daniel G.