Formation des équipes pays du projet TARSPro sur l'approche services climatiques participatifs et intégrés pour l'agriculture (PICSA)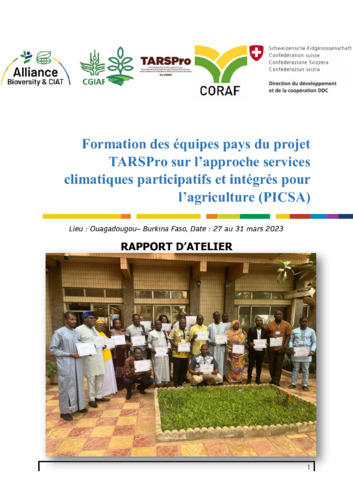 From
Published on

15.07.23

Challenges
Du 27 au 31 mars 2023, a eu lieu l'atelier de formation des équipes pays du projet « Technologies et Innovations Agricoles pour l'Accroissement de la Résilience des Systèmes de Production et des Exploitations Familiales en Afrique de l'Ouest et du Centre (TARSPro) sur l'approche services climatologiques participatifs et intégrés pour l'agriculture (PICSA) à SAMI Hôtel, à Ouagadougou au Burkina Faso. L'atelier a regroupé au total 19 participants des systèmes nationaux de recherche agricole (SNRA) et des agents des services nationaux de météorologie du Bénin, du Burkina Faso, du Mali, du Niger et du Tchad (cf. liste de présence en annexe 1 du présent rapport). L'atelier a été animé par l'Alliance of Bioversity International and CIAT qui appuie le Conseil Ouest et Centre Africain pour la Recherche et le Développement Agricole (CORAF) dans la mise en œuvre du projet TARSPro à travers une assistance technique en vue d'une intégration efficace de l'Agriculture Intelligente face au Climat (AIC) dans la mise en œuvre dudit projet.
L'atelier de formation sur l'approche PICSA vise à outiller les équipes pays de TARSPro pour les rendre aptes à aider les producteurs à prendre des décisions adéquates fondées sur des données scientifiques climatiques et météorologiques historiques et spécifiques à leurs localités, des options de cultures, d'élevage et autres activités de subsistance localement pertinentes et ce, avec l'utilisation d'outils participatifs d'aide à la prise de décision.
Ogou, A.; Munyangeri, Y.U.; Mbarushimana Kagabo, D.; Ouedraogo, M.