Farmer Field Business Schools and Village Savings and Loan Associations for promoting climate-smart agriculture practices: Evidence from rural Tanzania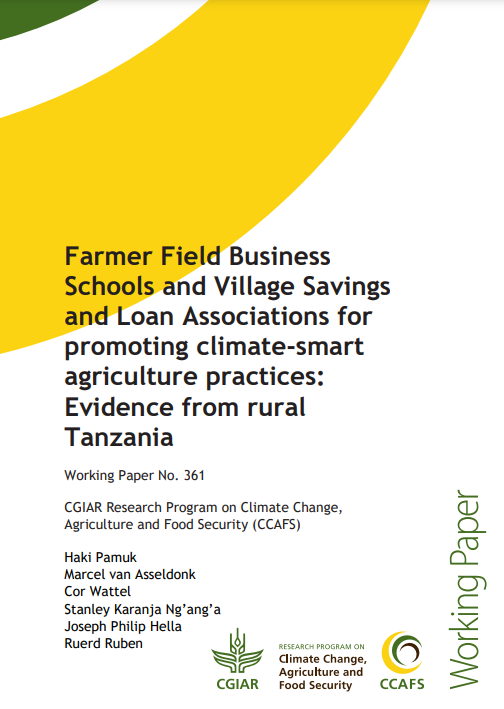 From
Published on

30.07.21

Challenges
Download
We use quasi-experimental data collected in Iringa Tanzania to investigate the impact of a community based approach to promote the adoption of climate smart agriculture (CSA) practices. Based on two community-based organizations, Farmer Field Business Schools (FFBS) and Village Savings and Loan Associations (VSLAs), this approach combines interventions on farmer training, access to microfinance, and women's empowerment in agriculture to introduce and enhance the adoption of the practices.
We find a positive effect of the interventions on the adoption rates of CSA practices, including mulching, manure composting, crop rotation and rhizobium inoculation, and soybean production. This effect was more pronounced for farmers that participated in the trainings provided by the FFBSs and members of VSLAs. Farming households scoring high in terms of women's empowerment are also more likely to adopt the introduced practices when compared to those scoring low. We also find that increased soybean production results in increased soybean sales and consumption, showing the contribution of the interventions to the incomes and nutrition levels of the farmers. These results show that FFBS and VSLA serve as promising community based platforms to introduce interventions on farmers training, microfinance, women's empowerment to upscale the adoption of CSA practices.

Pamuk, Haki; van Asseldonk, Marcel; Wattel, Cor; Ng'ang'a, Stanley Karanja; Hella, Joseph Philip; Ruben, Ruerd.