Environmental management in smallholder dairy production in Tanzania: A training manual for agripreneurs and technical extension staff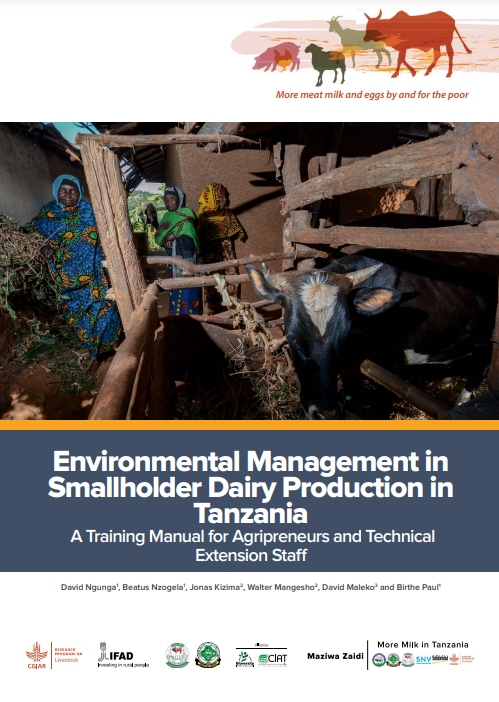 From
Published on

01.09.21

Challenges
Download
The dairy industry is one of the most important agricultural subsectors in Tanzania. It is perceived by numerous farmers as an important activity and plays a major role in the economic and social lives of many households by contributing nutritious foods, jobs and employment, assets and savings, soil fertility, and income generation (FAO & New Zealand Agricultural Greenhouse Gas Research Centre, 2019).
The national dairy cattle herd includes the traditional sector that contributes 70% of the total milk produced, while the remaining amount comes from smallholder dairy farmers with crossbred and purebred Bos Taurus cows (Njombe et al., 2011).
The development of the dairy sector is supported by outstanding natural resources such as extensive rangelands and diverse natural vegetation that supports cattle feeding. Two thirds of the country's 88.6 million hectares are suitable for grazing. Despite these resources, the sector performs below its potential. The dairy industry has seen an increase in livestock numbers of 4.3% but only a small gain of 1.8% in productivity (FAO & New Zealand Agricultural Greenhouse Gas Research Centre, 2019). Smallholder dairy farmers experience unsatisfactory production for several reasons, including a supply of dairy feed that is erratic both in quality and quantity, the presence of low-yield breeds, and a lack of appropriate management practices (Mbwambo et al., 2017). Despite undergoing enormous growth, dairy farming in Tanzania has been facing significant challenges in accessing fodder of sufficient quantities and quality, especially during the long dry season, to facilitate the sustainable production of milk and meat; as a result, animals are fed on undesirable feedstuffs, which can lead to lower milk production and animal productivity (Maleko et al., 2018).
The population of both humans and livestock is increasing in Tanzania, while the size of the land area remains constant, implying that open grazing lands are dwindling. In addition, there has been a trend toward rapid evolution of property rights from large parcels of land under village or communal ownership to small parcels of land under private ownership.
Climate change and unpredictability exacerbate the situation by lengthening dry seasons and increasing the frequency of severe droughts, resulting in water and pasture scarcity. Despite these problems, the country's need for milk and meat is rising as the population expands. It remains uncertain how we can produce meat and milk for the purposes of creating income and guaranteeing food security for the rural poor without harming or polluting our environment. This training manual was developed to guide the training of trainers such as agripreneurs, technical extension staff, and lead dairy farmers in acquiring the necessary information and practical skills for environmentally sustainable dairy production in Tanzania. It builds on this review of existing training materials, as well as outputs from a stakeholder workshop in December 2020 in Arusha
Ngunga, David; Nzogela, Beatus; Kizima, Jonas; Mangesho, Walter; Maleko, David; Paul, Birthe K.