The development of a multiplex PCR assay for the detection of Fusarium oxysporum f. sp. cubense lineage VI strains in East and Central Africa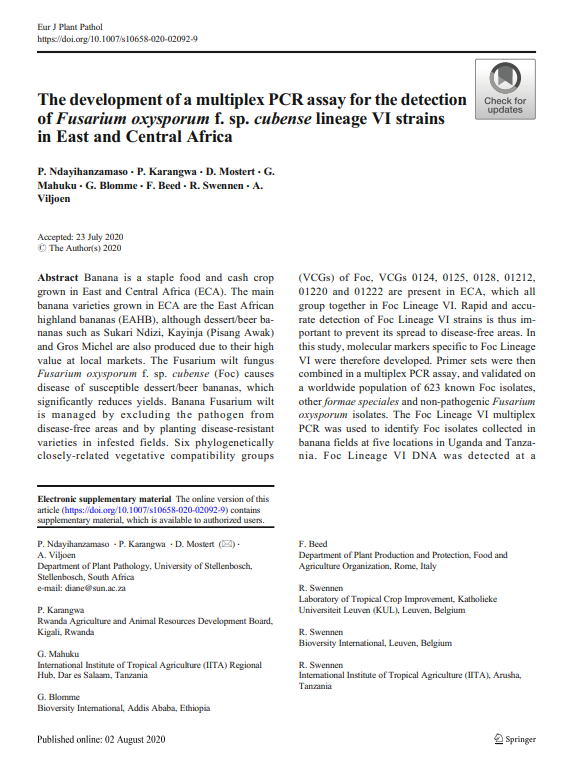 From
Published on

12.08.20

Challenges
Download

Banana is a staple food and cash crop grown in East and Central Africa (ECA). The main banana varieties grown in ECA are the East African highland bananas (EAHB), although dessert/beer bananas such as Sukari Ndizi, Kayinja (Pisang Awak) and Gros Michel are also produced due to their high value at local markets. The Fusarium wilt fungus Fusarium oxysporum f. sp. cubense (Foc) causes disease of susceptible dessert/beer bananas, which significantly reduces yields. Banana Fusarium wilt is managed by excluding the pathogen from disease-free areas and by planting disease-resistant varieties in infested fields.
Six phylogenetically closely-related vegetative compatibility groups (VCGs) of Foc, VCGs 0124, 0125, 0128, 01212, 01220 and 01222 are present in ECA, which all group together in Foc Lineage VI. Rapid and accurate detection of Foc Lineage VI strains is thus important to prevent its spread to disease-free areas. In this study, molecular markers specific to Foc Lineage VI were therefore developed. Primer sets were then combined in a multiplex PCR assay, and validated on a worldwide population of 623 known Foc isolates, other formae speciales and non-pathogenic Fusarium oxysporum isolates. The Foc Lineage VI multiplex PCR was used to identify Foc isolates collected in banana fields at five locations in Uganda and Tanzania.
Foc Lineage VI DNA was detected at a concentration as low as 0.1 ng/μl, both in the absence and presence of banana DNA, and can therefore be used as an accurate diagnostic tool for Foc Lineage VI strains.
Ndayihanzamaso, P.; Karangwa, P.; Mostert, D.; Mahuku, G.; Blomme, G.; Beed, F.; Swennen, R.; Viljoen, A.