Cost-benefit analysis for on-farm management options of improved forages in western Kenya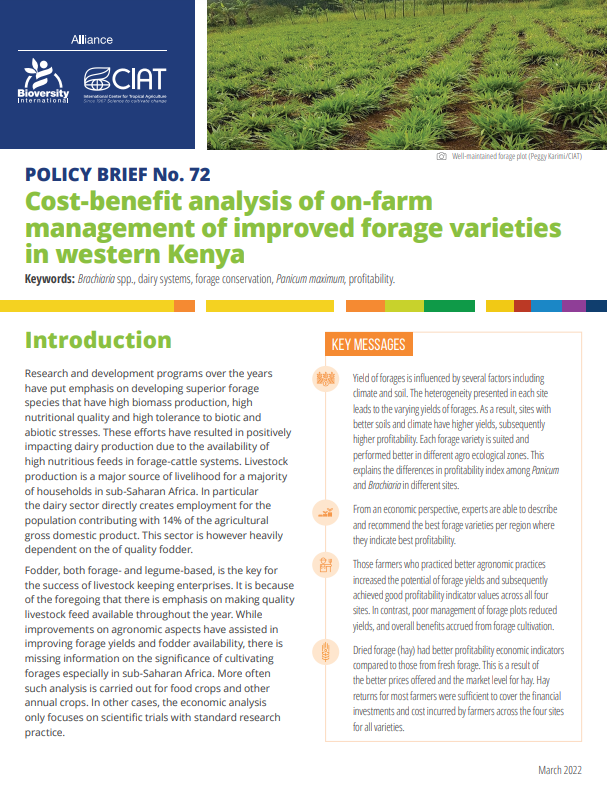 From
Published on

01.03.22

Challenges
Download
Research and development programs over the years have put a large emphasis on developing superior forage species that have high biomass production, high nutritional quality and high tolerance to biotic and abiotic stresses. These efforts have resulted in positively impacting dairy production due to the availability of high nutritious feeds in forage-cattle systems.
However, the emphasis on improving the agronomic aspect of forages has not elevated adoption levels of forages among famers. While it is key to consider agronomic advantages associated with cultivating improved species of forages, the decision to adopt a new technology by farmers is driven by knowledge about the potential of a technology to be economically viable. More often than not, farmers will make decisions on whether to adopt technology if its beneficial in terms of economic impact on them. However, information on economic returns associated with forages is scarce and has directly limited the uptake and adoption of improved forages. The objective of this study was to understand the economic benefits associated with on-farm production of forages based on the yield of (Panicum maximum spp) and Brachiaria spp varieties in western Kenya.
The study—which was conducted as part of a broader research project aimed at integrating improved forage grasses into mixed crop-livestock systems in Kenya and Ethiopia— analysed economic benefits of two Panicum varieties (Mombasa and Tanzania) and three Brachiaria varieties (Cayman, Mulato II and Xaraes) in four counties of western Kenya, namely Kakamega, Bungoma, Busia and Siaya between October 2020 and May 2021. A scoping survey was conducted among 480 farmers, who received planting material, from which a further 162 farmers were selected for this study. Data on establishment cost, maintenance cost prevailing market prices of inputs and forage sales was collected. Information on agronomic management among the farmers such as weeding frequency, and fertilizer / manure application was obtained through regular surveying. This was key in gaining information on maintenance patterns and subsequently the costs incurred during these practices.
Data was subjected to analysis using discounted free cash model using 12% discount rate further indicating profitability using net present values, internal rate of return, cost-benefit ratio and return on investment Study results will provide insights into economic benefits associated with forage grass production under farmer management. This information will indicate profitability of forage cultivation helping farmers make key decisions of adoptability of technologies. Furthermore, it will development professionals and policy makers in better designing, targeting, and scaling forage grass technologies and practices.
Karimi, Peggy; Ugmede, Joseph; Enciso, Karen; Burkart, Stefan.